Halifax History Ezine 2
Welcome to Halifax History Ezine 2. 

Introduction to Halifax History
  E-zine 1      E-zine 2      E-zine 3    E-zine 4


Spot the Difference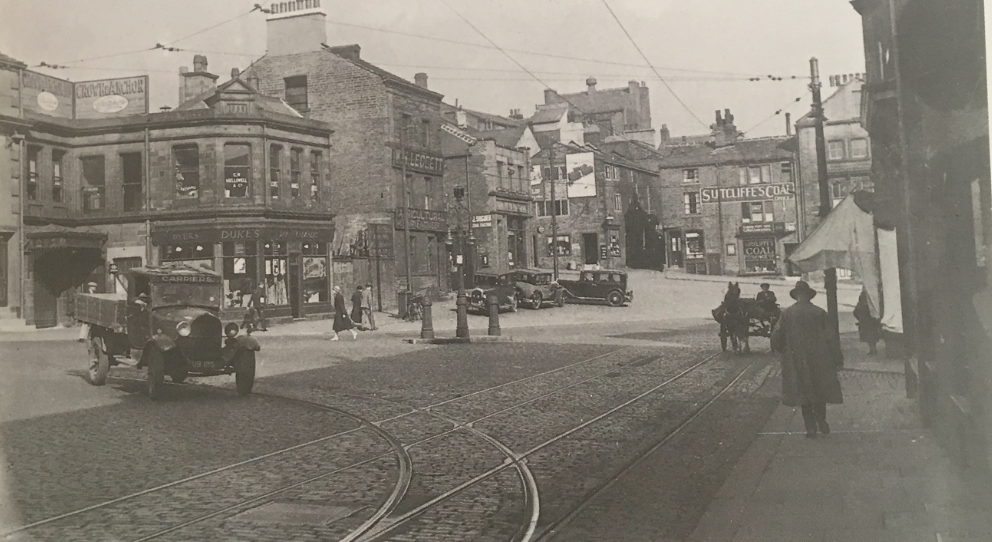 Can you spot any changes? Bull Green and Cow Green in around 1931 and 2019.
---
| | |
| --- | --- |
| I have resurrected an old Blogger page that I am going to attempt to add regular and random bits and pieces for your perusal. | |
---
Street focus on - 

Bull Green 
---
Halifax People focus on - 

SHIRLEY CRABTREE – WRESTLER AND DANCE HALL 'BIG DADDY'

---
| | |
| --- | --- |
| In 1970's Siddal there was a big playground that every kid dreamt of being an airline pilot or soldier. There wasn't really a playground but many dreams were dreamt here. | |
---
The-Story-of-Halifax is not my story but our story - a continuous work in progress built by all of us.

Pre-Halifax - The story starts with pre Halifax and how our town became to be, then we shall build the town as it has progressed through time.
---
| | |
| --- | --- |
| Buildings through the years. Focus On- | |
---
Pastimes revisited - Ogden Water


Ogden Water has been a regular tourist spot for relaxing or a pleasant walk with scenery to savour for many years. 



---
Saucy Postcard 2
Hull, Hell and Halifax

A look at the 'Not so nice' Halifax
---
During my online searches I have built a library of the most searched for Halifax subjects with all the best links of information you would expect to find.

I know you will enjoy scanning through these links as much as I did.

---
Magna Via

From early times, the Magna Via, the ancient road from Wakefield, provided a main route into Halifax over Beacon Hill. This route was trodden by Medieval lords of the manor and their men, by packhorses transporting wool and finished cloth, by Sir Thomas Fairfax after English Civil War defeat and by the preacher John Wesley. A grisly episode in the Hill's history relates to the Cragg Vale Coiners.
---
Advertisement
Color Bar Hairdressers in Southowram

Sport Focus on -

Halifax Rugby League (known as Halifax Blue Sox from 1996–2002) is a professional rugby league club in Halifax, West Yorkshire, which formed in 1873. Halifax were one of the original twenty-two rugby clubs that formed the Northern Rugby Football Union in 1895. They have been Rugby League Champions four times and have won the Challenge Cup five times.
---
Credits

Many thanks as always go to:-
Malcolm Bull's Calderdale Companion
There are several ways you could participate. 
Write your own article

Forward any photographs you might have(I can copy and return if you like)

Comment on the facebook page

Contribute to the 'Readers Letter's' page

Add to any article already submitted 




Every photograph tells a story and there are hundreds of thousands of possible subjects for anyone to write.



If you would like to contribute anything to this website or advertise on our pages then please forward all relevant information to
info@halifaxpeople.com
or you can visit our facebook page 
I hope you all enjoy these pages and I look forward to your response.
Gary Beaumont

---
Continue to Halifax History E-zine 3
Return to Halifax History E-zines

Return to Home Page