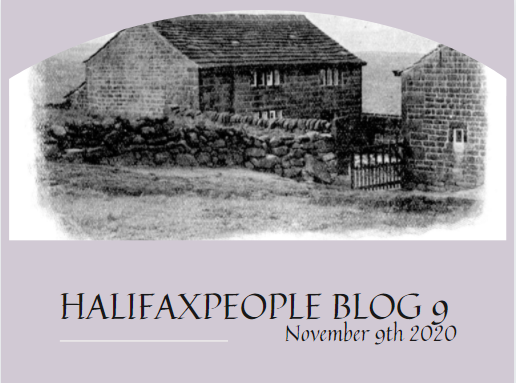 On This Day 9th November 1769, Mr Deighton, who was the exciseman on the trail of the Crag Vale 'Coiners', was shot by the 'Coiners' in Halifax.
The Cragg Vale Coiners
The apparent tranquillity of Mytholmroyd belies a murky past involving an 18th century counterfeiting gang, the 'Cragg Vale Coiners'. This gang's activities were said to be so damaging that they threatened to wreck Britain's currency.

David Hartley learnt his trade as an ironworker in Birmingham, before getting into trouble and moving back to Mytholmroyd to escape the authorities. Once returned to his home at Bell House farmhouse (which is now a bed & breakfast accommodation with educational facilities) David used ironworking as a cover to clip or file the edges from gold coins, milling the edges back so the change was all but unnoticeable, and making counterfeit coins from the shavings whilst returning the clipped coins into circulation.

David's activities soon spread to other farms, with families at nearby Hill Top Farm and Keelham Farm soon becoming involved; forming the beginnings of the gang of Cragg Vale Coiners. Local publicans also helped by placing the counterfeit coins into circulation. David Hartley seems to have been an enigmatic leader, becoming known as 'King David' Hartley and the gang's numbers grew considerably until well over 30 individuals were involved.

Rumours of the gang's activities reached the authorities, who sent an excise man named William Deighton to investigate. One of the coiners turned King's Evidence and betrayed the gang, leading to Hartley's arrest at an Inn in Halifax on 14th October 1769. Hartley's brother Isaac offered £100 to anybody who would kill Deighton. It is alleged that the plotters planned Deighton's murder at an Inn in Mytholmroyd called Barbary's, which is now gone, but was located on the opposite side of the road to the present day Dusty Miller.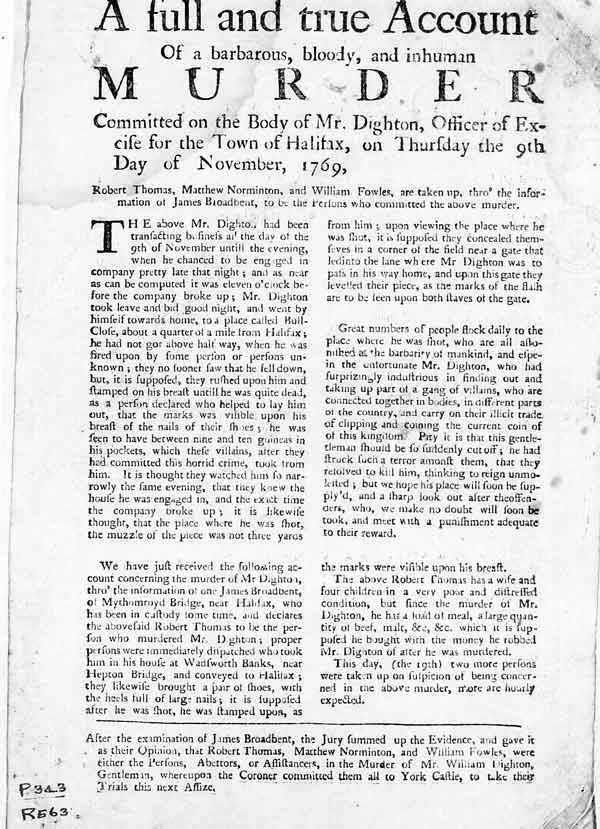 On November 10th 1769 at Bull Close Lane near Halifax, Deighton was approached by two men, Matthew Normanton and Robert Thomas. Deighton was shot dead, his body also showing signs of having been stamped on. Just days later, the Government offered a reward of £100 for information leading to the arrest of the murderers and a pardon for anybody, bar the killers, who would turn King's Evidence.


Over 30 people were subsequently arrested, including 'King David' Hartley, who was sentenced to death on April 6th 1770 and hanged at Tynburn, near York, on April 28th. His body is buried in the graveyard of the village of Heptonstall, above Hebden Bridge. Robert Thomas was acquitted of Deighton's murder, but was later hanged in 1774 for being a highwayman. Matthew Normanton initially fled the authorities, but was later caught and hanged in 1775. Isaac Hartley was never brought to trial due to a lack of evidence and died in 1815, aged 78.

Heptonstall Museum has on display some of the original dies used by the Coiners to stamp their gold discs into coins, as well as panels telling more of their story.
from the 'VISIT CALDERDALE' website
The two chief miscreants who had escaped justice once for the murder of Mr Deighton were Robert Thomas (Tommis) and Matthew Normanton (Normington).
They were both arrested in the Spring of 1774, together with others involved at various levels of crime. Thomas confessed that Normanton, Clayton and himself had been approached by a Mr Spencer to kill Mr Deighton for reward. He also said Normanton had fired the fatal shot.
Thomas and Normanton were both charged with robbing Mr Deighton - Highway Robbery - and on 6 August 1774 Robert Thomas was hung at York and his body was transported in irons to hang on the gibbet on Beacon Hill above Halifax. His hand fixed so as to point towards the scene of his crime as the flesh rotted from his bones over the 8 years his remains hung there.
His partner Matthew Normanton was sentenced in his absence, and later caught as he hid in the briars below what is now Spa Laithe cottage in Cragg Vale. He was hanged on 15 April 1775 and set in chains on Beacon Hill, close to friend Thomas.
Thomas Spencer was executed on Beacon Hill in 1783, for inciting a grain riot, and his body displayed at Mytholmroyd before final burial.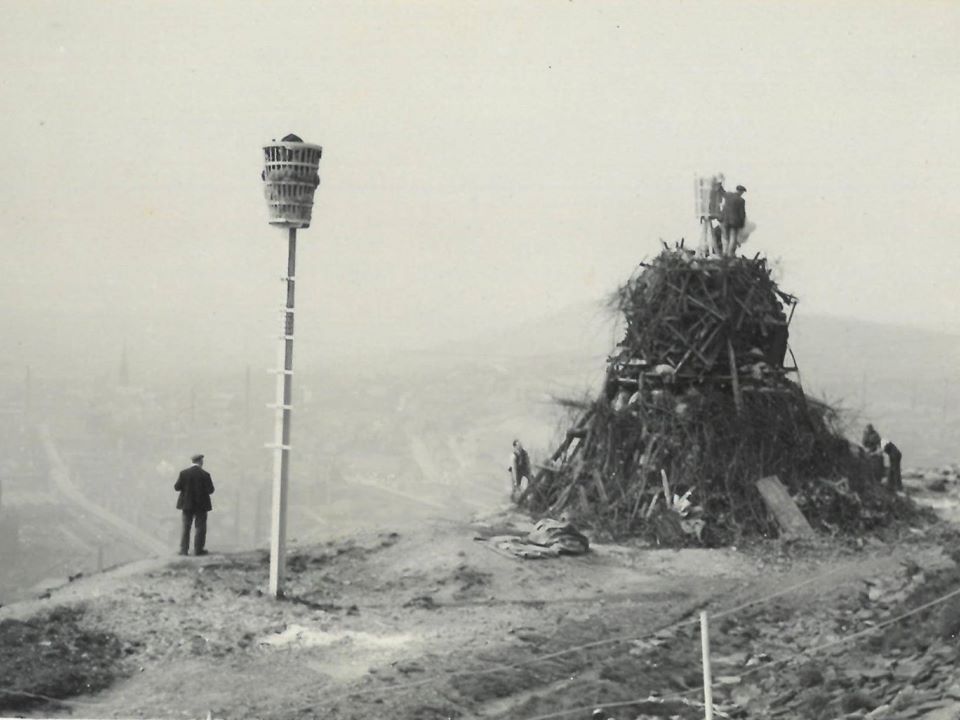 Beacon Hill
---