Halifaxpeople Ezines
Hello and welcome to our NEW Halifaxpeople Ezines

March 2017

I hope this will be the first of many ezines that will be full of all the things you would expect to see in a town magazine and although I am here to present the e-zines it's your input that is vital to the success of these monthly pages.
This is a new venture for all of us but hopefully you will see a trend develop over the next few months which we will start from the following template. The template is  my starting point to something I hope will grow and grow with the help of your input and ideas. So please help to make this grow into an enjoyable, interesting, friendly and popular experience.
I am very enthusiastic about this journey and hope you will all find some time to participate in some way even if it is by just being a viewer.
I hope you enjoy
Gary Beaumont

---
An Introduction
Welcome to our first monthly ezine. I hope you have had time to view the many different pages of the website but if not, this is a great opportunity for me to introduce you to what the website is all about.
It's basically an audience participation where you, the public, are given a platform to view, promote, share and contribute anything and everything there is to be shared in our town and surrounding areas.
Firstly, there is our 'What's On' page that promoted all upcoming events in the area in a calendar format. If you have an event to advertise just simply let me know by contact me on info@halifaxpeople.com or by using our facebook page.
This website also gives you the opportunity to view the village pages. These are here to give you more of a community feel. By having these pages we can find details of more local specific information e.g. bus routes and other village amenities along with more local specific businesses, promotions and events.
We are also in the process of building more ezines that will be a permanent feature for specific subjects e.g. Weddings, Home and Garden and Dining Out. You can view these as they grow on our 'Homepage'.
I have also started building a 'Business Directory'. This is sure to be one of 'if not 'THE' most visited pages on this website. This page will be like an online version of the YELLOW PAGES but better. 'MUCH BETTER'. This will not only feature local businesses but will include much more detailed information e.g. each business advert has the potential to feature
Name

Address

Location pictures

Internal pictures

Website links (facebook page or owned webpage)

Menu/pricelist

Product Pictures

Business Video and more
There are several extra advertising possibilities available e.g. Competition sponsors, webpage sponsors and website sponsor. Please contact us for details.
All 'webpage' business advertisers are given regular promotion updates on request at no extra charge as well as respected attention for all their promotional needs.
'Deals and Discounts'. This page is full of potential. We hope that businesses will promote their bargains here. There is also the possibility that 'with enough interest' we can build a discount card club.
Our 'Blog' pages will be full of a variety of local subjects from interesting websites we have found to unusual facts, historic events, news, featured subjects, competitions and any other items of interest.
We are always on the lookout for any Halifax memorabilia (historic photos etc.)

I can only hope we can keep you entertained and enthralled so that you keep returning again and again but most of all we want you to participate with your  very own input. So don't be shy - we all have something to offer.
Please enjoy.
Gary

What's On in March

Feature

Competition

Promotions - E-zines

We are in the process of building some permanent e-zines to promote specific subjects which give companies a great opportunity to advertise their businesses. please contact us for any advertising packages.

Deals and Discounts

Blogs

Website Links

For-sale/Hire/Small Ads

For-sale/Hire/Small Ads

Your Letters/Questions

Features

How to Advertise

---
This months ezine sponsor has been:-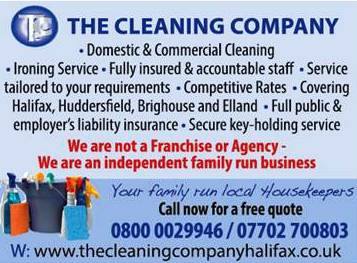 ---
---
To add any of your own content please send to:- info@halifaxpeople.com or add to our facebook page.

To advertise your business and get your own full webpage please click here
BASIC*
To add your Address + Tel Number + 1 picture of outside of building = £10 per year
PREMIUM**
All above plus full webpage with pictures + much more = £50 per year
PRO***
All above plus 2 x extra adverts on other pages  £75 per year


---