Why it works - Buy a number - Merchandise - Contact 

MyMysteryNumber.com

Exciting and fun 'new' idea to promote your own website or facebook page.
Ideal for promoting:- Discounts, Events, Brands, new businesses
and so much more.

---
1001-2000   2001-3000   3001-4000   4001-5000   5001-6000   6001-7000   7001-8000   8001-9000   9001-9999   10000-11000   11001-12000
-     99000-99999

---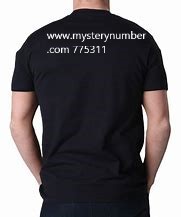 Buy your own number that will be yours for life or just 1 year
4 digit numbers FREE FOR 1 YEAR or £30 for life (renew option for £10 each year)

3 digit numbers cost £50 per year or £150 for life (renew option for £25 each year)

2 digit numbers cost £500 per year or £1800 for life (renew option for £250 each year)

1 digit numbers cost £1500 per year or £6000 for life (renew option for £750 each year)
Renew option in case a business ends interest and number can be resold. Must be stated in T&C's.

---

Website Visitors

---
Promote your number on your very own merchandise.

---
Do you need a Website?

---
Who would buy a number?
All advertisers should consider this new and catchy method of promotion. 
a). Its better than a flyer because your customers are sent to your website which has every ounce of detail on it that you want your potential customers to see. 
b). It gets you visitors to your site that would never normally see it.
c). Its intriguing. It gets peoples attention. 

It's ideal for promoting just about anything including:-

Business websites
Facebook pages
Discounts
Products/Brands
Brochures
Corporate image


Events (especially where there are lots of attractions and mini events happening together)

L

ists of offers on items

New restaurants/shops opening 

Detailed promotions that wouldn't fit on a poster

Promotion packages eg. Betting shop deals



Why It Works
Your probably here because you either saw an advert for this website or you saw a random mysterynumber sign that someone, somewhere intended you to see. 
It got you wondering
It gets everyone wondering
Its the word 'mystery' 

'IT WORKS'
Search the mystery number and in most circumstances you are directed to a website with full details and information an advertiser wants you to see.

If you want to promote anything then all you have to do is add your number that you have bought to the mysterynumber.com 
There are lots of ways to promote your number.
You can buy your own merchandise which has www.mysterynumber.com  and your own number printed onto it

You can randomly leave notes/posters for people to find

You can advertise in prominent, eye-catching places 

write on facebook pages or other internet pages




You can use just about any advertising gimmick there has ever been used to promote your number



---
Why do small digit numbers cost so much?
Every visitor to the site is greeted by a huge list of numbers and the numbers at the top of the pile attract much more attention. Visitors might well click on several random numbers out of interest but are much more intrigued by the ones at the top of the pile.
The website's ''visitors counter'  gives you an idea of the traffic that has been directed to the main page and although they may search for a specific number they are very likely curious as to the numbers on this page too.

---
Searchthisnumber.com
Searchmynumber.com

MySpecialNumber.com
Curiousnumber.com

MyMysteryNumber.com

Lookmeup.com- (dating)
Set up different websites around the world and in all languages eg. China, Japan, Germany, Brazil, USA, Canada

---
Questions for web designer
Each number block to be either Available or Sold
Each Sold block has a website link
Can we accommodate 1 to 1million numbers?
Can each block be bought for various time scales eg. 1 year or lifetime
Can each price be set in multiple currencies
Can we hold addresses/link accounts to send merchandise
Can we send 1 month reminders when contract date is approaching


---
Buy a number - Costs?
Numbers 1-10 -  1year, lifetime
Numbers 11-99 
Numbers 100-999
Numbers 1000-9999
Eg. Buy number 13,342
Period bought for?

Cost - Method of payment?
Link details

---
Vistaprint affiliate 
Prize for sending evidence for the most inventive advertising (keep it legal)
Prizes can be a digit-less advertising eg. 23 instead of 234 if requested