Southowram-Blog-Page2

---
We continue our pub crawl with a trip to 

'Who Could A' Thowt It'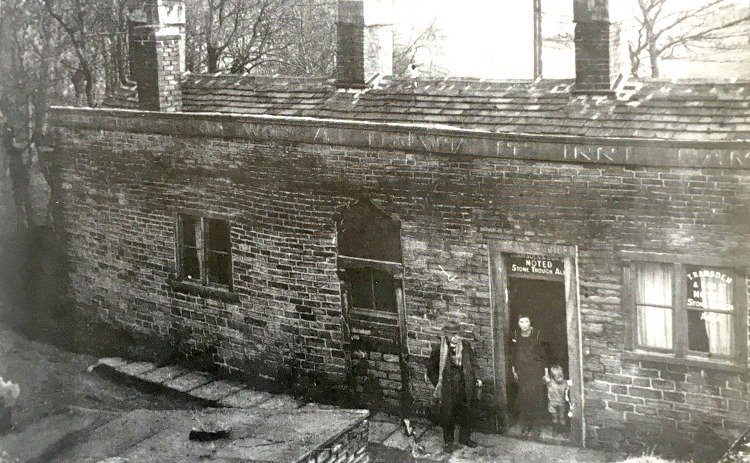 I would expect many people to be familiar with this phrase but did you know it was the name of a Southowram pub? 
This pub, known to locals as 'Ba Gum Who Could A' Thowt It', was just down Walterclough Lane (off the corner of Law Lane). It sold it's last drink as a pub on Boxing Day 1933, and was demolished in 1945. The stone going towards the rebuilding of Coventry Cathedral
It is said to have been licensed from the 1860's following the enactment of the Beerhouse Act in 1830. There were hundreds of Beerhouses opened at this time. The licensing aspect for Beerhouses came in 1869 when these houses were then subject to a 'Justices licence' for the sale of beer.
This new regulation killed off many of them but a few did survive, including the 'Ba Gum'. One reason for the new law was the amount of drunkenness due to the vast number of places offering beer.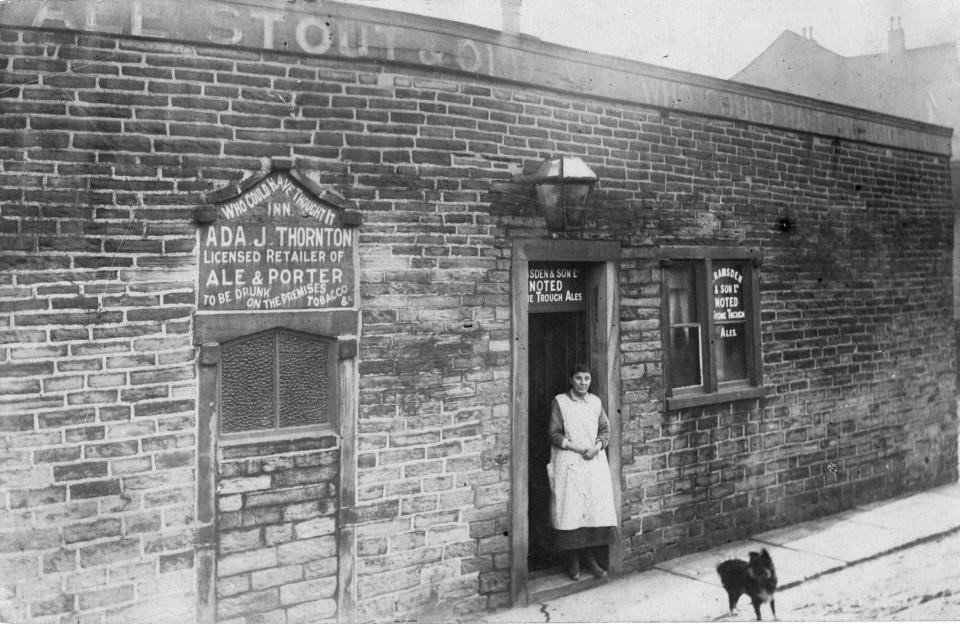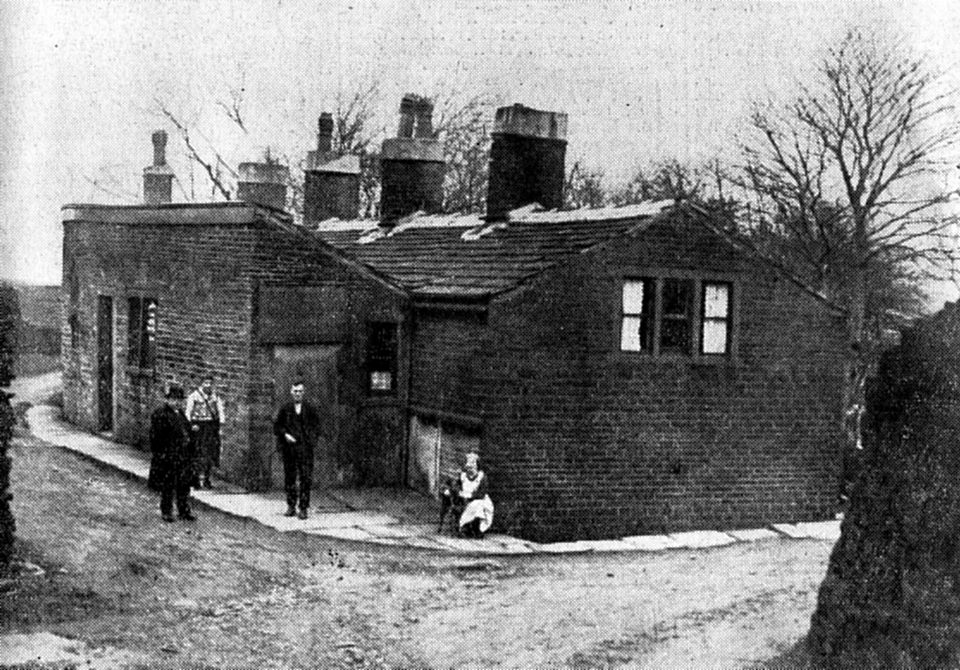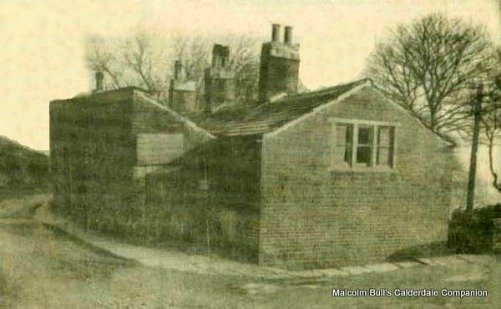 pictured is Mrs Ada Jane Thornton (licensee)
A particular case at the 'Ba Gum' became the topic of conversation throughout the town for months after. In 1904, John Tidswell, the then licensee, was found drunk on the premises with a number of his customers in a similar state by the police. The outcome at court was a foregone conclusion and he was found guilty and fined 7/6d for allowing the customers to be drunk and a further pound for being drunk himself.
The talking point was not the case itself but the fact they had actually got caught in the first place. It had been known by everyone but the police that customers had been drinking to an excess and for hours beyond closing time for years. Whenever the police sergeant knocked at the pub door, the licensee would wait a few moments and then let him in and naturally everyone had gone.
It was later discovered there was a secret passage that led to adjoining cottages.
After the days of being a pub, the premises had a short spell as a café.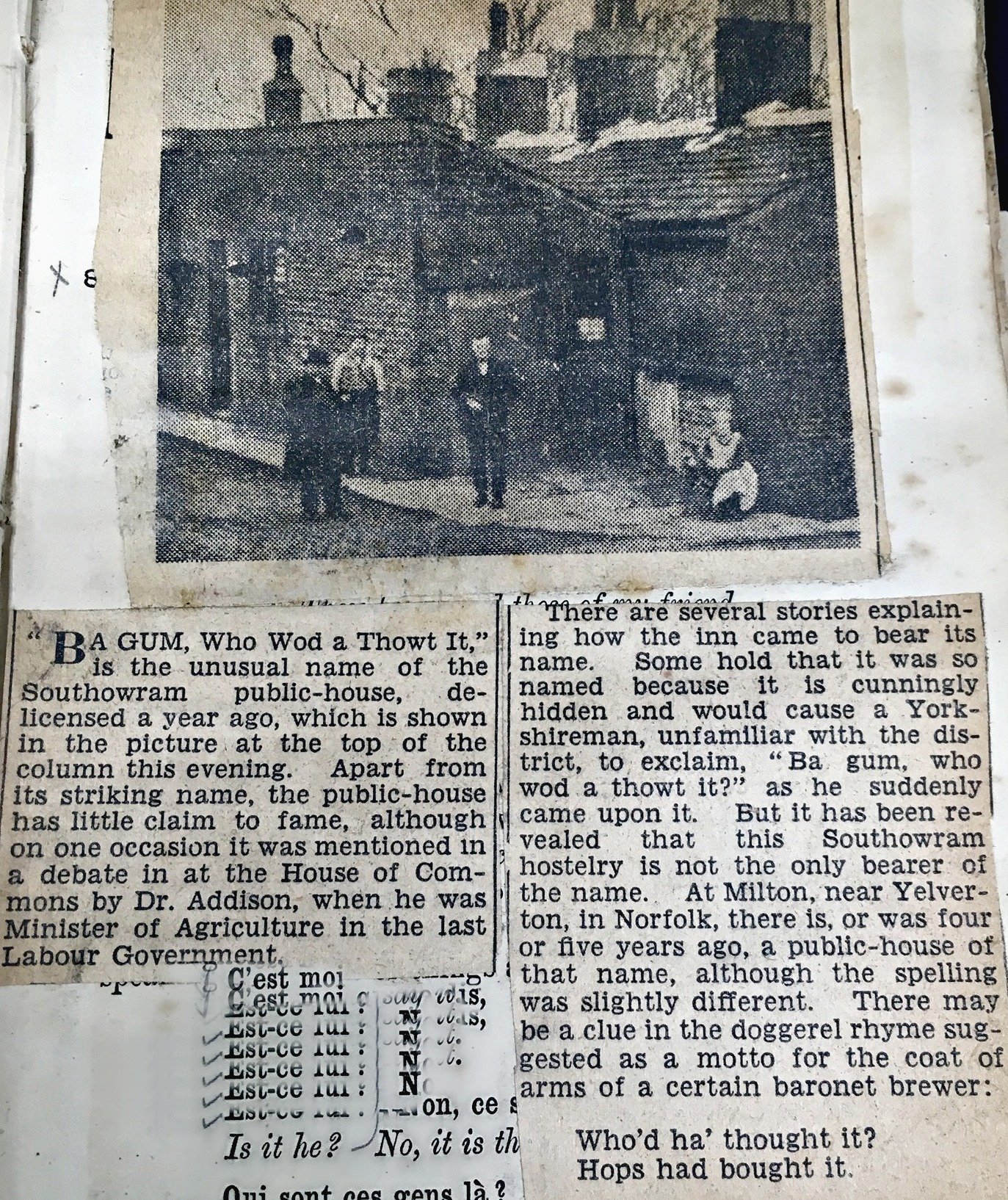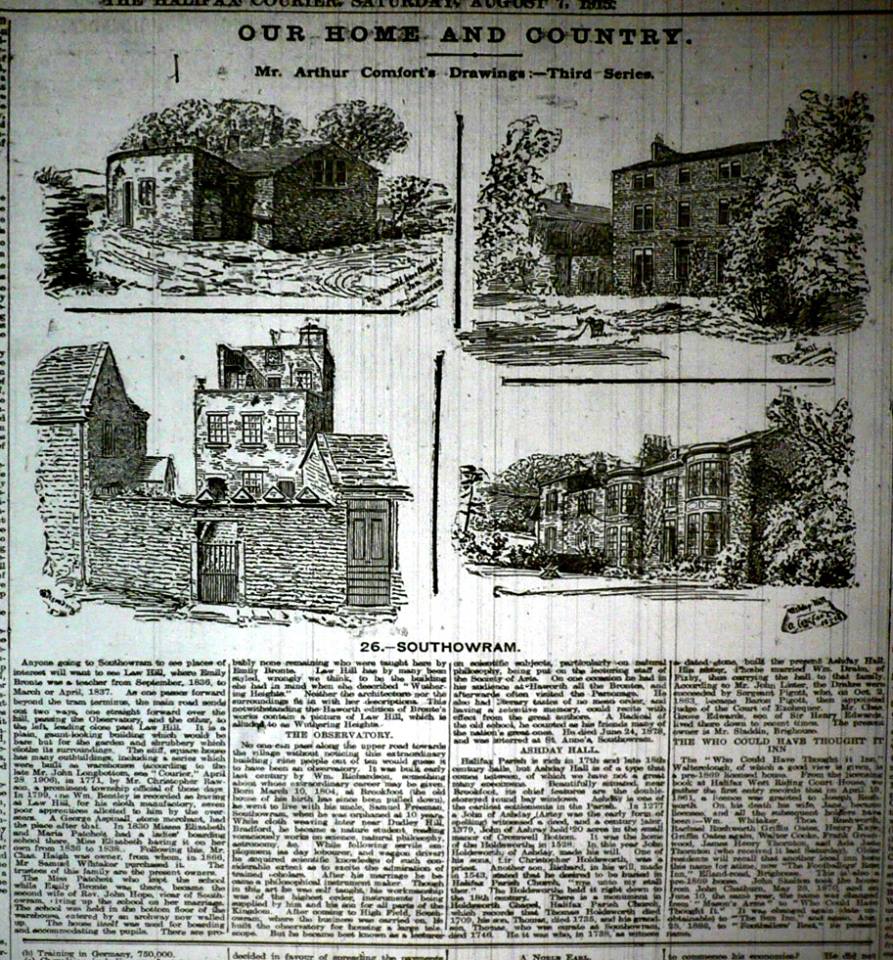 ---
1 Common Lane, Southowram, Halifax, West Yorkshire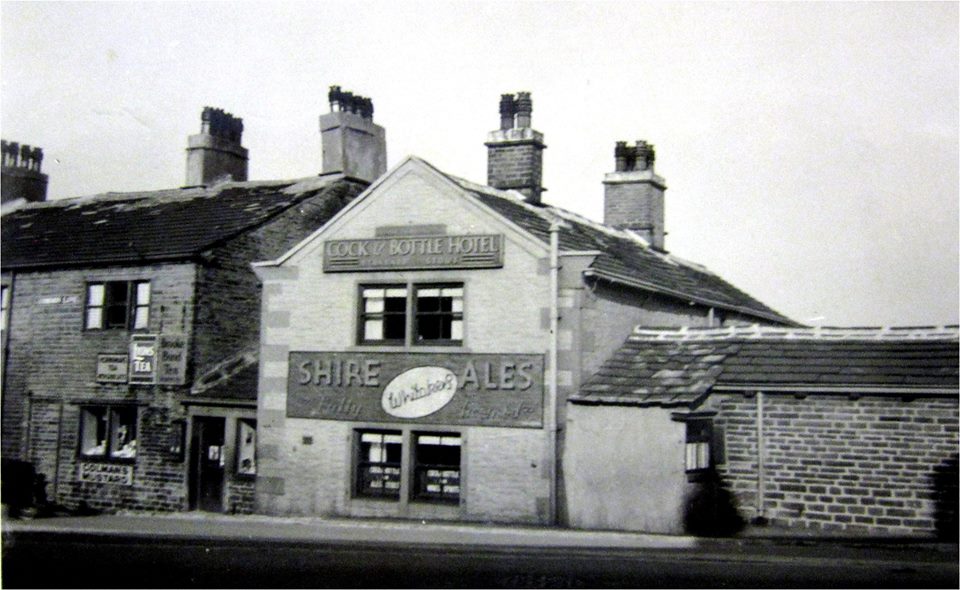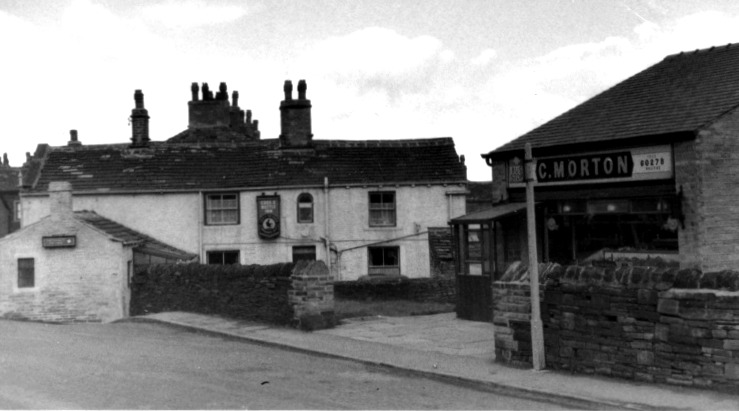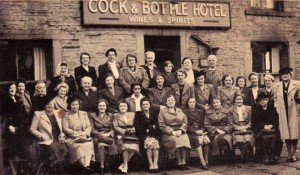 This photo was taken in 1950 and it's at the Cock and Bottle when it was a Whitakers pub but what else can you tell me. Can you put a name to any faces? Were they local girls or visitors?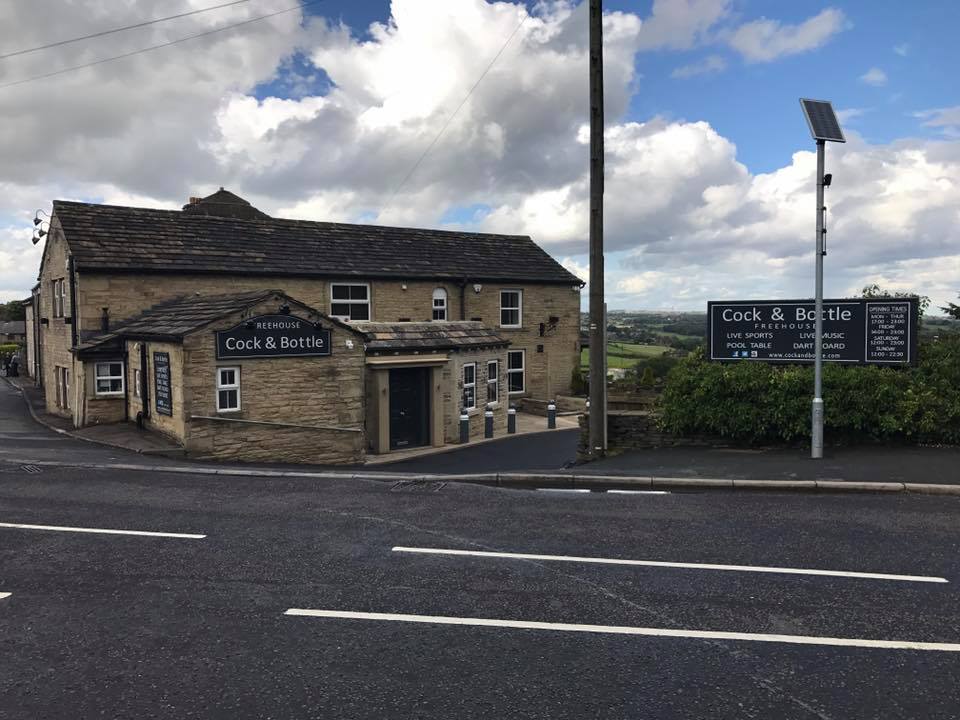 ---
Blue Bell

As we exit the Cock and Bottle and turn right there is a patch of grass (opposite Sams off license). Here once stood the Blue Bell which later became a fish and chip shop but burned down in the 1950s. Blue Bell seen here behind the tram.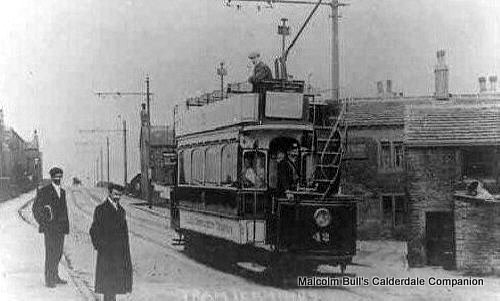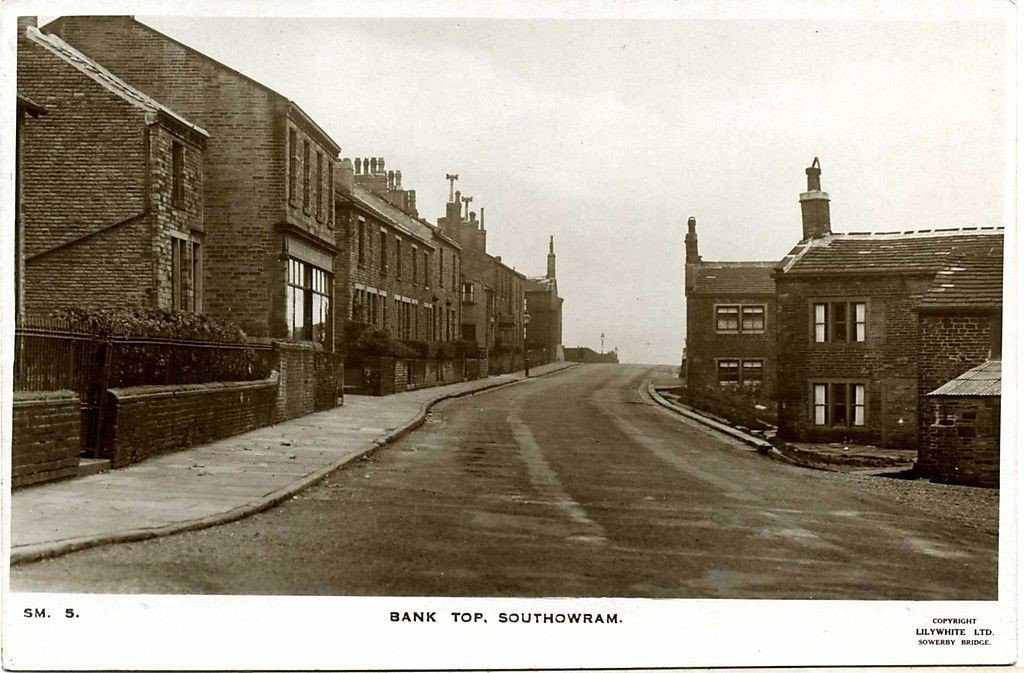 Blue Bell (middle of the buildings on the right)

---
Manor House

The Manor House was supposedly haunted by the ghost of Sarah in her white wedding dress who was sometimes seen, standing at the bedroom window.
Did you know that the Old Rishworthians used to change in the Manor House and play at Southowram.

All that is left of the Manor House is this signpost in one of the gardens of the houses that now stand in its place.

| | |
| --- | --- |
| | So it looks like the 'Manor House' used to be called the 'Chequers Inn' |
---
Travellers Rest

Around 1830 Bankfield Farm down Marsh Lane(junction with Long Lane) was known as Travellers Rest beerhouse.

---
Blaithroyd WMC and New Road Hotel

Blaithroyd Working Mens Club was at Castlemaine House at 9 Blaithroyd Lane.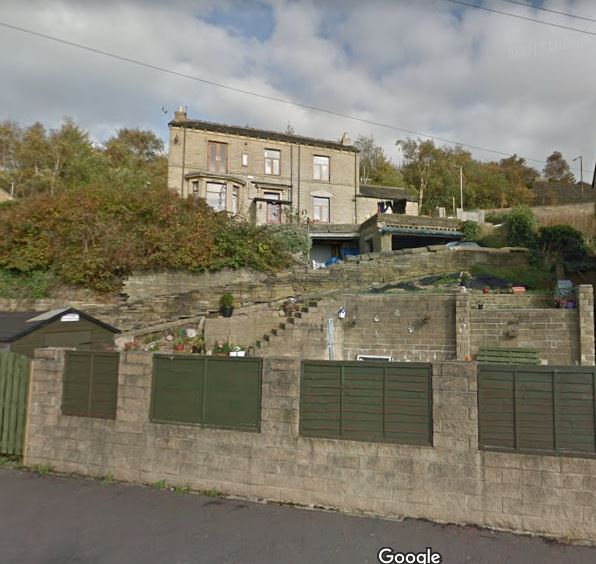 ---
There was also a pub called 'New Road Hotel' aka 'New Road Tavern' at 66 Blaithroyd Lane(probably at the junction with Trooper Lane) which opened in 1869 and closed in 1949. Was it Blaithroyd Farm?

---
Lane End Inn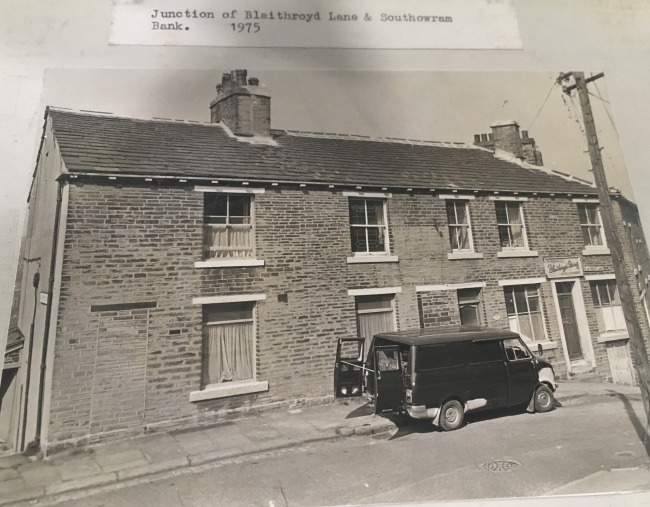 Apparently, the door with the sign above it was the entrance to the Lane End pub. You can see the cellar drop hatch  below the window.
---
Travellers Inn
Closed May 17th 1953

Was this half way up at 42 Southowram Bank. Landlord was J.E.Kershaw in 1936

---
Pineberry Hill Tavern

Pineberry Tavern or Pineberry Hill Tavern was a beerhouse and will probably be somewhere on the picture below but I'm not sure which building on Southowram Bank it would have been.

Dyer and Miller pub was also at Bank Bottom but was demolished before WWI.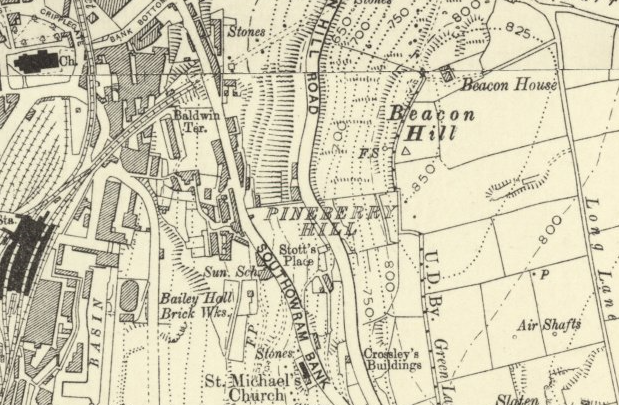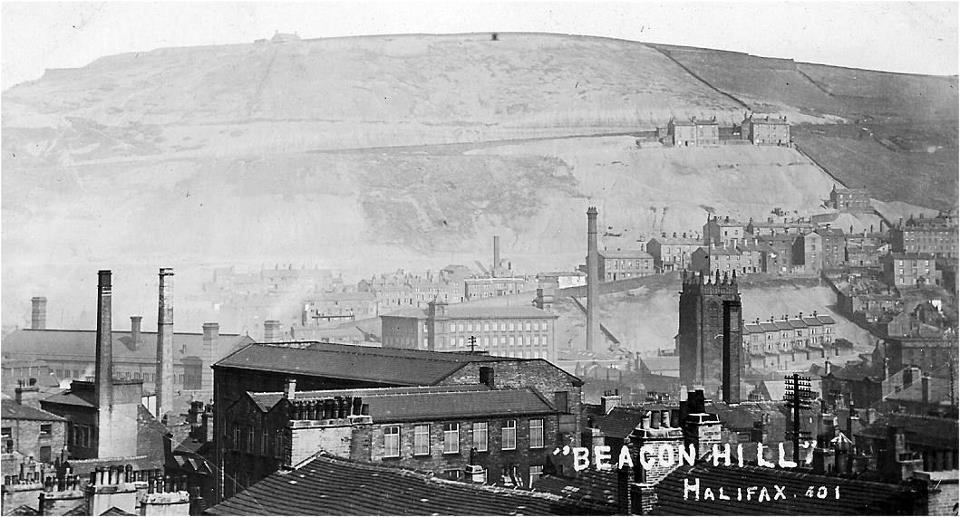 ---
Gas House Inn. Beerhouse. Licensee listed in 1871 as Joseph Jubb

---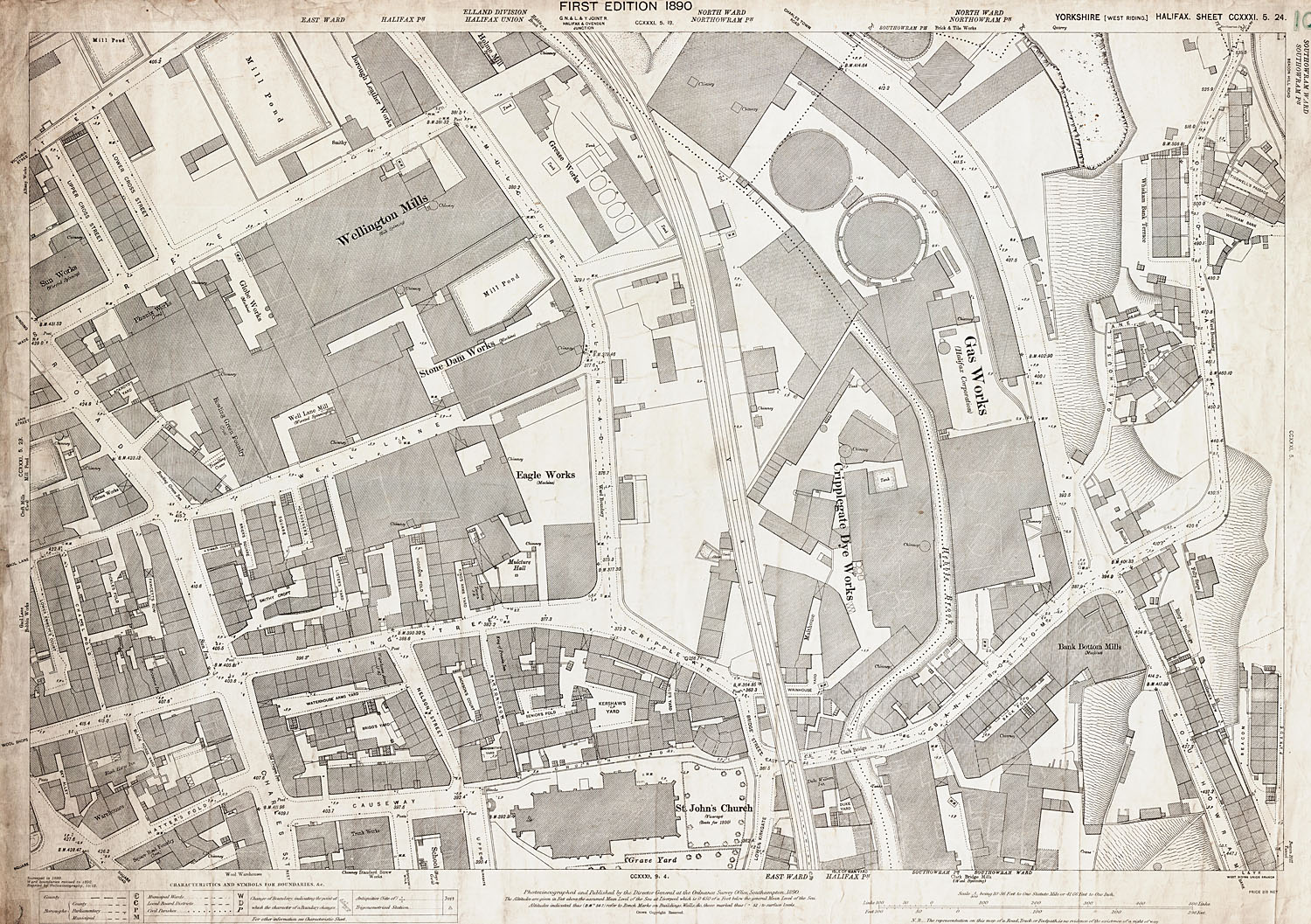 You can see Bank Bottom on the bottom right on the 1890 map above. It is the road from the bottom of Southowram Bank/Old Bank that runs to Cripplegate (east of the Parish Church). So many pubs/beerhouses in such a small road and there were so many more nearby too. Many of them were demolished after WW1 and replaced with factories.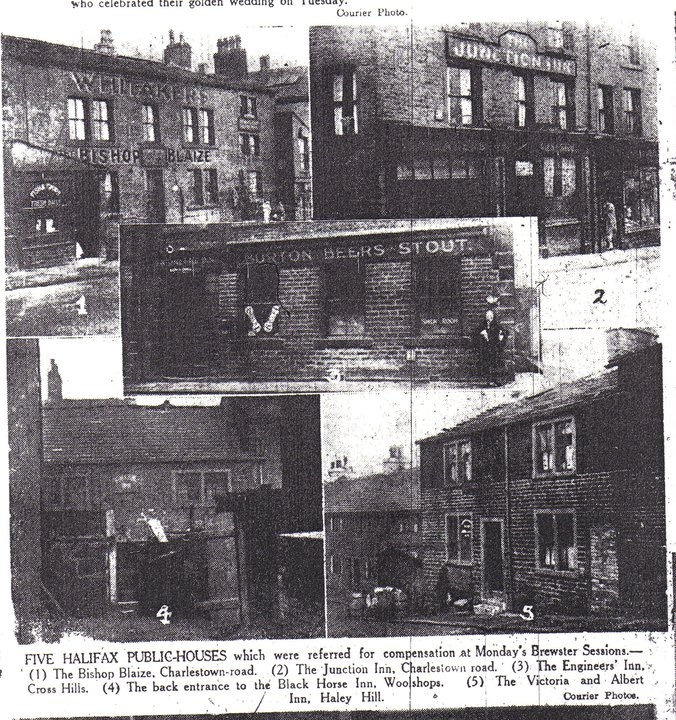 A few more pubs in the near vicinity.

---
Was this Strangers' Home Inn?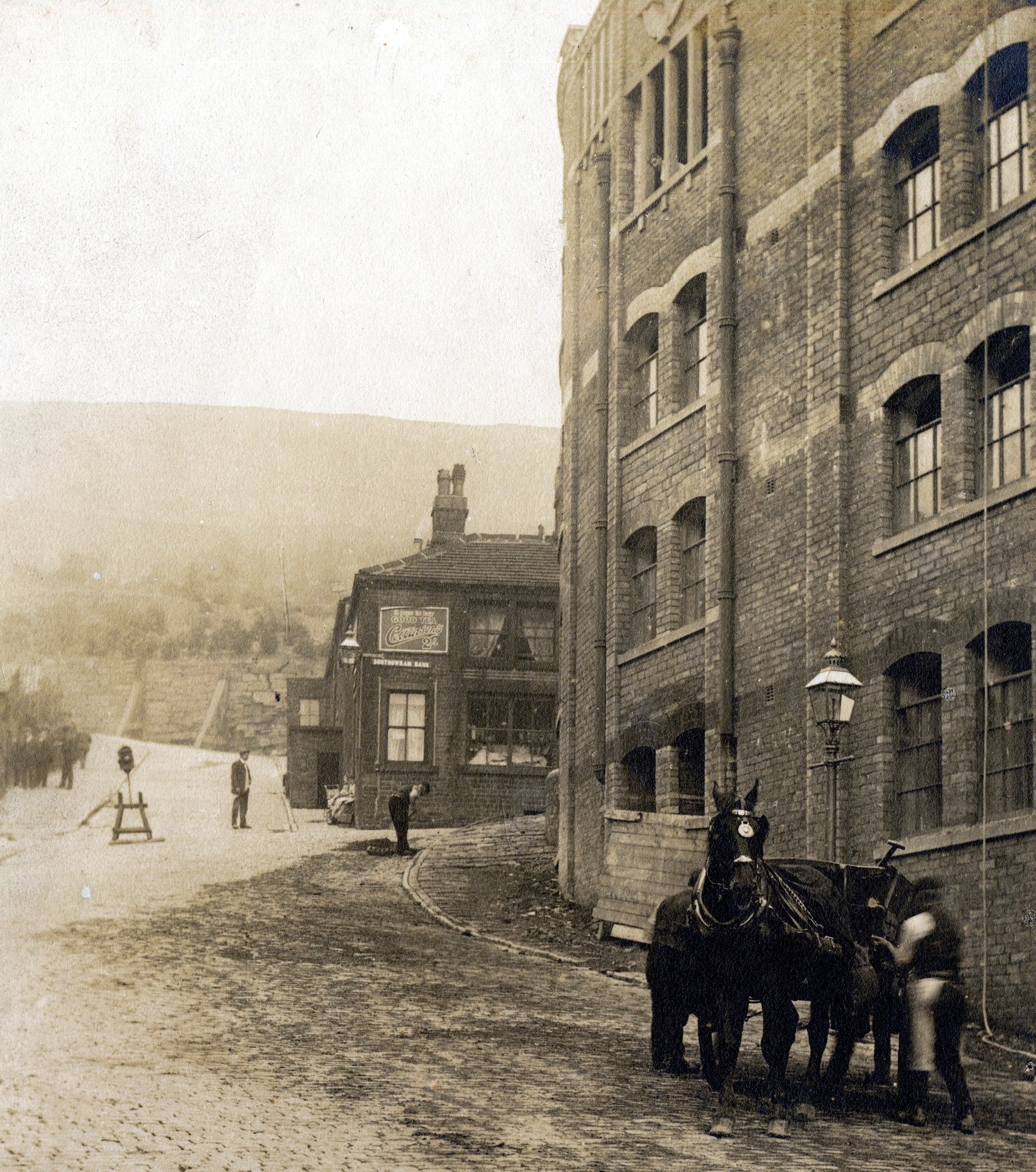 Moulder's Arms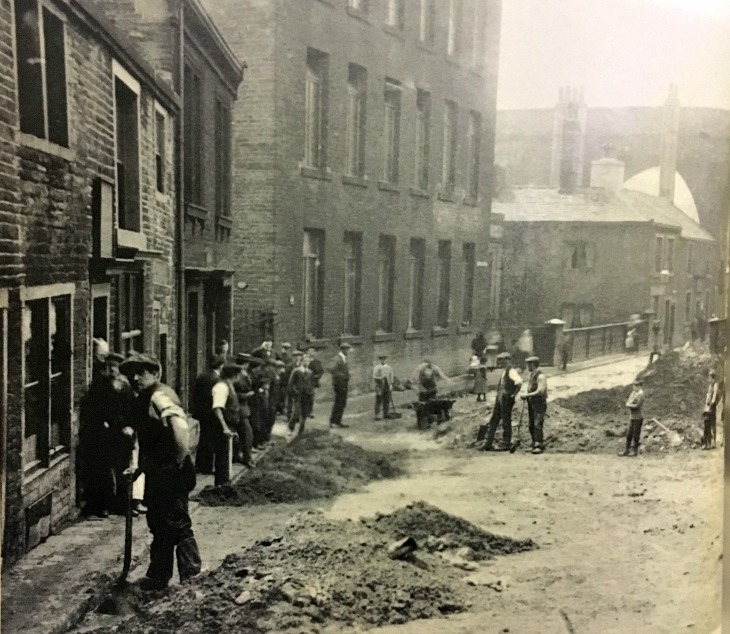 From Halifax Pubs by Stephen Gee
Here we see the Duke William Inn in the distance and the workers outside the Moulders Arms which closed in 1921.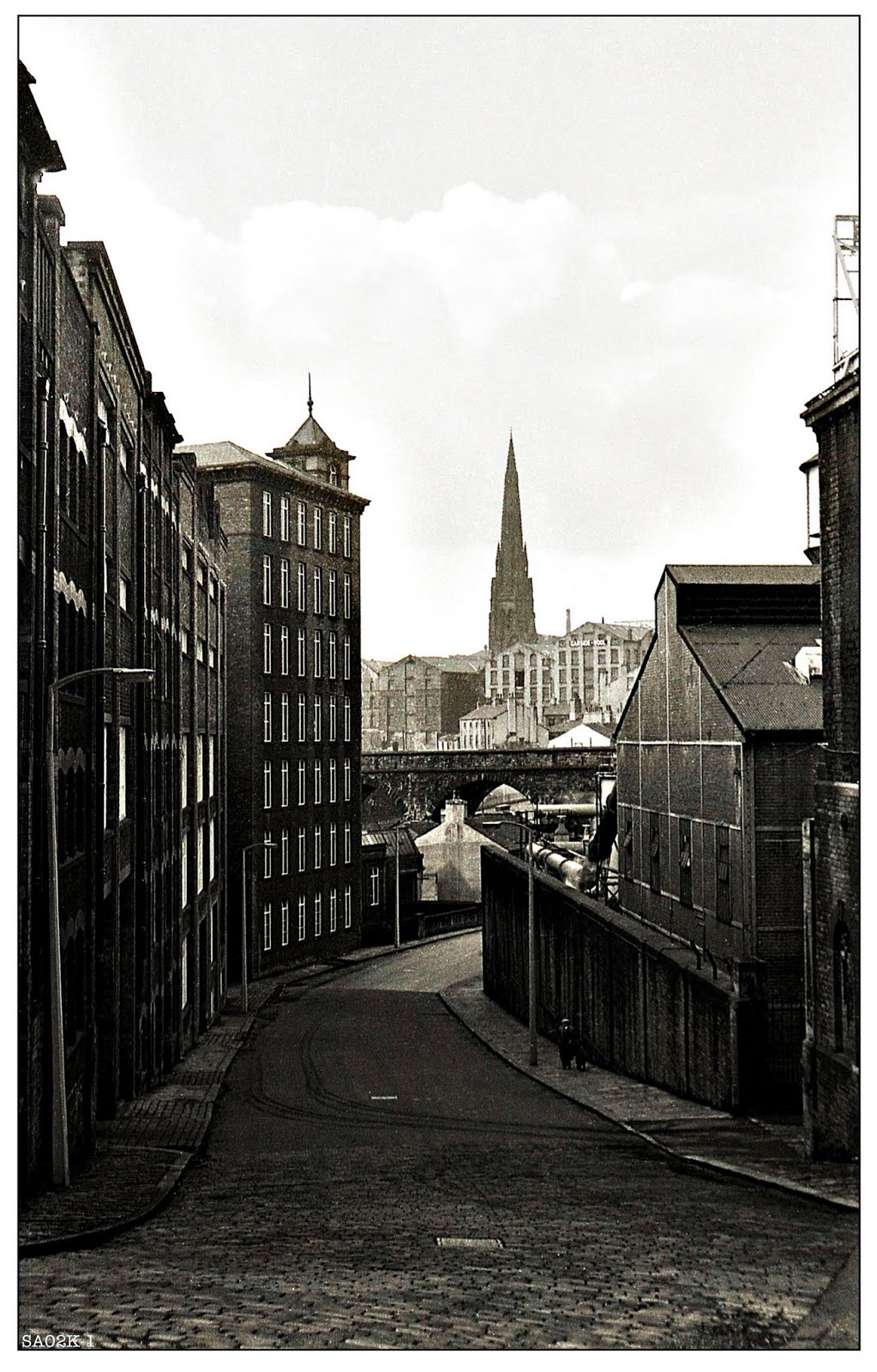 This is a very similar view from a few years later

Duke William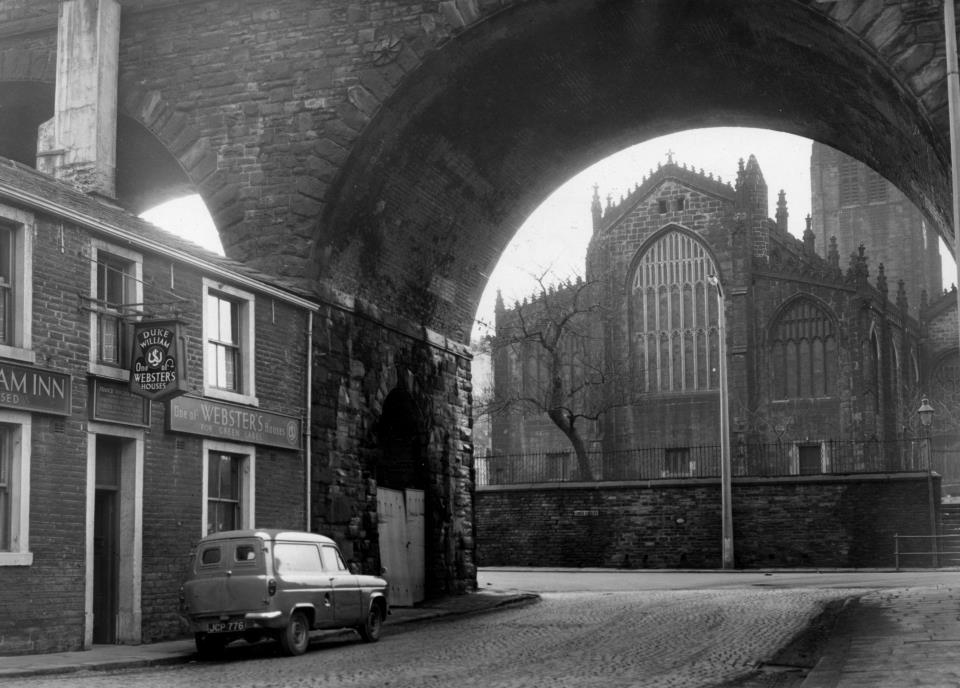 from Halifax Pubs by Stephen Gee.
This photograph of the Duke William Inn at Clarke Bridge, Bank Bottom was taken in 1963, two years before the pub closed. Under the railway arch is Lower Kirkgate and the Parish church. Opened in 1819 and the pub closed on 25th July 1965.
Strangers' Home at 1 Bank Bottom/1 Clarke Bridge. Beerhouse. Licensees listed from 1871-1899 when it closed.
Red Lion at 6 / 9 Bank Bottom. Beerhouse. Opened in 1853 and closed in 1883. Flooded in 1866. Licensees listed from 1861-1881.
Masons' Arms at 16 Bank Bottom. Beerhouse. Licensee listed in 1861 as Joseph Holmes.
Moulder's Arms at 22 Bank Bottom. Beerhouse. Closed and demolished in 1921. Licensees listed from 1871-1911.
Bird in the Hand at 29 Bank Bottom. Beerhouse. Innkeepers:- 1861 Joseph Holmes, 1861 William Firth.
Dyer and Miller which was also at Bank Bottom and was demolished before WW1. Landlords listed from 1822-1851.

Lamb which stood at the corner of Church Street and Clarke Bridge. This pub may have given its name to the Lamb on the platform at the train station after it was demolished. Landlords listed from 1822-1867.


---

News from Bradford Observer May 18th 1843

---
The Cat I'th Window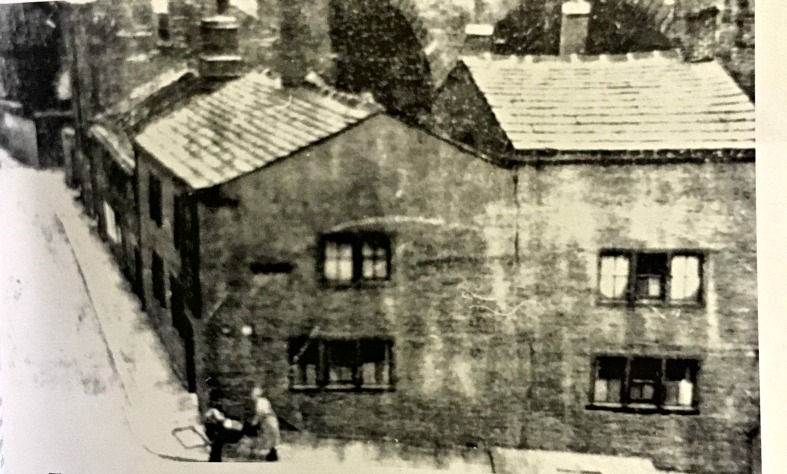 The Cat I'th Window, 8/10 Lower Kirkgate, was on the corner of Lower Kirkgate and Berry Lane. It opened in 1822 and sold to Halifax Corporation in 1928. The pub would now stand in the entrance to Matalan and the turning to Clarke Bridge and the Duke William can be seen top left. The Minster is to the left.
Dublin Arms (aka Wagon and Horses) was to the right at 7 Berry Lane and closed in 1905.
Lamb which stood at the corner of Church Street and Clarke Bridge. This pub may have given its name to the Lamb on the platform at the train station after it was demolished. Landlords listed from 1822-1867.

---
Other Southowram pubs included Cat Heads, Horse and Groom, Rook Tavern and Single Sisters but their whereabouts are unknown. Can you help?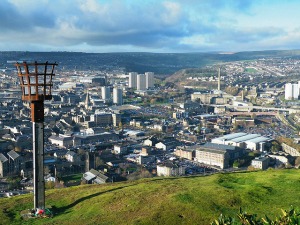 Join in and write your own page. It's easy to do. How?
Do you have a great story or memory about Southowram? Share it!
---
Return to Southowram Blog page 1 
advance to Southowram Blog page 3