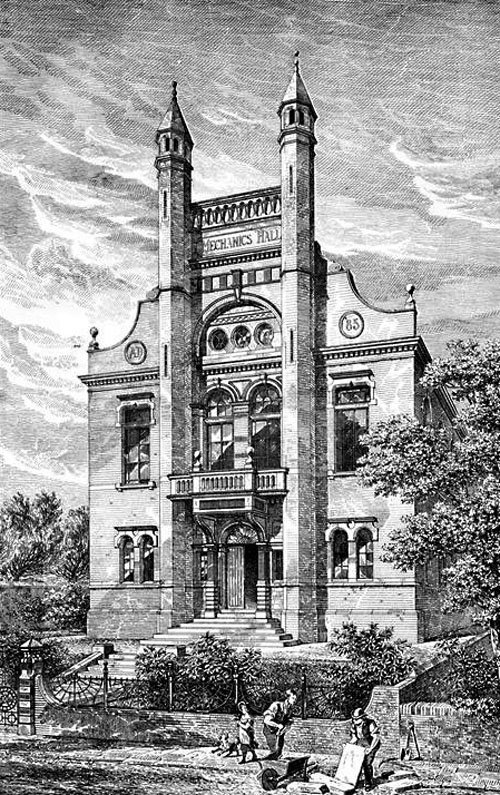 Stainland Mechanics' Institute was established around 1850.
Many of the founder members came from the Holywell Green Mutual Improvement Society. The present building was built by the Shaw family in 1883 by public subscriptionto improve the moral, social and intellectual habits of the inhabitantsIt was designed by Leeming & Leeming.It is said that the land at Nelson's Croft was given by the Michael Stocks and the Stocks family of brewers, on the understanding that there would never be a public bar in the Institute. Digging on the site began on the 21st April 1883.
Nathan Whitley and John Edward Shaw laid the foundation stone on 23rd June 1883. The construction cost £1816 12/-
Records show that the tradesmen involved in the construction were
Masons: Normanton & Whitely.
Carpenter & joiner: Arthur Park of Stainland.
Plumber & Glazier: J. Naylor of Halifax.
Heating: Taylor & Parsons of Bradford
The building was opened by Alderman Woodhouse, the Mayor of Leeds and a native of Stainland, on the 7th June 1884. The Upper Hall was used for lectures and the rooms downstairs were for reading and one for billiards. In 1930, the Upper Hall was used for whist drives and dances. These were very popular in the village.There was a bath where members could bathe for 3d on Fridays.Billiards still continued downstairs, along with table tennis – which is referred to as ping pong in the minute books.
Over the years the Hall suffered as income declined. By 1952, the Trustees decided to sell the building but then decided to offer it to Elland UDC.In 1954, a Community Centre was formed and was allowed to use the building by the Trustees.Eventually, the Community side took over.
In 1967, the building was taken over by Elland UDC.Small amounts of maintenance were done, but by 1974, when Calderdale MBC became the owners, quite a lot needed to be spent.
In 1977, the Council ordered that the twin towers surmounting the entrance be taken down for safety's sake. Several surveys have been carried out but no work was done on the building with the result we have today. The building now needs £500,000 spending on it to bring it up to standard. The new committee are trying [2008] to raise this money and save the building.It was later used as a community centre and by a sewing group. With new people coming into the village, it was hoped to continue as such.By 2010, the groups who used the building had moved elsewhere and the Council were faced with a decision to pay a £500,000 repair bill or put the building (valued at about £125,000) up for sale.
Calderdale Companion