Douglas Alexander
Douglas Alexander 
A hundred years ago a Hipperholme man was president of the Singer Manufacturing Company, the world-famous sewing machine producer.
He was Douglas Alexander, born in July 1864 at Hipperholme, probably in Bramley Lane, where his family lived in 1871. He was the fifth of the nine sons of Andrew Alexander (1832-1914), of Errol in Perthshire, and his wife Harriet, who came from Suffolk.
Andrew is described as "a schoolmaster at Bramley Lane and Elland" and at the time of the 1871 census the family was living at 'Binns Top, not far from Cromwell Bottom'.

There were crises during Alexander's presidency, including a panic in 1907, the expropriation of Singer's huge Russian factory during the revolution and the Wall Street crash of 1929 followed by the Great Depression.
Despite having these events to contend with Alexander proved a steady hand at the helm, not afraid of new ventures and innovations, and the firm continued to flourish.
Officially he lived in a luxurious apartment in Manhattan but he also spent much time at his country estate at Edgehill, near Stamford, Connecticut.
Sir Douglas Alexander died in May 1949, aged 85, still at the head of Singer; he was the longest-serving president in the company's history. His body was taken back to Hamilton, Ontario, for burial in the family vault.
In 1892 at Hamilton he had married Helen Hamilton Gillespie. They had six children, two of whom died young. Helen died in 1923 and the last of their children died in 1984.
Sir Douglas Alexander's career seems remarkable for that of the son of a schoolmaster from Bramley Lane and Elland.

The following year the Alexanders emigrated to Ontario, Canada, settling at Hamilton, where Andrew continued teaching. He was a noted botanist and horticulturist, becoming president of the Hamilton Horticultural Society.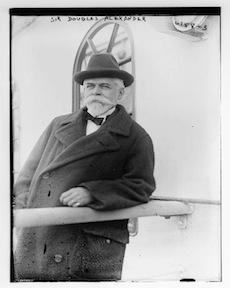 His son, Douglas Alexander, was educated at Hamilton Collegiate Institute and later studied law in Toronto, receiving his degree from McMaster University, Hamilton, and being called to the bar in 1886.
Having briefly practised law in Hamilton, Douglas migrated to New York City, where, after continuing with the law for a short while, in 1891 he became a secretary in the Singer Manufacturing Company, working directly under the president, Frederick G Bourne.
The company had been founded in 1851 and was now booming. Singers' first electric sewing machine was one of Bourne's developments.
Within five years Douglas Alexander was on Singer's board and had the title vice-president painted on his office door, in full charge of North American operations.
In 1906, following Bourne's retirement, he became president and in that year presided over the dedication of the New York symbol of his company's success, the Singer Building at 149 Broadway, then the tallest skyscraper in the city.
Many Americans thought Singer had reached its maximum possible expansion under president Bourne but they were in for a surprise, for during Alexander's first 10 years in office he tripled the previous best sales figures. His new policy of installing local managers in foreign outlets paid off and extended Singer' hire-purchase system around the world.
By 1912 Singer was the seventh largest firm in the world by capitalisation, and had 80 per cent of the world market in sewing machines. In 1905 Alexander led the buying out of his company's strongest competitor, Wheeler and Wilson.
During the Great War the Singer factory in Britain was given over to producing munitions and in 1921 in recognition of the co-operation between the company and the British government, Douglas Alexander was created a baronet by King George V, for he was a Canadian subject of the British Crown; he never became a United States citizen.
from Halifax Courier
If you have enjoyed your visit to this website, please spread the word by clicking the 'like' and 'share' buttons below. Thank you