Historic Charlestown Tour starts at the Magna Via and makes it's way to North Bridge.

MICHAEL HOLROYD SMITH, prolific inventor
Michael Holroyd Smith was born in Halifax on 22nd December 1847, second of the five sons of Matthew Smith and his wife Mary Sutcliffe Holroyd. His father worked for Sharp and Brown, a local wire-manufacturing firm; and had been managing their branch at Tintern Abbey, from whence the Smith family had returned to Halifax a couple of years before Michael's birth. In 1849, however, Matthew was sent to manage Sharp and Brown's mill at Birmingham, and the family moved there. Michael was educated at King Edward's School, Birmingham, and then apprenticed with Francis Berry and Sons, machine tool makers, at Sowerby Bridge.
In 1859 his uncle Frederick formed a wire manufacturing firm, Frederick Smith and Co, at Caledonia Wireworks, Charlestown Road, Halifax. In 1864, Matthew, Michael's father, returned from Birmingham to go into partnership with his younger brother; the family returned with him.  Later, Matthew was to serve as Mayor of Halifax, dying in office in 1880.
Following the completion of his apprenticeship, Michael entered the family firm, in due course being put charge of the works' machinery. Later, briefly, he became a partner in the business of Blakey Emmott and Co, Square Road; this partnership was dissolved in 1882. Michael then embarked on a career as a consultant engineer, designing mills, testing engines, and investigating causes of industrial accidents.
By 1882 he had recognized the potential advantages of cable traction for trams. The following year Michael built three experimental narrow-gauge electric tramways, one in his father's warehouse at Charlestown Road, the other two in the grounds of the home of his friend, Louis John Crossley, already mentioned. These were constructed on the conduit system. But an offer by Michael to design an electric tramway system for Halifax was turned down by the local Council. Shortly afterwards, he moved to Manchester.
In 1884 he arranged a demonstration of a standard-gauge conduit tramway line at his Manchester works, and then at the Winter Gardens, Blackpool. This led to the formation of the Blackpool Electric Tramway Co., and the commissioning of a two mile service along the promenade from Claremont Park to South Shore, for Blackpool Corporation. Six of the ten directors of the tramway company were from Halifax, including the chairman, Richard Horsfall; and the system was constructed by Halifax engineers. This was the first electric tramway for public use in Britain, powered by a conduit in the track.
Had Michael's conduit tramway had been tried in an inland town, it may well have survived to shape the future course of tramway development. Instead, its only long-term demonstration was on the promenade of a seaside resort exposed to the west wind and the Irish Sea. This brought problems: the wind filled the conduit with sand, and the sea, working in conjunction, added salt water. The water could be got rid of by drains leading to the open sea, but the sand was a regular nuisance, having to be got out by continuous scraping. The amazing thing is that the line ran as a conduit tramway for thirteen years. After that, the trams were converted to run off overhead wires, as elsewhere.
Between 1888 and 1891, Michael lived in London, and was responsible for the electrification of the City and South London Railway, the first deep bored "tube" in the world, now the Bank branch of London Underground's Northern Line.
Michael's engineering and electrical advice were sought in many countries, and he travelled extensively, some of his inventions being adopted in America and on the Continent.
From 1895 he also took an interest in motor-cars, and was one of the earliest exhibitors of such vehicles. He built a car and a phaeton of his own design, though these do not appear to have gone into production. Michael later became interested in petrol and steam omnibuses, and studied the problems of aviation. Shortly before the Great War he even constructed a prototype helicopter, but this did not prove successful.
Even when enjoying his favourite sport, angling, his inventiveness came in useful, for he devised amongst other things, a special kind of reel.
In 1874, Michael had married Anne Williams, the devout daughter of a Welsh minister. The marriage took place at The Tywyn Presbyterian Chapel, Merioneth, The couple had a large family, many of whom adopted the double surname of Royde-Smith.
Michael Holroyd Smith's old age was spent in retirement in north Wales. He died on 6th July 1932 at his home, Maenan Hall, Denbighshire, aged 85.
In 2018 The National Tramway Museum, at Crich, Derbyshire was awarded a grant of £74,500 from AIM Biffa Award, in order to create a new permanent exhibition 'Holroyd Smith – Electrifying the Future'.
David C Glover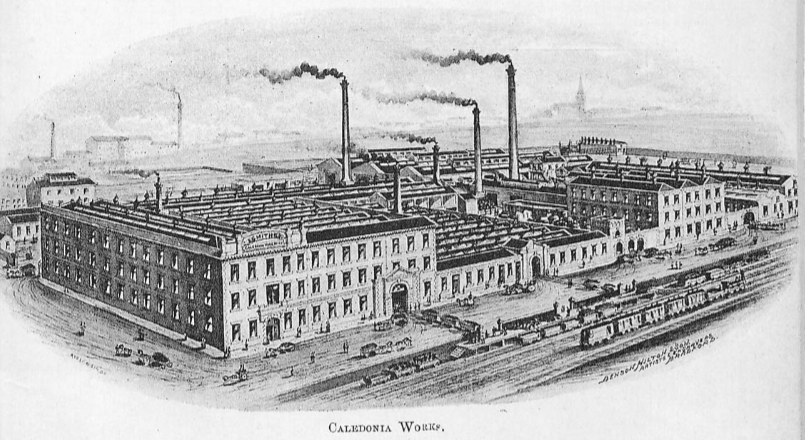 There were several pubs along Charlestown including the Pineberry, Bishops Blaize, Junction Inn Soveriegn Inn (at 16 Charlestown Road) and York Inn.