Manor Heath, Halifax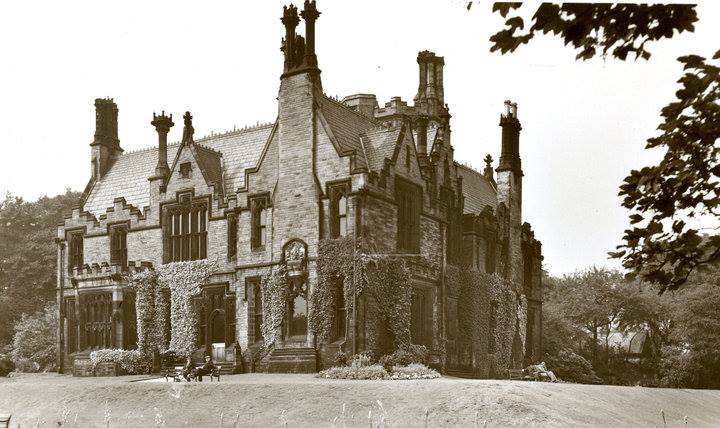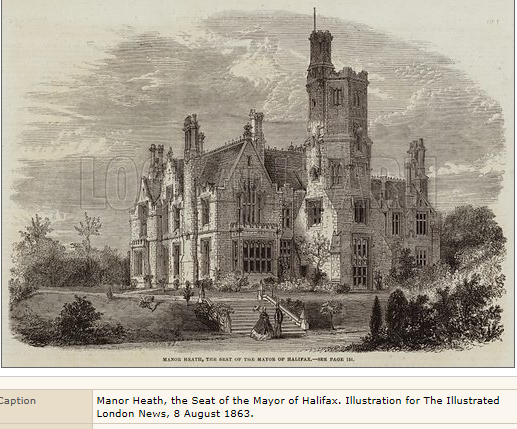 Manor Heath Mansion, Halifax was a mansion built in 1853 as the home for John Crossley.
The design was put out to competition, and the winners were Smith & Parnell / Thomas Risley. Smith's design was Italianate, but Crossley wanted this changed to Gothic.
The 70 ft high octagonal tower was a feature of the building.
In 1863, the Prince of Wales – the future Edward VII – stayed here when he came to open Halifax Town Hall.
In 1877, it was put up for sale but withdrawn at £27,000 when it failed to reach the reserve price.
On 4th July 1883, it was again put up for sale by auction
20 acres in one lot together with a small villa residence and four houses
Only £7,400 was bid when the house was offered separately, and the property was again withdrawn
From 1897, it was the home of Giulio Marchetti, Managing Director of John Crossley & Sons.
In 1903?, George V and Queen Mary were guests of the Marchetti's at Manor Heath.
In 1929, when Marchetti moved to London, the house and grounds were sold to Halifax Corporation for £18,500.
There were proposals to build a new cemetery, a fever hospital, or a swimming pool.
In 1950, plans were put forward to convert it to an old people's home were abandoned.
Like the tale which is told many times here, the council allowed it to fall into disrepair, and it was demolished in 1958.
The grounds became a public park and the Jungle Experience is now based in Manor Heath Park.
The Lodge still remains
Calderdale Companion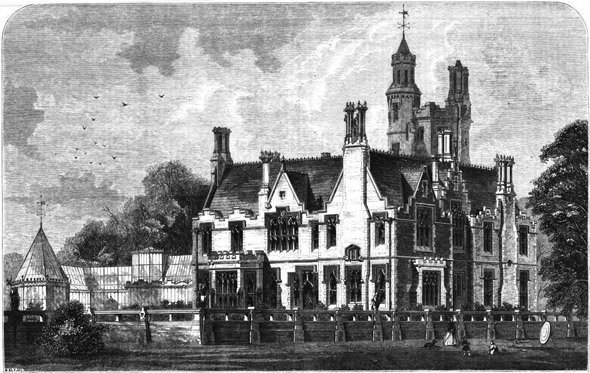 Each June, for 61 years, the Halifax Charity Gala procession starts in Halifax Town, travelling to Manor Heath Park where the Gala last all day.  A Volunteer group meet monthly to organise the Gala which uses the park facilities.  But what was the origin of Manor Heath?   John Crossley, junior (1812-79), was the eldest of the three brothers who successfully developed the Dean Clough carpet manufacturing enterprise in the mid 19th Century. He was Mayor of Halifax 1849-51 and 1861-63; and from 1874-7 was one of the town's M.Ps.    In 1852, while living at Elm Wood, Shaw Hill, John put in hand the construction of his new mansion at Manor Heath.  His architect was Alfred Smith of London, who had designed The Army and Navy Club in Pall Mall.  The style used was Decorated Gothic, and the elegant gentleman's residence which resulted, had a distinctive octagonal tower on its north side.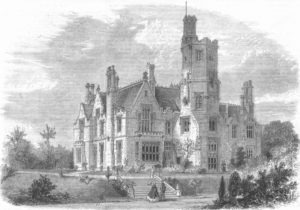 Eleven years later, in August 1863, 'Manor Heath, near Halifax' featured in the 'Illustrated London News,' with a half-page engraving.  This publicity was for the two-day visit to Halifax of Albert Edward, Prince of Wales (later King Edward VII), to open the new Town Hall.  He stayed with John Crossley, who was then Mayor. Manor Heath was then described as "a truly magnificent residence . . . standing in a handsome and well-arranged domain, and beautifully laid-out grounds."   In 1877, John became bankrupt, and was forced to retire from Parliament. As a result, Manor Heath estate was offered for sale: but it was withdrawn at £27,000, failing to meet its reserve price.
In 1871 John Crossley's daughter Anne had married Giulio Marchetti (1844-1931), a talented Italian immigrant who had fought with Garibaldi in the struggle for Italian unification. He had been employed by Crossleys, initially as manager of their London warehouse.  In due course, Marchetti and his family moved into Manor Heath; eventually he became chairman of John Crossley & Sons.  But the place was expensive to maintain, and in July 1883, Marchetti put the estate on the market. Again, it did not meet its reserve, being withdrawn at £19,000.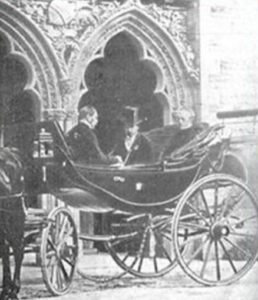 The Marchettis continued to live in the mansion, and in 1912, almost fifty years after the house's first Royal Visit, they entertained King George V and Queen Mary there, when the couple visited Dean Clough.  On earlier occasions the house had seen visits by other notable people, one being the King of Burma's envoy in 1871.  He dressed in a coronet of feathers and a white tunic, being draped in multi-coloured Oriental silk robes, and he caused quite a stir in Halifax.  After his wife's death in 1925, Marchetti finally left the house; moving away he died in 1931.  In December 1929, his family sold Manor Heath estate to the Halifax Corporation for £18,500.
Although the grounds were soon adapted for use as a public park, no practical use could be found for the mansion.  By 1934 the 'Courier' pointed out that it had "fallen on useless days under public ownership," and estimated it had already cost ratepayers £5,000 to maintain.
Finally, during World War II a use was found for the building, as the local headquarters for the National Fire Service.  After the war, dry rot was discovered in the mansion; and in September 1950, £4,000 was forked out for repairs. But no viable new scheme was forthcoming for the building's use; and in 1957 the Corporation recommended it be demolished.  In January 1958, the tender of Francis Fascione, a demolition contractor, who had recently taken down the Grand Theatre, was accepted.  He paid £150 for the right to demolish and retain the building materials from the mansion. He was to call in expert steeplejacks to bring down the octagonal tower with gelignite. "I have never come across anything quite like this place," he said. "There was terrific strength from the top of the tower down to the great cellar.  It was a fortress of stone, designed to last centuries."
Today, the mansion's site is covered by a landscaped garden, laid out in 1961.
David C Glover – April 2017