Southowram-Blog      

Southowram-Blog is just me going on about anything that pops into my head as well as some local banter and observations. Hopefully, there will be some subjects along the way that keep you all interested. So lets see where it takes us.
I'll start with a bit of a self introduction for anyone that hasn't come across me. I am Gary Beaumont and I moved into the village when I was 18 years old. Since then, I have been an active member of the local football teams, cricket teams, pub and club activities and more recently chaired the Southowram Scarecrow Festival Committee plus you may have seen me driving the local taxi.
These pages are a hobby to me and I would love you to join me by adding your own knowledge, stories and photographs so that the history of the village can live on for all to see. Each article you see in the pages below can be added to at any time so that any knowledge on any subject can grow and grow.
Many of the photographs and information's are from 'Malcolm Bull's Calderdale Companion' so I pass a big Thank You on to Malcolm for his permission to share 

---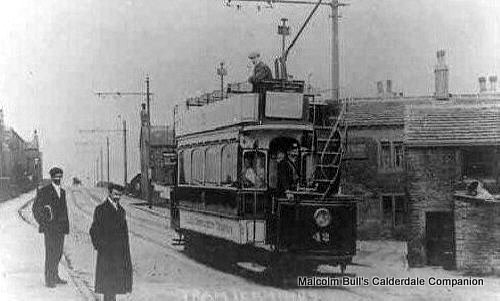 ---
How can you help?
You can all help to contribute to these pages in several ways including
add your own stories about experiences in the village
add your input to any of our existing articles
search your photograph collections for any pictures of Southowram 
ask our elderly residents or ex-residents of their knowledge
add details of any upcoming events
add pictures or details of any recent events
You can do this by
filling in the form at the bottom of this page
emailing me at info@halifaxpeople.com
writing on our Southowram facebook page
pass any information to me if you see me
Thank you in advance for any contributions

---
A virtual pub tour of Southowram
(Part 1 - Pubs from Brookfoot to Ashday Lane)
---------

| | |
| --- | --- |
| Vine Hotel        42/169 Elland Road | |
Not sure the first picture is actually the Vine 

Built in 1860 as a mill with a house next door. This was originally a beer house. In 1867, the beerhouse was owned and occupied by Mr Cliffe, and a licence was refused to Mr F. Barber. This was a Brear and Brown house [1894] and inquests were held here [1889].
The pub closed in 1933. It later became Vine Works and then a private house.

---
Next drink on the tour is at 'The Wharfe',  Brookfoot. This Websters pub opened around 1833 for the workers at the Brookfoot Wharfe. In 1983, it was acquired by The Fighting Cock group and was renamed The Red Rooster. 

---
Woodman Inn Purlwell, Elland Road, Brookfoot
A short walk to our next pub the 'Woodman Inn' .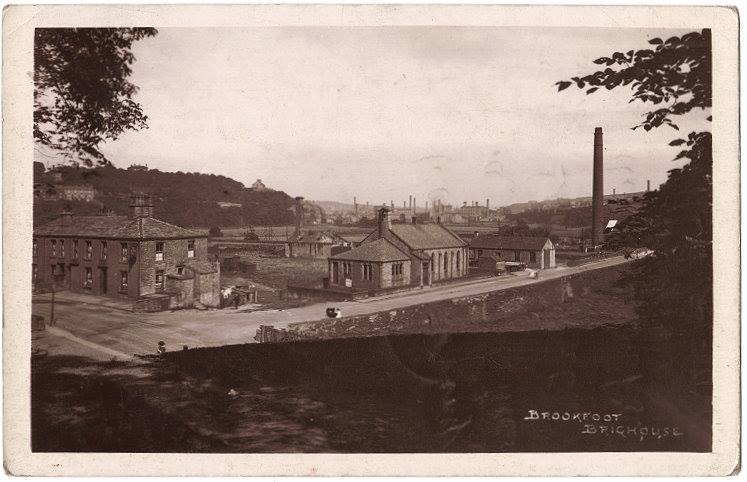 This pub stood at the entrance to the road leading to Brookfoot Mill and was a Halifax Brewing Company pub [July 1898]. The pub was declared redundant in 1938 and closed on 11th April 1940.

---
We continue our pub crawl with a trip a little further on Elland Road to 'The Grove', now known as Casa but previously known as 'Lakeside Lodge' and 'Casa del Lago'. 

Having been extensively re-furbished in recent years, Casa has grown from humble beginnings to become a lively bar, restaurant, Wedding venue and more; all overlooking the picturesque Cromwell Lake. Casa is situated in Brighouse, West Yorkshire and has a 150-seater restaurant, large bar and 10 en-suite rooms. 

---
Neptune Inn

Now we start to climb Brookfoot Hill and what is now a cottage used to be the 'Neptune Inn'.

---
Delver's Arms

We continue our climb up the steep hill and get a deserved drink at the 'Delvers Arm's'. Now terraced housing but the pub name can still be seen painted on the front. Adjoining the pub used to be Lady Royd school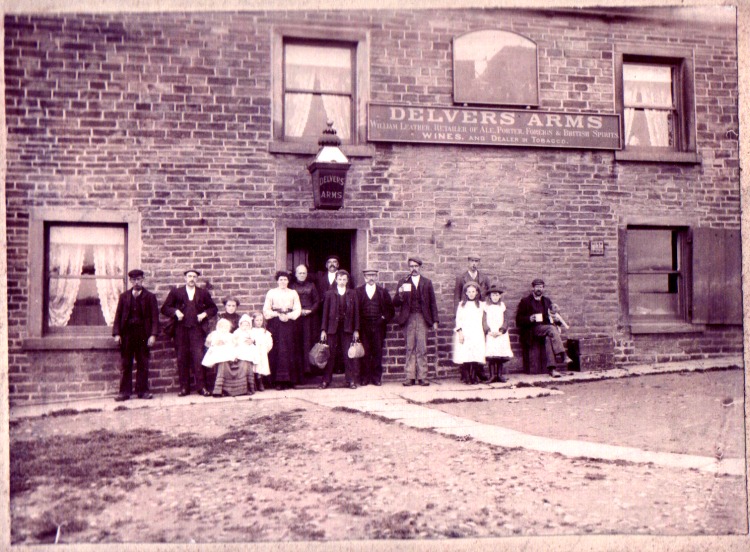 Hi, I thought you would be interested in the photo of the Delvers' Arms (attached) in Southowram.
I was sent this photo by a distant relative, David Saunders, back in c2008/2009.
The photo shows a front view of the pub. It would have been taken c1903/1904. To arrive at this estimate, I have used the known fact that the twin girls in their mother's lap (to the left of the pub entrance) were born 10th September 1902.
The sign on the wall indicates that the licensee was William Leather (1862-1917), my great great grandfather. He would later be licensee at The Black Swan in Overton, near Wakefield. William can be seen standing in the doorway.
Some of the people in the photo have been identified, tentatively or with certainty:
left to right: Unknown, unknown, Annie Ainley (nee Watson) holding twins Doris & Gladys Ainley, Mary Louisa Ainley, unknown, Jane Watson (nee Child), William Leather, Herbert Leather (holding bags), unknown, unknown, unknown, unknown, unknown, unknown.       Steven Leather

| | |
| --- | --- |
| | Plaque on Lady Royd, Brookfoot Lane, Southowram |
"The Law(?) of the LORD is the beginning of wisdom. Training a child in the way he should go and when he is old he will not part from it. This School and House was built at the Charitable Bequest(?) of Mr William Staines of LONDON Anno Domini 1787." He became Sir William Staines, Lord Mayor of London. The school was erected on a close called Longlands, on the "north side of the highway leading from the town of Southowram to Brighouse". Lady Royd is on the south side of the present road, but Jeffreys's map of 1775 shows that at that time the road had a sharp bend to the south part-way up the steep hill from Brookfoot, and then curved round to meet the present line a little to the west of Lady Royd. This route is confirmed by the draft OS 1" map of 1840, although broken by a quarry by then, and is perpetuated by field boundaries on the various editions of the 6" map. The present Lady Royd doesn't look as old as 1787, nor does it look like a purpose-built school. By 1857 the school was reported as being disused, and it was sold in 1860. It would seem likely that soon after that date it was demolished and Lady Royd built, and the plaque saved and set into a window embrasure.

---
Malt Shovel

Before we reach St.Annes church we arrive at what was the 'Malt Shovel'.

---
Shoulder of Mutton
This was a delightful and typical village pub.

Note 'Bell House Farm' (in the picture below) which is no longer there.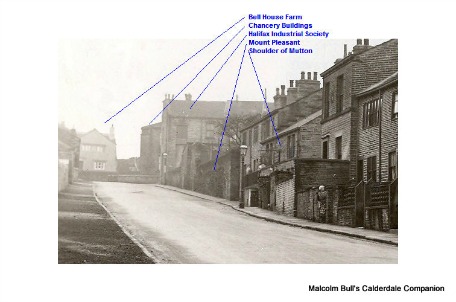 Australia Terrace (the terraced houses below the Shoulder) was also home to 'The Melbourne' pub in the past.

---
Jubilee Hotel

'Jubilee Hotel' New Street, opened as a beer house and was originally known as 'The Rock' but changed its name after Queens Victoria's Jubilee in 1887. It closed in 1990 is now 'Gingerbread House' day nursery since 2010.

---
The 'Pack Horse' on the corner of Towngate and Caine Lane.

---
Southowram Working Mens Club for our next drink and a game of snooker.
---
---
This is the ideal venue for our next drink to savour the scenery and watch a game of cricket.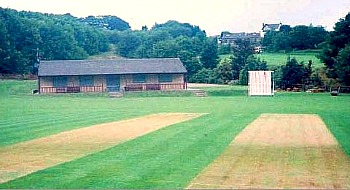 ---
Return to Southowram page from Southowram-Blog page

---
Join in and write your own page. It's easy to do. How?
Do you have a great story or memory about Southowram? Share it!
---