Southowram-Blog      

page 1

    page 2    

Southowram-Blog is just me going on about anything that pops into my head as well as some local banter and observations. Hopefully, there will be some subjects along the way that keep you all interested. So lets see where it takes us.
I'll start with a bit of a self introduction for anyone that hasn't come across me. I am Gary Beaumont and I moved into the village when I was 18 years old. Since then, I have been an active member of the local football teams, cricket teams, pub and club activities and more recently chaired the Southowram Scarecrow Festival Committee. I am now the village taxi driver and this website is my attempt at being the village oracle(the website - not me).
Let us begin
---
Manor House

The Manor House brings many happy memories back to me. This is where I had my 21st birthday party, I played football for them and had some of the best drinking times you could wish for.
Sundays were best. We would attempt to play our football match (home games on the Long Lane pitch, Beacon Hill) after a night on the booze. We would often get thrashed 8-0 and worse, but later, back at the pub, you would think we had won the FA Cup the way we partied.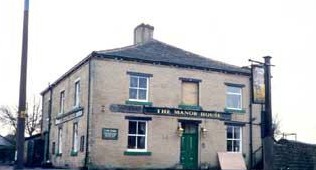 The drinking went on until teatime and we met back at the Manor ready to go to town in the evening. There were regularly well over a dozen of us made this trip. We had to be back by 10.30 if we wanted 'afters'. So there was a mad scramble for taxis in town by our crowd and a few other Manor locals with the same idea of drinking until the early hours. Thanks to Kev and Pat for that and the DJ Peter Quarmby who often fell asleep (inebriated) while spinning the discs. Great days.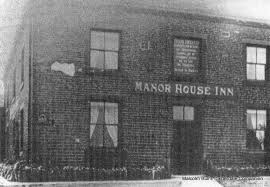 The Manor House was supposedly haunted by the ghost of Sarah in her white wedding dress who was sometimes seen, standing at the bedroom window. One of the stories Kevin (the landlord at the time) once told me was that when the lines were being changed to the new slimmer lines, the man who was fitting them in the cellar ran up to the bar as white as a sheet and shaking like a leaf.
Kevin asked him what was the matter and the man eventually replied 'That cup of coffee you brought me - it was floating around the cellar on its own.'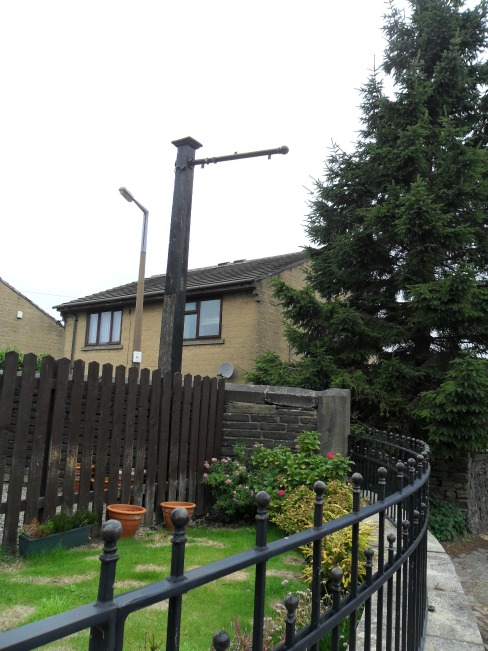 All that is left of the Manor House is this signpost in one of the gardens of the houses that now stand in its place.

Ghosts and Legends of the Lower Calder Valley
A compendium of hauntings, folk traditions, forteana and historical oddities in the region of Brighouse and Elland

---
Time on your hands?
Managing this website is a very satisfying hobby and the site has an endless potential. Due to me having less time available than I had previously, I am looking for someone (maybe more than one) with their own ideas and with spare time to help with the running of the website. Although this would be a hobby, there is also the potential of making it into a well paid business.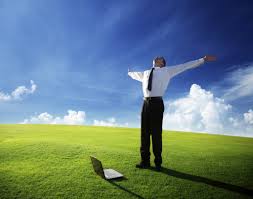 Existing and possible avenues for consideration include:-
Selling promotion packages throughout all Halifax areas (this could easily be a full time wage for the right person).

Improving each areas' information network eg doctors, church, other amenities information
Improving the 'Whats On' pages and keeping them up to date

Improving the old photos sections
Introducing competitions (sponsors - promotions?)-many options to consider.
Exploring a 'For sale / Wanted' page
Improving the shop and promotions and bargains pages

Advertising ideas (lots and lots of thoughts here)
Exploring better public participation pages and business participation pages
Many more feature pages on all Halifax subjects

Many, many more options to consider
If you are interested in joining me with either business intentions or as a hobby interest, then please contact me by email at     info@halifaxpeople.com

---
COCK and BOTTLE

Whilst updating the 'December events' list, I couldn't help but notice how warm this picture looked of the Cock and Bottle.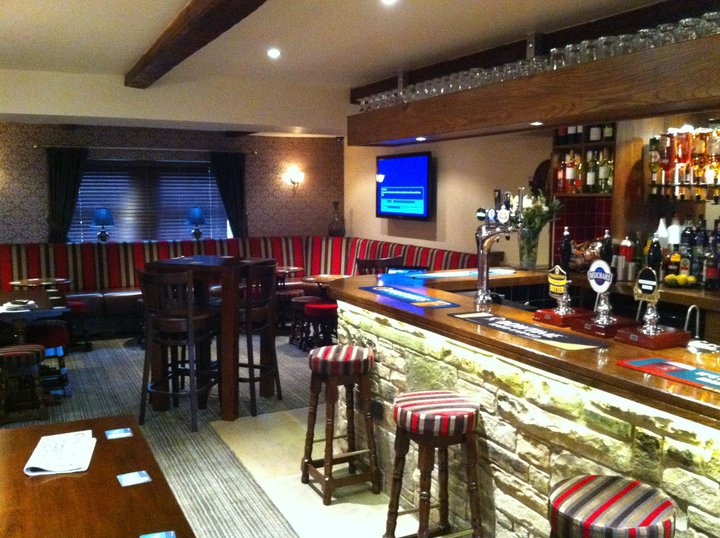 When you think about the number of pubs that have closed or left to deteriorate slowly (and this was nearly one of them), we are lucky to have such a local  with so much going for it. There are some great nights entertainment to be had during December too. So why not pop in and enjoy what they have on offer.
Many enjoyable times have been spent here and I am sure there will be many more.
This article (below) was written to be published in a local newspaper, but it never was. Its the one article version of the Cock and Bottle series from Pubpaper by Sean Liquorice read here

---
Workhouse

Does anyone have any pictures of Southowram workhouse? The only information I have found so far is the following fro the Eden report:-

Southowram's workhouse dated back until at least the 1740s. It was situated on Ashday Lane where the name "Old Workhouse Quarry" was still current until at least the 1890s. Eden noted of the Southowram workhouse that:
34 paupers, chiefly old people and children, are in the house. They appear to be comfortable and well fed. Hasty pudding and boiled milk are provided for breakfast and supper. Dinner on Sunday and Thursday consists of butchers' meat. No regular course is observed on other days, but potatoes butter, milk and oatbread form the chief part of their food. A pint of beer is allowed in the forenoon and afternoon to those who work. The Poor spin worsted. Children begin at 7 or 8; at 9 they are bound apprentices The earnings are from £1 13s. to £2 7s. a month. There are 89 out-pensioners, most of whom have families. About 20 receive casual relief.

---
Blind Junction
I have recently been in touch with the local council regarding the junction at the bottom of Higgin Lane. As many of you will know, pulling out of this junction is a gamble as it is blind to the right.
I suggested a polished metal mirror metal-strapped to the lamp-post just to the right of the junction.
This was my reply.

Dear Sir

Further to your recent request for a traffic mirror.

Calderdale Council does not endorse the use of traffic mirrors for the
following
reasons:

·         In order for an adequate field of vision to be provided, a
convex
mirror would be required.  This type of mirror, however, tends to
distort the
image of vehicles seen in it by drivers.  At a junction this could lead
to the
driver on the minor road misjudging the speed and distance of the
oncoming
vehicle and thus encourage them to emerge into a dangerous situation.
·         Problems with perception occur particularly at night when, in
urban
areas, the low level of vehicle lighting , together with street lights,
can make
it especially difficult to judge speeds and distances. This can be
further
exacerbated in poor weather conditions as snow and rain further distort
and
obscure the image.
·         Poorly sighted mirrors can reflect car headlights into the
path of
vehicles and dazzle drivers at night.  Bright sunlight can also reflect
from the
mirror causing the same affect.
·         Traffic mirrors can cause drivers to concentrate on them
rather than
their immediate surroundings, for example they may not notice
pedestrians
crossing nearby.  The speeds of emerging vehicles tend to increase as
drivers
rely on the mirror rather than their own senses.

Whilst the Council do not normally provide traffic mirrors for the
above reasons
, residents on occasions do purchase these themselves, they should be
aware
however, that mirrors placed on the adopted highway, Council owned land
or
street furniture would be removed immediately.

I appreciate that this is not the response you had hoped for, but trust
it
clarifies the current position.

Helen Martin
Technical Assistant
Highways Information
and I replied
I thank you for the quick response but surely any sign of an oncoming
vehicle is better than no sign at all. The junction in question
requires drivers to take a gamble every time they pull out and just a
clue that some traffic was approaching would be enough.
Thanks again

I don't expect any joy but can anyone else come up with an alternative?
Ps There is to be a 20mph zone introduced through the village shortly, so this should help. We will see!

---
'Who Could A' Thowt It' 
I would expect many people to be familiar with this phrase but did you know it was the name of a Southowram pub?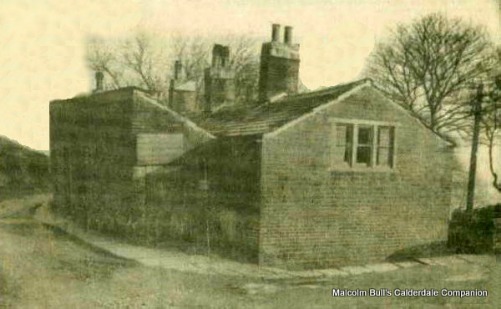 This pub, known to locals as 'Ba Gum Who Could A' Thowt It', was just down Walterclough Lane (off the corner of Law Lane). It sold it's last drink as a pub on Boxing Day 1933, and was demolished in 1945. The stone going towards the rebuilding of Coventry Cathedral
It is said to have been licensed from the 1860's following the enactment of the Beerhouse Act in 1830. There were hundreds of Beerhouses opened at this time. The licensing aspect for Beerhouses came in 1869 when these houses were then subject to a 'Justices licence' for the sale of beer.
This new regulation killed off many of them but a few did survive, including the 'Ba Gum'. One reason for the new law was the amount of drunkenness due to the vast number of places offering beer.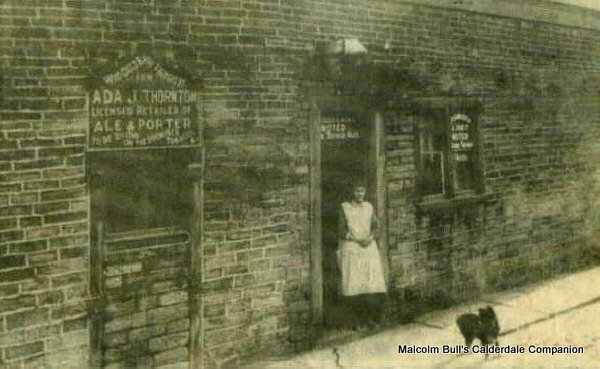 pictured is Mrs Ada Jane Thornton (licensee)
A particular case at the 'Ba Gum' became the topic of conversation throughout the town for months after. In 1904, John Tidswell, the then licensee, was found drunk on the premises with a number of his customers in a similar state by the police. The outcome at court was a foregone conclusion and he was found guilty and fined 7/6d for allowing the customers to be drunk and a further pound for being drunk himself.
The talking point was not the case itself but the fact they had actually got caught in the first place. It had been known by everyone but the police that customers had been drinking to an excess and for hours beyond closing time for years. Whenever the police sergeant knocked at the pub door, the licensee would wait a few moments and then let him in and naturally everyone had gone.
It was later discovered there was a secret passage that led to adjoining cottages.
After the days of being a pub, the premises had a short spell as a café.

---
Plaque on Lady Royd, Brookfoot Lane, Southowram

"The Law(?) of the LORD is the beginning of wisdom. Training a child in the way he should go and when he is old he will not part from it. This School and House was built at the Charitable Bequest(?) of Mr William Staines of LONDON Anno Domini 1787." He became Sir William Staines, Lord Mayor of London. The school was erected on a close called Longlands, on the "north side of the highway leading from the town of Southowram to Brighouse". Lady Royd is on the south side of the present road, but Jeffreys's map of 1775 shows that at that time the road had a sharp bend to the south part-way up the steep hill from Brookfoot, and then curved round to meet the present line a little to the west of Lady Royd. This route is confirmed by the draft OS 1" map of 1840, although broken by a quarry by then, and is perpetuated by field boundaries on the various editions of the 6" map. The present Lady Royd doesn't look as old as 1787, nor does it look like a purpose-built school. By 1857 the school was reported as being disused, and it was sold in 1860. It would seem likely that soon after that date it was demolished and Lady Royd built, and the plaque saved and set into a window embrasure.

---
Join in and write your own page. It's easy to do. How?
Do you have a great story or memory about Southowram? Share it!
---
Return to Southowram page from Southowram-Blog page