Tabitha Bagnold
WAINMAN - BAGNOLD – AKERS: THE HALIFAX POST OFFICE FAMILY

Tabitha Bagnold may have been one of the best-known businesswoman in Halifax in her time, being the Postmistress for the town two centuries ago, a job she still held at the introduction of Uniform Penny Post in May 1840.
Tabitha Dewhirst was baptised at Halifax Parish Church on 26th November 1769, the daughter of Joseph Dewhirst, an ostler. On 8th March 1788, she was married by Licence to William Bagnold, Postmaster, at the Parish Church, by curate, Rev Edward Nelson; William was twenty-two years her senior, and they were both residents of the township. It would seem the marriage was somewhat hurried, as their eldest child was baptised only three months later…
Tabitha is just one link in a family story connected with "The Posts" of Halifax for over several generations. And this link was mainly female. Let us look at her family background, and the early history of the Halifax Post Office.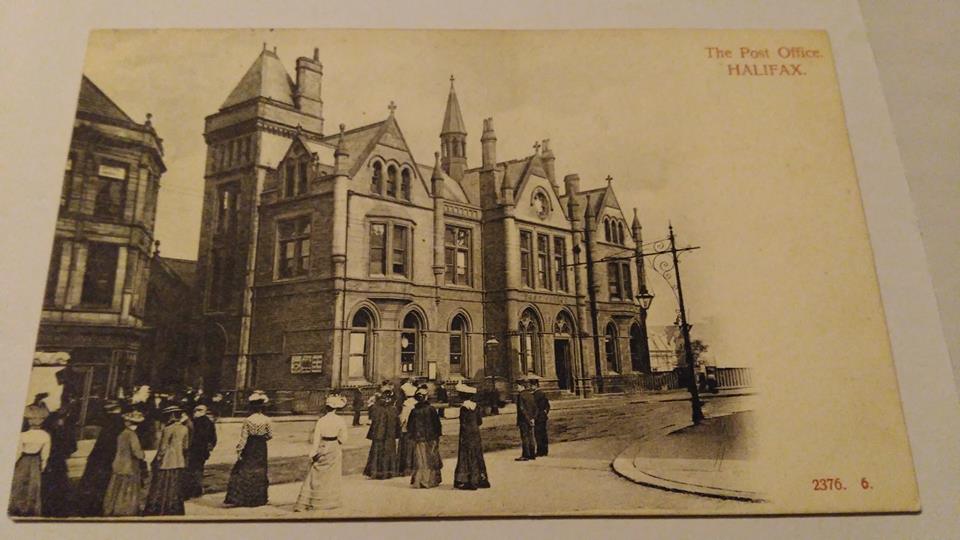 In the late 18th Century, the mail from London for Halifax came up the Great North Road by horse and rider to Ferrybridge, a town which has an importance in Yorkshire postal history far exceeding to its size. All the mail for Wakefield, Halifax, Bradford and Leeds passed through an office there, and was there sorted into separate bags. The "farm" of this office was run for most of the 18th century by a family surnamed Wainright. One of the last partners of Jeremiah Wainright, whose office ceased in 1769, was a certain Richard Wainman of Bradford. This surname was to become significant in Halifax.
When, on 10th October 1769, the Postmaster General took over the management of the Post Office at Ferrybridge, Mrs Mary Wainman was appointed deputy (i.e. Postmistress) of Halifax. She was the sister of the Richard Wainman of Bradford, just mentioned; and the family to which they belonged were landowners at Carr Head near Cowling.
An early record of the Halifax Post Office came from an account book of the year 1770 (whereabouts currently unknown), and relates to "Mary Wainman, deputy at Halifax; salary £60 3s. 4d." Mary Wainman, who was unmarried (the term "Mrs" was then not applied solely to married women), died on 28th December 1778, aged 70, and was buried in the Parish Church on New Year's Eve. It is significant she was buried in the church, not in the churchyard; indicating "social standing." It appears she was directly succeeded by her nephew, William Bagnold; probably he had earlier been her deputy, managing the office. He was certainly working at the Halifax Post Office in February 1777.
However, it can be prove that the Bagnolds family had connections with Halifax earlier than 1777. The earliest reference to the surname in the Halifax Parish Registers appears to be the entry of the marriage of Hannah Bagnold to Rev Henry Bates, son of the Parish Clerk, on 10th January 1774. Hannah was the elder sister of William; they were both children of John Bagnold of Bradford. William had been baptised at Bradford on 22nd July 1747, and, as related above, married Tabitha Dewhirst in 1788. In 1784, in receipt of a legacy from a will, William is described as a "gentleman". He was clearly a man of some standing, as he contributed two guineas to the fund set up for replacing the bells at the Parish Church in 1787; and in 1809 he subscribed 1 guinea to King George III's Jubilee Fund. In 1798, William owned property in Stone Dam field, on which he paid Land Tax.
So - where was the first Post Office in Halifax located? It was in Winding Road - then known as Windhill Lane - where it becomes Smithy Stake, today the usefully renamed 'The Old Post Office', formerly 'The Bowling Green Inn'. The only postman in those days for the township of Halifax was a man always referred to as "Joe Post"; a little thick-set man who wore a blue serge apron when delivering letters. He lived at the corner house at the top of Well Lane.

 In 1792 the first Mail Coaches came into use. Before this, William Bagnold was paid £112 per year "for conveying the mail between Halifax and Rochdale, 16 miles at £7." This was a very arduous stage; the haul on horseback over Blackstone Edge in winter must have been challenging indeed. In 1806 the mail coach route to Leeds from Halifax went via Haley Hill, Boothtown, Catherine Slack, Queenshead, Clayton Heights, down the old Halifax road through Great Horton into Bradford; on Tyrrel Street, up Ivegate, Kirkgate, Church Street, Barkerend, over Calverley Moor, Stanningley, Kirkstall Bridge, to Leeds - 18 miles. Before leaving Halifax, the Mail Coach first went to the Talbot Inn, in Woolshops (not far from the north gate of the Piece Hall), then down Gaol Lane, where once, turning too fast around the left-hand corner, it overturned on one occasion! The reason the Mail went that way was to call at the Post Office.
I have discovered one anecdote of William, from an article published in the Courier in March 1872, written in retrospect by "Josephus" (Joseph Sugden):-
'The Postmaster of the period . . . was in the habit of dropping the night mail bags from his bedroom window, after ascertaining by a private signal that it was the guard who rang the bell. One day it happened that he had been taking part in the christening of his eldest child. Now whether it was the natural excitement of such a momentous occasion, or the potency of the liquids used in 'washing the head' of the juvenile, I do not pretend to determine; but it so happened that when the guard rang the bell, Mr. B. leaped out of bed, threw up the window, and without any signal threw down to the guard his own leather breeches. The guard, a shrewd man, at once guessed the situation, stood a few minutes, then again rang the bell, exchanged the usual signal and the bags, then walked away with the breeches. The reader is asked to imagine the consternation of the Postmaster at the mysterious disappearance of his nether integuments, how there was money in the pockets, and the keys, how locks had to be broken open . . . how a report was gradually coming to the fore that Smithy Stake was haunted . . . when, in about three weeks afterwards, the postmaster, on opening the Leeds mail bag, found the missing ''breeks' addressed to Mr. B., postmaster of Halifax, with the compliments of the postmaster of Leeds.'
This account, if can indeed be dated to the baptism of Bagnold's eldest child, must have taken place in June 1788.
On 7th June 1810, the 'Halifax Journal' reported "Mr. William Bagnold, postmaster of this town, resigned his office, and his eldest daughter, Miss Harriet, was appointed in his place." Probably William was in poor health at that time, for the retired gentleman died on the following 17th October, at the age of 63, being buried in his aunt's grave in the Parish Church.
Harriet Bagnold had been baptised at Halifax Parish Church on 19th June 1788, and that she died on 1st October 1812, aged only 24 years. She was of the same generation as Anne Lister, and knew her socially; her name appears occasionally in Anne's early diaries. Having succeeded to the office at the age of 22, it appears Harriet had already given up the post to her mother by March 1812, because on the 9th of that month, John Edwards of Northowram Hall recorded in his Cash Book that he paid "Mrs Bagnold 4s. 10d for a letter to Lisbon" on that day. So it seems that Tabitha, William's widow had taken over as Postmistress some while before their daughter Harriet's death. In those days it was Post Office policy that married women were not appointed as postmasters; so it seemed likely that Harriet was put in as a stop-gap until the death of her father, when her mother might succeed him. After October 1810, Mrs Bagnold had no bar on her holding office, as she was a widow for the rest of her long life. However, when I discovered that William and Tabitha's youngest child John was not baptised until 17th January 1811, and that his birth was posthumous; I realised that Tabitha would have been in no fit state to take over as Postmistress, having been pregnant when her husband resigned, and then later giving birth in her early widowhood. It would seem that she took over from Harriet as soon as she could manage to cope with the responsibility. Harriet herself died in 1812, aged 24. 

Tabitha was tough, and became known as a formidable lady, according to the only account of her personality I have discovered (in an issue of the "Courier" dated 1872). This describes the Pot Office when in Cheapside circa 1832 "There in a room 18 feet square, was the scene of operations; the manipulators, a boy of 14...… a young gentleman of some 30 years; with the occasional presence of an old lady of some 60 to 65 summers - say winters - and that may account for her occasional irregular temper - whose peculiar accomplishment seemed to be the act of blowing up on the least pressure on the safety valve." However, the public were not admitted to collect letters -"Instead of the line of wide counters … of the present post office [1872], when the office was in Cheapside … there was a board fitted into a single square in the window facing the street, and in the centre of this a little door, 6 inches by 4, from which orifice the letters were delivered to callers, the paid letters received, and enquiries made and answered. This little door was protected inside by a box fitting to the window, with a hole at the top, so that parties outside had to look up at a face; sometimes if the weather was cold and a breeze on the wing, only a nose or a mouth at the opening from the inside."
Uniform Penny Post - and adhesive stamps - did not come into being until May 1840, and until that time, it was normal for the amount of the postage to be written in large figures across the address. In those earlier days postal regulations were very strict. A "letter" was interpreted to mean a single sheet of paper, generally half a sheet of a size them called "post", doubled in two. There were then no envelopes, and it would have been quite an art to fold the letter, only three pages of which were written on, the fourth - when folded and sealed with wax - receiving the address. If a second piece of paper was used - however small - this constituted a double letter, and rendered the receiver liable to pay double or treble the usual rate.
On 11th September 1817, Anne Lister of Shibden Hall wrote to Miss Marsh of York, enclosing a one-pound Bank of England note, eight shillings, and two sixpences, neatly sewed up in paper; and on getting to the Post Office, she found the charge was 4s. 8d postage, after the rate of 2s. 8d per ounce. (The rate to London per ounce was 3s. 8d.) In her diary for 26th April 1820, Anne Lister of Shibden Hall wrote: "Letter from Ann Belcombe (York), charged treble, 1s. 9d., on account probably of Ann Belcombe's having pasted its own size of lawn paper all along the back, because one of the children happened to tear it…."
In May 1819, Miss Lister had written regarding a journey by mail coach: "Fine morning, my aunt and I set off to walk to the 'White Lion' at 6.25. The Mail drove over the bridge when we were at the top of New Bank, my aunt in a sad fright that we should be too late. After all, had to wait about half an hour. Walked forward, and were taken up opposite Westfield [King Cross Lane] at 7.20. I had an inside place, the three outside being engaged, but sat with the coachman through the complaisance of Mr. Huntriss." This was the start of a journey to London via Rochdale and Manchester. It seems the business-like Anne Lister had forgotten the Mail stayed for breakfast at Halifax. It had been re-timed by 1822, when it left the 'White Lion' Hotel at 6.30 a.m.
By 1819, the Post Office had removed to a building opposite the 'White Lion' in Silver Street, but by 1822 it had removed to 6 Westgate. There, Tabitha was listed as Post Mistress, the chief clerk was Charles Haywood, and one man, John Milner of 36 Fox Ginnel, Silver Street, was sufficient to deliver the Halifax letters. In 1821 the population of Halifax was only 14,000, and the amount of postal business cannot have been very great.
In or before the year 1829, the Post Office removed to 10 Cheapside. This new location was on the south side of that thoroughfare, near where the Royal Bank of Scotland currently stands. Commercial Street did not then exist.
A Directory of 1830 announced regarding Halifax that there was a "Post Office at 10 Cheapside, Mrs Tabitha Bagnold, postmistress. The office opens for the general delivery of letters at ½ past 7 in the morning from 5th April to 5th October, and at 8 in the morning during the other 6 months."
In Pigot's Directory, 1829, the following information is given for Halifax Posts:

Letters to London are despatched at a quarter before six in the morning, and arrive at half-past eight in the evening.
Letters to Bradford, Leeds, Tadcaster and York are despatched at one in the morning and a quarter before one at noon, and arrive at two in the morning and a quarter past twelve at noon.
Letters to Bolton, Bury, Liverpool and Manchester are despatched at two in the morning, and arrive at one in the morning.
Letters to Boroughbridge and Wetherby are despatched at a quarter before one at noon, and arrive at a quarter past twelve at noon.
Letters to Huddersfield are despatched at six in the morning and one at noon, and arrive at twelve at noon and eight at night.
Letters to Rochdale are despatched at two in the morning and a quarter past twelve at noon, and arrive at one in the morning and a quarter before one at noon. 

And it was quite normal to collect one's mail from the Post Office. Pity the staff there receiving mail at 2 a.m!
Halifax was very late in getting a direct Mail Coach to London, this not being achieved until 6th June 1836. The coach left Halifax at 10.30 a.m., getting to London at 7 a.m the next morning. It left from the old 'White Swan' Hotel, then situated in Crown Street. On Wednesday 2nd May 1838 the number of chargeable letters carried was 1,201, weighing 64 lb. But with the coming of the Railways, the Halifax coach was to prove uneconomical, and it ceased running in April 1839.
Uniform Penny Post, on letters under half-an-ounce in weight, was introduced on 6th May 1840. The Halifax 'Guardian' of 9th May indicated that the new-fangled postage-stamps were not particularly popular: "… the adhesive sticking-plasters are altogether beneath criticism… it is utterly impossible that any decent person should stick these dabs into his mouth for the purpose of softening the stinking diachylon with which they are bedaubed…"
In June 1840, soon after the introduction of the Penny Post, Halifax was in a turmoil over the loss of certain letters containing money. The town then had two delivery postmen, and at the home of one of these - George Wadsworth, son of the landlord of the Temperance Hotel, Bull Green - nearly 150 letters were found undelivered. The miscreant was duly dealt with according to law, being awarded six weeks in the County Gaol. There was apparently some wire-pulling as to the appointment of his successor; certain 'prominent persons' sought to have the offender's brother appointed to replace him. This aroused the Halifax 'Guardian' to great indignance; and fortunately the matter was not allowed to rest. Mrs Bagnold had wisely refused to entrust letters to the newly-appointed postman. A plain statement of the case was sent to the authorities, and the man's appointment was cancelled.
If I was to pop into the Post Office today, and ask for my letters which had been posted in London this morning, because I wished to reply before I closed my place of business for the night, I should run the risk of being though quite insane, or, at least, totally unreasonable. But, 166 years ago, I could have made this request without appearing in any way odd. In 1852, business interests in Halifax complained that the 7 p.m. arrival of the London mail posted that day at 9.30 a.m., was much too late, and hindered competition with rival firms in towns which were much better served. The locals protested to such effect that improved postal services announced in the Halifax 'Guardian' in May of that year included rail arrangements for letters from the 9.30 London dispatch to be in Halifax by 4.45 p.m. and to be available for callers at five o'clock. And this was before Halifax was served by a main line railway, so it was not regarded as more than a deserved facility that enabled business mail to be dealt with as it should be! However, we must not forget that the quantity of mail handled in those days was very insignificant compared with the vast amount posted today.
Tabitha Bagnold retired as Postmistress in November 1841; she continued to live on Post Office premises she was succeeded in post by her widowed daughter, Mrs. Charlotte Akers, then aged 43. Charlotte had worked alongside her mother, having already been a "sworn clerk" of the Post Office by 1840, and her son also was by then also a clerk there. The 'Bradford Observer' reported discontent in the town that the post had not been offered to "a gentleman of active and businesslike habits"; - was this simply misogyny, I wonder?
By 1849 the Post Office premises in Cheapside were considered very inadequate; the amount of mail had grown enormously. On 29th July that year, the Halifax 'Guardian' reports "To us it is a marvel how the postmistress is able, with such miserable accommodation as is afforded her, to conduct such a vast amount of business so efficiently. We trust that a public meeting will be held at an early date, and that spirited subscription will be opened for the purpose of erecting, or providing, more suitable premises." The new Town Council had already formed a Post Office Committee, and by June 1850 the Halifax 'Guardian' was reporting new premises had "been taken at number 6 George Street…. In addition to providing increased accommodation for the clerks, a large waiting-room 8 yards by 13 yards will be provided for the public and the convenience of those who rent letter boxes." However it was to take a while before the move could be undertaken, as considerable preparations and conversion of property had to be made; and these had to be financed by public subscription.
At the time of the 1851 Census, early in April that year, Tabitha is still listed as the Head of household at 10 Cheapside, and her daughter Charlotte Akers, widow, is listed as Post Mistress; but those Post Office premises there were finally vacated a few days later, on 14th April and transferred to 6 George Street. This property was in the rear of Somerset House, and probably around that now occupied by "The Beefeater Grill". The 'Guardian' reported:
"We believe Halifax can now boast one of the most commodious and convenient post offices in Yorkshire, and one which will be commensurate of the increasing business of the neighbour-hood for many years to come. The situation is the most convenient that could have been selected, and the public will now have the advantage of protection from the weather while they wait for their letters. In addition the public will enjoy the benefit of a well-regulated
illuminated clock which has been placed in the doorway of the post office, and which we hope will become the standard for other clocks in the town."
However, a few years later it is recorded by the Halifax 'Courier' that transacting Post Office business at 6 George Street involved standing in a cold, draughty passage, and doing business through small doors only about the size of a pigeon-hole. There was still no counter over which to carry out transactions.
In 1853 Esau Greenwood was the clerk, but Charlotte's son William Bagnold Akers (born 1824) was listed as "officer of the Post Office". At some stage thereafter the Akers family and Mrs Bagnold moved to Barum House, Barum Top, where Tabitha died on 28th December 1855, at the grand age of 86 years. It is significant that the vicar of Halifax himself, Archdeacon Charles Musgrave, performed the funeral service, as would only preside at the funerals of persons whom he considered 'important'; the Church Registers prove he was rarely available for funerals. Tabitha was buried early in January in the family grave in the Holdsworth Chapel at Halifax Parish Church, where there is an inscription to her memory on the same stone as that of Mary Wainman and other members of her family. Tabitha must then have been one of the best-known woman in Halifax, yet the two Halifax newspapers both dismiss her passing with a paltry two lines each, in their obituary columns.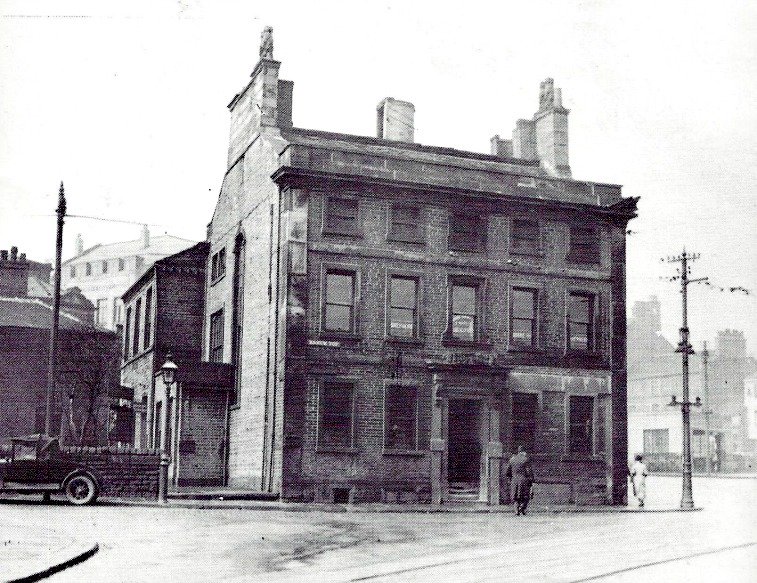 Barum House was where Tabitha Bagnold lived latterly, and died in 1855; and where her daughter Charlotte died six years later.

Tabitha's daughter, Charlotte Akers - baptised Charlotte Bagnold at the Parish Church, 10th August 1798, had married Robert Akers (of Manchester, gent., who settled in Halifax thereafter) on 12th June 1821 - died at her home, Barum House, on 3rd October 1860, and was buried in St James's Churchyard. Her son, William Bagnold Akers, joined the Halifax Post Office as a clerk about January 1839, and in July of the following year witnessed in the Magistrates Court against the thieving postman. He may have been the boy of fourteen, mentioned above. By 1845, William was Chief Clerk, and is then also listed as a Stock and Share broker. He worked at the Post Office until at least 1859. Certainly he did not succeed his mother as Post Master, and may have been for a while in poor health; he only survived her by six months, dying at Seedhill, Huddersfield in March 1861, aged 37, being buried in his mother's grave at St James's. Sadly their tombstones have long gone; their remains were transferred to Stoney Royd in July 1961.
The Post Office was moved further up George Street in 1863; this had a much larger floor area, and people could transact business under cover over mahogany counters. Then in 1887 a new purpose-built General Post Office was opened some fifty yards away in Commercial Street, in the building we have all known so well for so many years; but sadly, no longer available for its original purpose.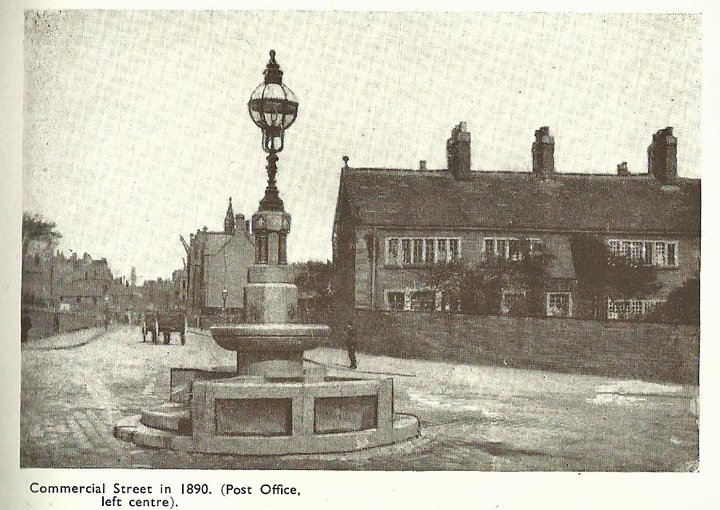 This article was inspired by one entry in an old directory, and by one gravestone in the Holdsworth Chapel at Halifax Minster; the latter reads as follows:

In memory of Mary Wainman, who died Dec 28th, 1778, aged 70.
Also William Bagnold, her nephew, who died Octr. 17th 1810, aged 63.
Also Caroline Frances and Maria, his daughters, who died in childhood.
Also Harriet, daughter of the above Wm. Bagnold, who died Octr. 1st 1812, aged 24.
Also Ann, daughter of the above Wm. Bagnold, who died March 13th 1818 aged 14.
Also William, son of the above Wm. Bagnold, who died Octr. 17th 1818, aged 18.
Also John, son of the above Wm. Bagnold, who died Febr. 9th 1840, aged 30.
Also Tabitha, wife of the above Wm. Bagnold, who died Decr. 28th 1855, aged 86 years.

As a postscript, in examining various family relationships and genealogies, I have discovered that Tabitha's granddaughter Caroline Akers, who married John Stores Smith at Halifax in 1850, had an interesting grandson. He was to became Admiral Lord Fraser of North Cape, the naval officer who was British signatory to the Japanese instrument of surrender in Tokyo Bay in September 1945. Did he send a postcard back to Halifax, I wonder?

David C Glover – June 2018