Halifax Memories 19 - Remembering Southgate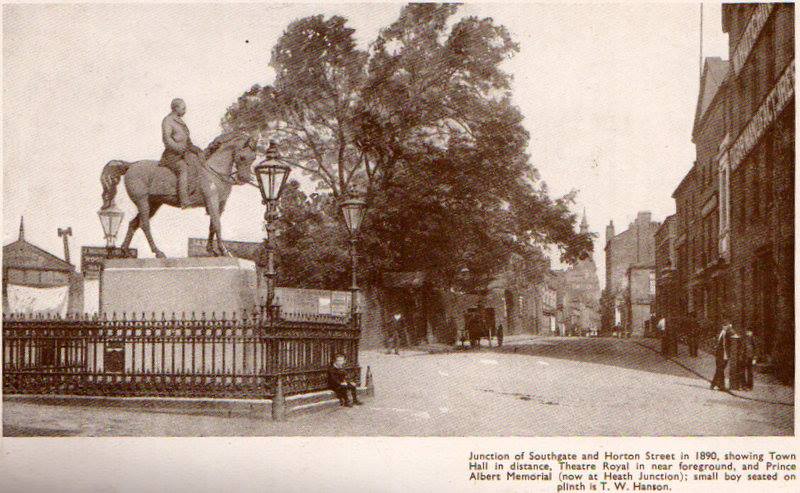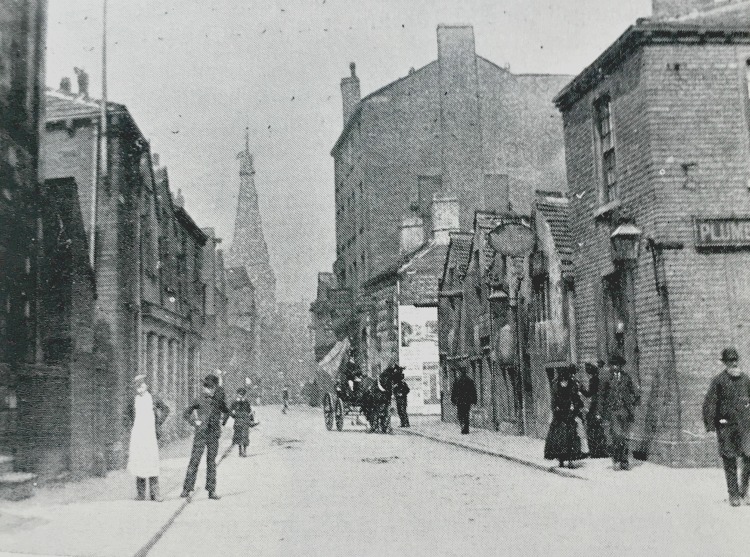 These are Wilson Barrett's Memories of growing up in Southgate in the late 1800's
Southgate looking north before 1890. Immediate right is the entrance to Westgate followed by a Plumbers Merchants which was previously "Brear's Sweet Shop" where Wilson Barrett lived as a boy.
Just beyond this is the White Horse Inn. Then "Joe Buckley's" barbers followed by a plumbers/ umbrella hospital. At one time, there was no access to Albion Street from Southgate except a passage cut between two houses. Then came the Greyhound Inn (white gable), which was demolished in 1892 to make way for the Borough Market.
The building beyond the Greyhound also closed in 1892 and behind this was a bowling alley and a Corporation area for storing pipes and this was apparently where unwanted  dogs used to be poisoned. This was also the venue for many fights where spectaters would sit on top of the walls and watch. Nearby was also a Turkish Baths. This was not the first in Halifax as that crown was given to one at St. James's Road, opposite the Oddfellows Hall, then a baths on Gibbet Street on the site where the Poor-law Guardians conference chamber later occupied. 
This area was once the home of the fire station and a wheelwright's. The tall building was Fleming's shoe factory, which later moved to Union Street in 1820. Mr Thomas Hanson founded his furnishing business in the far half of this building. The two storey building beyond was the fish market corner and the grocery of Mr Swindell, a man of a reputation for great quality stock. The far part of this building was a town railway office of the Great Eastern.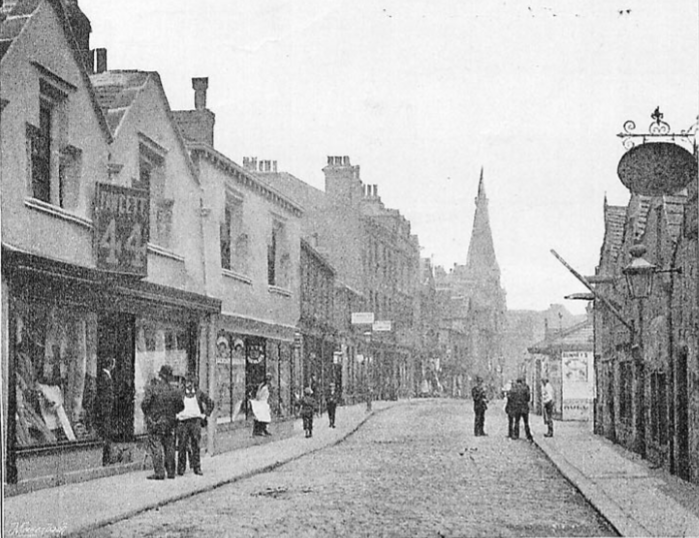 On the other side of the street was the greengrocery and flower shop of Mr Joe Ed. Mackrell, next the smaller shop of Mr Thomson which was a furnishing broker. Then came Mr J.H.Calvert which premises were subsequently Mr Tate, the florist. His further neighbour was Mr James Graydon, the shoemaker and an opening at the end of the shop was for South-Place where the leading fishmonger, John Swales lived. Then, Mr Law, musician (followed by Mr T.Hanson, furnisher, again the aforesaid Mr Tate and Mrs Burn, glass and china dealer), with Mrs Heyworth Dining Rooms in the big building, which took the place of a hostelry.
Neighbour to Mrs Heyworth was Mr Fleming, the boot man who had the large premises across the street. He took over a business Mr Clark had in this building. The structure beyond which was topped with twin gables lodged Messrs Jonas Teal, bookseller, Rd. Bond, draper; Jas Carter and Co, grocers; Stead Simpson and Nephew, boot factors and finally The Old Cock Hotel.