India Disaster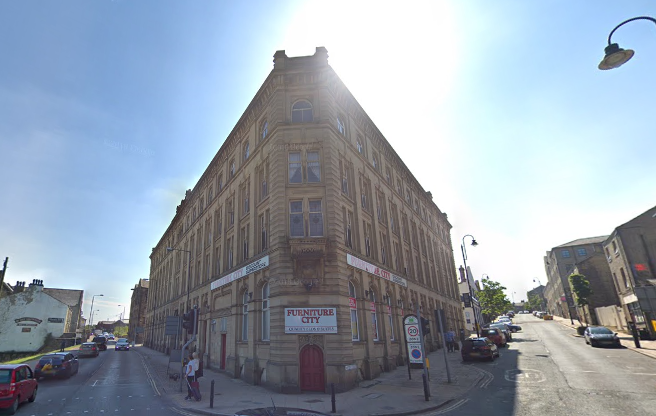 Facing Halifax Train station, at the bottom of Horton Street is India Building. When it was built, India buildings was likely named after trade links with the Far East. It opened as a wool warehouse and offices for export trader, James Riley in 1861.
Just 10 years later, most of the building was rented by Alfred Bottomley, a cigar manufacturer. 16th October, 1895 was a day Alfred Bottomley would never forget after disaster struck.

Problems started in July 1871, when a plumber, that was doing some work on the top of the building, noticed a crack in the cornice. So, he reported it to the building owner, Jeremiah Ingham. It seems that this was not repaired.
On 16th October in 1895 at 6.05pm, Mr Bottomley was driven down Horton Street and to the doors on the corner of Church Street by his coachman, so that he could collect his son and take him home. Nearly all other workers had already gone home when Mr Bottomley went in to collect his son but, he had already left. Mr Bottomley set off back to his waiting coach but then decided to go to his office for his newspaper when he heard an almighty crash outside.

Mr Bottomley hurried outside to a scene of total devastation.  There were huge stones strewn all across Church Street including the area his coach and coachman were waiting, now crushed. Mr Bottomley felt senseless. The entire length of overhanging coping stonework and cornices from the top of the building had crashed to the ground. 
He remembered calling out "Where is my coachman?" and being concerned for others buried under the tonnes of rubble. The noise was heard at the train station and the stationmaster sent staff to help.
The carriage was crushed along with the horse and coachman, but amazingly, there were no other fatalities considering the time of day.
You can see the different stonework in the above pictures.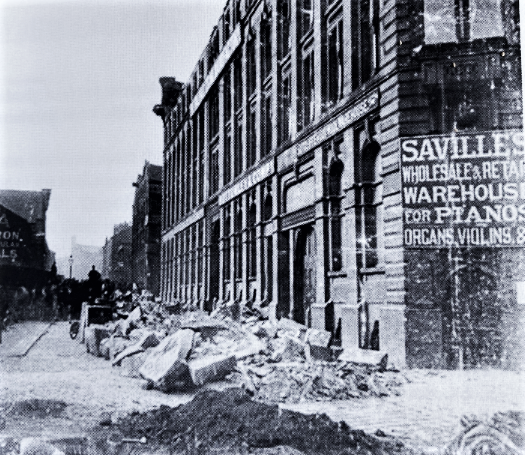 The weight of the stone was enough to crack a gas main which caused an explosion,. This completely destroyed a house on Church Street.
Thousands attended the funeral of the coachman, William Holroyd who lived at Stanley Road, Parkinson Lane and the ceremony was paid for by Alfred Bottomley. Mr Holroyd left a wife and seven children.
The incident happened at around 6.10pm that evening. Just 10 minutes earlier, 120 of Bottomley's employees, mostly young women working for his Halifax Cigar Manufactory, had clocked off and left the building. Luckily for them they did not linger.
The building also housed Sutcliffe and Co's wool  warehouse and the business of Lawson Saville, piano merchant.