The car boot sale was a phenomenon of the 1980s. But unnlike the faded pop stars and forgotten politicians of that era, it has stayed the course, even though controversy has never been far away.
Someone somewhere in the early 1980s had the bright idea of inviting people to empty their attics of bric-a-brac they no longer wanted and to attempt to sell it from their car boot at a site specially hired for the purpose. A fee would be paid to the organiser of the event.
To begin with, car boot sales were usually held in order to raise money for charity, but by the late 1980s an increasing number of organisers had scented the commercial possibilities. A collision between the car boot entrepreneurs and local authorities, which had inherited medieval rights to organise markets, was not long in coming.
Calderdale was the scene for one particularly long and bitter stand off between local authority and sale organisers.

In 1987, a massively popular car boot sale began to take place twice weekly organised by Mr Peter Bradbury on land at Jackson Hill between Queensbury and Shelf owned by farmer, Mr James Holmes.
Nearby residents were angered by the vast amount of traffic generated by the sales and Bradford and Calderdale Councils jointly refused planning permission for the events, but the sales carried on regardless and were the subject of a lengthy public enquiry in 1990. Eventually, the Department of the Environment ruled that the sales could only take place 14 times a year.
This restriction simply caused the organisers to start exploiting a loophole by moving the events to a different field. They were fined, but the profits they were making dwarfed the amount they had to pay. The car boot sales were finally stopped after a High Court injunction was issued in 1997.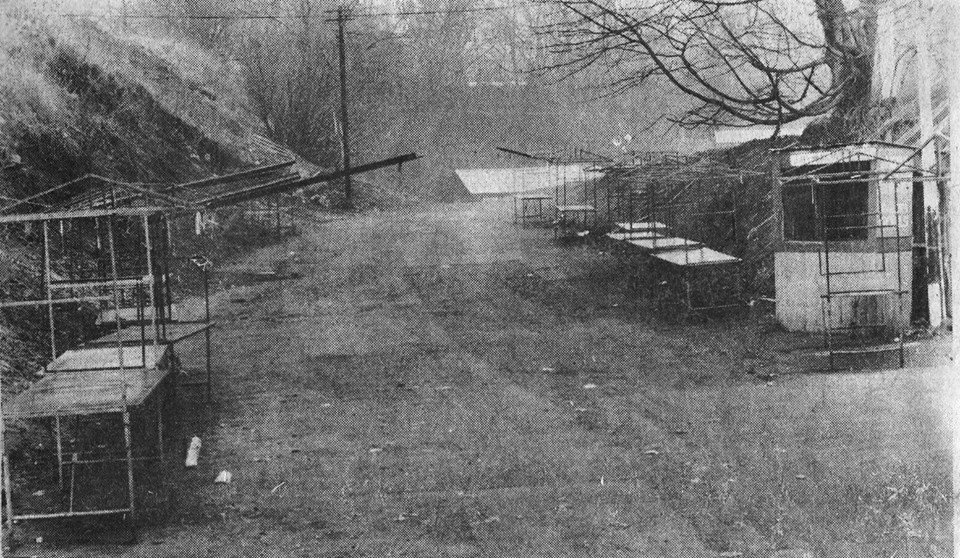 Shay market - a predecessor to the car boot stalls.
Peter Bradbury also organised car boot sales at Brighouse Town football ground in Hove Edge, which caused similar friction with residents and came to a halt in 1993 after Calderdale Council began legal action.
By this time, however, the council began to fancy a slice of the action itself by organising a municipal car boot sale on Sundays at the Broad Street car park in Halifax.
This scheme was greeted with initial incredulity when first mooted in 1992, but the prospect of making £34,000 a year proved too tempting. The council could also invoke a 13th century bylaw which gave it the sole right to organise markets within a six mile radius.
The Broad Street car boot sales were soon a success. In recent years, most concern has been over the fact that the sales provide useful fronts for people selling counterfeit goods and police have conducted fruitful raids.
Also, town centre shopkeepers have complained that far from being an outlet for people's bric-a-brac, modern car boot sales are outlets for traders selling new goods.
But there is no denying the popularity of ca boot sales with the public. By the mid-1990s there were 1,500 of them every week nationwide, with a total turnover of £12 million.
Prior to this,  we saw the arrival of the Shay Sunday Market, which ran from March 1970 until January 1981.
It began as a fundraising venture for Halifax Town FC but the market, although popular with the public, was dogged by rows, regulations and threats of closure for most of it's existence. Sunday trading laws were a major source of trouble. Traders were told by council officials that certain kinds of goods could not be sold on a Sunday and at one point stallholders had to sign a form stating that they were either Jewish or Seventh Day Adventists - the only two religions which the old Shops Act allowed to trade on Sundays.