Halifax Memories 33



Halifax Memories 33 - Halifax Characters

Halifax People who have made their names in the outside world deserve their praise but not everybody gets the same opportunities in life and here are a few 'real local Halifax characters', most of which shared struggles in life but are remembered just as well.

These are some Halifax characters that have been written about in old Couriers. Do any of our older readers remember any of them or their descriptions?
Perhaps the most remembered would be 'Donald John', 'Lilly Fogg' and 'Welly-bob Jim', but here are a few more you might remember.
You can add your own characters and/or memories at the bottom of this page.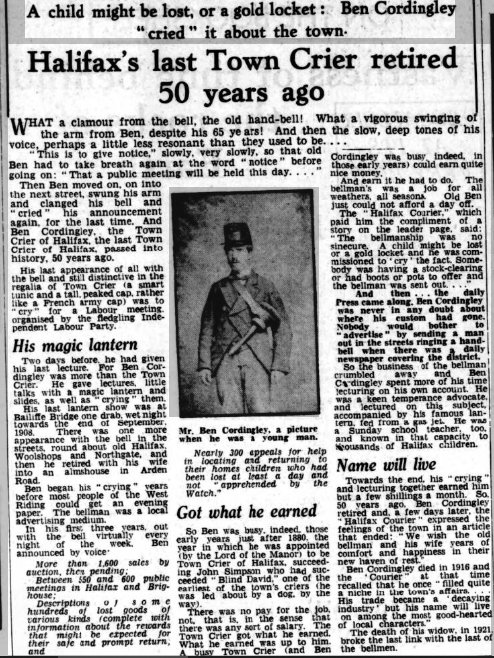 ---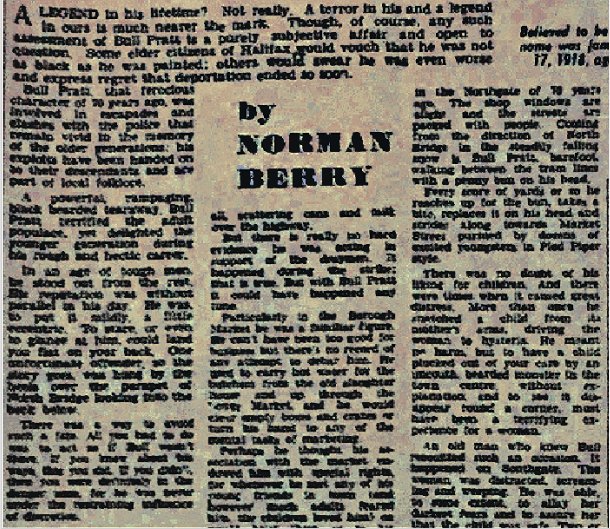 See Memories of Victorian Halifax
Willie 'Slim' Somerville 
I used to see Willie Somerville from time to time. He would be walking down Hunger Hill wearing a tatty leather jacket, bush saw on one shoulder and garden shears in the other hand.
He was making his way down to the Norfolk Café, which is still going, opposite the Shay Hotel, for a bit of breakfast. His parents were quite wealthy; in fact I was told on good authority that he owned the first motor bike in Hal.
Slim was well known to the local police. I was a switchboard operator at the local police station. Slim was from a reasonably well-to-do family and well educated. He used to ride a motor bike, but an accident left him "strange" but not so strange – he used a label from an empty Guinness bottle for a road fund licence on his bike.
After he stopped riding he spent some time using the brick kilns at Siddal for sleeping.

From time to time the police would bring him in and he'd do a couple of days in Armley, where he would be tidied up (he'd never take his socks off for a bath) and come back to Halifax.
One time when the magistrate gave him two months he said he couldn't go, as he was taking the girl on the switchboard to Rouen. I did say he was strange!
Slim looked a bit frightening but he was harmless and an entertaining person. I liked Slim.
Brenda Longbottom
Somerville, born William and also known as Slim because he was very slim as well as tall, was well known in the Savile Park and Skircoat Green area, where he could be seen doing odd jobs such as gardening and clearing snow. He often carried gardening shears and a small bundle of other tools.

Margot said she'd actually seen him the day before he died, at Heath Avenue, near Manor Heath. She had left home and when she returned later in the day Somerville had not moved from where she had seen him earlier. That night he was found in nearby Heath Street and he died in Halifax General Hospital. That was on June 6, 1960.

His death was reported by the Courier the following day, as follows: "The death occurred last night in Halifax General Hospital of a well-known Halifax character, William (Billy) Somerville, who for many years had done jobbing gardening in the Savile Park and Skircoat Green areas. He was 62 and in recent years had no fixed address.

"Born in Kilmarnock, he came to Halifax when his father, the late Mr Harry Somerville, became wool buyer for a Halifax firm.
"He was educated at Heath Grammar School, Halifax, and in the 1914-18 war joined the Royal Army Service Corps, serving in France as a dispatch rider.

"He was demobilised in 1919 and for a short time worked as a motor mechanic in Halifax. He then went into the wool trade and was employed at two Bradford firms as a wool sorter.

"Later he had a long period of illness and when his mother died in 1939 he took up work as a jobbing gardener and handyman.

"Yesterday afternoon he was found in a collapsed condition in Heath Street, Free School Lane, and was taken to Halifax General Hospital, where he died two hours later."

Billy Somerville was buried at Stoney Royd Cemetery, Halifax, on June 10, 1960 where the service was conducted by the Ven Eric Treacy, archdeacon and vicar of Halifax, later to become Bishop of Wake field.

Those attending included the famous Halifax sculptor, Jocelyn Horner, and among the floral tributes was one on behalf of Halifax police in the name of the chief constable, Gerald Frank Goodman.

At some point Somerville lived near Albert Park (Sparrow Park), where Margot Thornbers' father had lived as a boy. In those days, said Margot, he had a motorbike and rather impressed her father.

"As children we were a bit scared of him. He wore a fur flying jacket. My father felt rather sorry for him and gave him tea."
Margot Thornber, of Rocks Road, Halifax, who remembers seeing him often as a girl.

---
John Morby
SEVENTY years ago, on April 9, 1938, Halifax's oldest inhabitant, John Morby, celebrated his hundredth birthday. He was the first centenarian in Halifax borough for many years.
Mr Morby, of Church Terrace, Illingworth, had only retired six years earlier, at the age of 94. Until then he had worked for about 40 years as a roads foreman for Halifax Highways Department. On his retirement he was presented with an armchair. He used to get up at 5.30am, report for duty an hour later and retire for the night at 9pm.

A remarkably fit man for his age, at 99 John was still able to read well but he could not find enough useful things to do to fill his leisure time. He had never been to the cinema but went out almost daily for a walk and even in the cold weather would not wear an overcoat.
His walks were usually concerned with roads and with the progress of new buildings. If there were any road repairs or excavations in the vicinity it was not long before Mr Morby arrived to see what was taking place. And his conversation was, quite simply, full of stories of roads and road menders. The previous year, on his 99th birthday, Mr Morby told a Courier reporter: "I still feel the same as I did 20 years ago, except my knees get a little stiff when I have been sitting for a time."

Illingworth's oldest resident then had two ambitions. One was to go up in an aeroplane with pioneer aviator Amy Johnson, whom he greatly admired. The other was to go down to the bottom of the sea and see what he described as "illuminated" fish. His remarks prompted the Yorkshire Aeroplane Club to contact Mr Morby, offering him a flight in a five-seater airliner from Yeadon. He accepted and enjoyed the experience.

John Morby was born at North Wootton near King's Lynn, Norfolk, in the year of Queen Victoria's coronation. He started work at the age of eight and at 15 he left home to seek his fortune further afield. Having worked as an agricultural labourer in Norfolk, at the age of 20 he married a Norfolk girl, Rachel Lake. She already had a four-year-old daughter called Georgiana, whom John adopted.

He soon moved to London, where he was involved in helping construct Kings Cross underground station. For more than 20 years Morby stayed mostly in south-east London, working on various construction projects, before moving north, first to Darlington and Leeds and then, with his second wife, Mary, to Halifax, settling in Ovenden. He soon found work, helping to sink the first shaft on the Halifax High Level Railway at Keighley Road.

Soon he was working on local roads for Illingworth Board. His experience in London was of great value. He was an expert on drainage and the local roads were made more sound and freer from erosion.

John had at least eight children, of whom four were still living in 1937, though John said his second wife had died some 20 years before.

Morby died on October 5, 1938 and was buried at Illingworth Moor Cemetery two days later.
by David Hanson 2008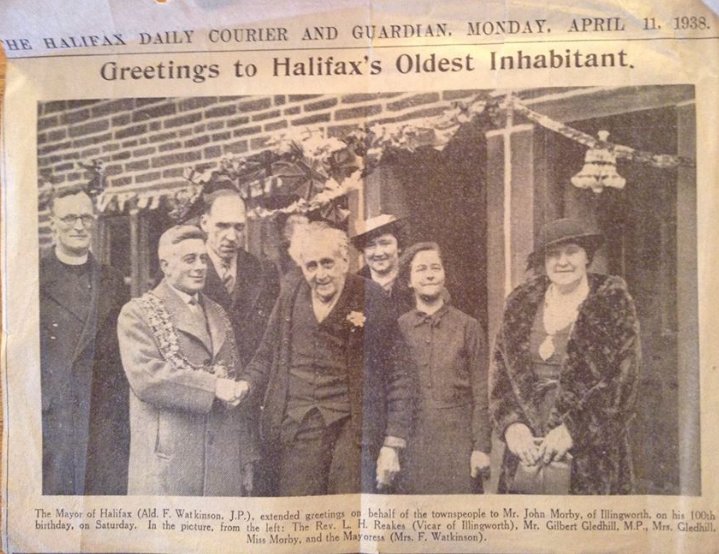 John Morby is my great great great grandfather and I am a descendent of John Morby's first wife Rachel Lake. Family genealogy is my hobby and I was very pleased that the Halifax Courier wrote this article. One day I am planning on visiting Illingworth to find John's grave and would love to hear from any distant relatives or friends on the Halifax side to find out as much as I can about him. He was a very interesting character. There must still be some people around who remember John Morby.

I have my own genealogy website where I have traced the Morby line back to John's father Anthony born 1804. Please see http://freepages.genealogy.rootsweb.ancestry.com/~davesmithsgenealogy/
and http://freepages.genealogy.rootsweb.ancestry.com/~davesmithsgenealogy/janes/tp1.htm

If anyone thinks they may know anyone who would have known John or one of his descendents please put them in contact with me. My email address is on my website.

Thank you
David P Smith, 18/04/2008 
---
Nancy Pandosi
My family was one of half a dozen Italian families that settled in Halifax at the turn of the last century. Most of them lived in Lower George Yard near Woolshops.

Mrs Cunliffe wrote that a Mrs D'Agastino played the barrel organ and was involved in ice-cream making.
Although she is correct in saying that it was an Italian family that carried these activities out she was wrong in their name. The name of the family that brought Italian ice-cream to this wonderful town was, in fact, the De Luca family.
My great-great grandfather was Luigi De Luca and his sister was Nancy, although the family know her as something different. She went on to marry a man with the surname Pandosi and it was she who played the barrel organ. 

When she played she always wore traditional Italian ladies' wear, which did include a black shawl over her head. One of her nieces went on to marry a member of the Fusco clan and all families were involved in some way with either ice-cream making or music. 

Nancy was known to be a happy, polite lady and could also be seen playing outside Shibden Park.
Lauren Wood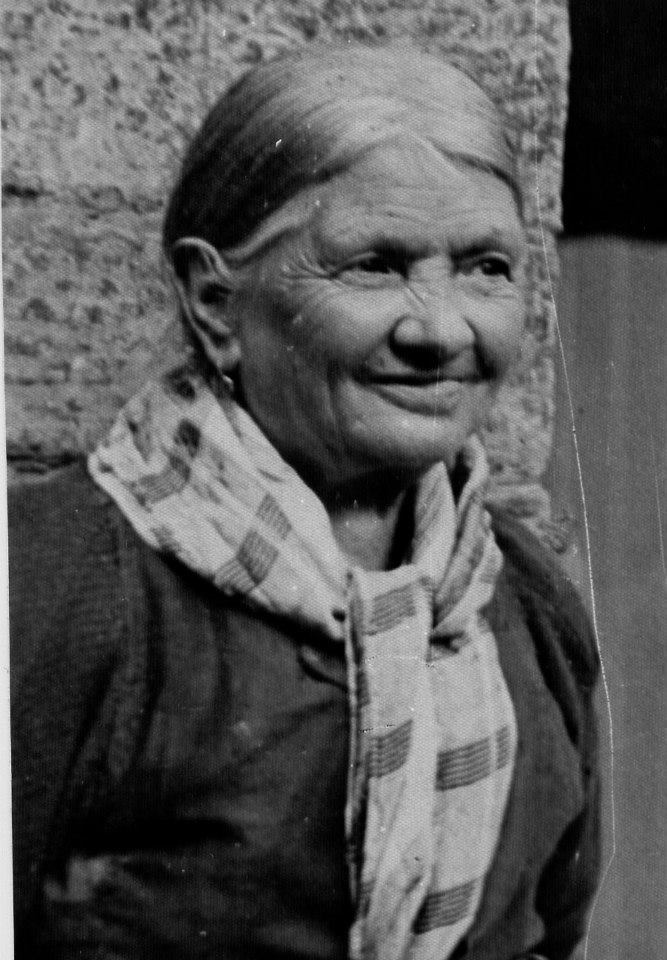 Nancy Pandozi thanks to Tony Martin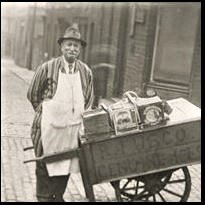 David Glover remembers -
Irene Cunliffe (Nostalgia, March 27) is right in saying that the Italian lady who played the barrel organ in various parts of Halifax some 70 to 80 years ago was Mrs Agostino. Her husband also did the same job.

The 1901 Halifax census gives Giovanni D'agostino, organ grinder, and his wife, Fortunata, both aged 45, and sons, Anthony (14) and Domenico (two), living at 2, Lower George Yard, Woolshops.
Both the parents and the elder son were born in Italy but Domenico had been born in Halifax and at the time they had some Italian-born friends lodging with them.

The family are not shown on the 1891 census so it appears the family arrived in England during the 1890s.
Giovanni, also known as John in Halifax, died early in 1944, aged 85, but what became of his widow Fortunata – or whether she had died earlier – I do not yet know.

Their elder son, Antony, had died in Halifax in 1943 aged 55, and was buried at Stoney Royd. Domenico was also known as Dominick.

Incidentally, there were D'agostinos living in Halifax as early as 1888, who may have been related to Giovanni.
David C. Glover
---
Miss England
Bill Clay, in his reminiscences of childhood in the Woolshops area of Halifax , mentioned "an old lady called Miss England, a retired school teacher who lived in a sort of shabby gentility.
"She would have tea in her garden with friends, with a crisp, white tablecloth and silverware, the whole scene looking quite incongruous in the surroundings."
That brought a call from 85-year-old Joseph Smith – and it turned out that Miss England was his great aunt and there followed a fascinating and, at times, tragic family tale.

Miss England was really a Smith, one of a rather large clan of Smiths.
Joseph explained: "I think Miss England was just a nickname, because of the life she led.
"Everything had to be done correctly. If they were having tea in the garden then they would get out the silverware."

Miss Smith was one of three sisters and a brother – all Smiths, because none of the girls married – who lived together at No 8, the Square, between Woolshops and the Piece Hall. All of them were teachers. In fact, the brother, Fred, was head of the old outdoor school at Bermerside, where children with tuberculosis went for schooling in the open air.

The girls were named Lucy, Emma and Mabel – but for the life in him Joseph can't remember which one was the prim and proper one who insisted on crisp tablecloths and silverware.
He remembers that Lucy died in 1926 and Mabel was the last of the siblings to pass on, in 1942. All were buried at Lister Lane cemetery. The four were uncle and aunts of Joseph's father, Lewis Smith, and were therefore Joseph's great uncle and aunts.

As I said, it was a big family. Joseph, born in 1922, was one of eight brothers and sisters, somewhere in the middle of John, James, Louis, Florence, Margaret and Hilda. Oh, and Thomas. He was Joseph's twin and died in 1924, aged just two.
It's a sad story. The family had had fish pie for lunch – dinner as most people round here would call it – and a bone became stuck in Thomas's throat. He was taken to the Royal Halifax Infirmary, where the bone was removed and something like a tracheotomy was performed. But for some reason the operation did not work and the young Tho-mas died the following day.

Joseph's father was a driver for the Halifax brewers Richard Whitaker and Sons at the Cock o' the North brewery in Corporation Street.

The family, Lewis, his wife, Alice, and the children, lived in a house at the corner with Wilfred Street, right next to the brewery and next to a pub called the Smith's Arms – "although that was nothing to do with us," smiled Joseph.

Lewis Smith drove carts pulled by dray houses at first, but later he moved on to lorries, which made the longer hauls, while horses were retained for shorter trips. But one day in 1938 tragedy was to strike the Smith family again. Lewis Smith was driving a Whitaker's wagon down Keighley Road towards town. As he approached the infamous Talbot corner a car flew towards him on the wrong side of the road. In the collision that followed Lewis was thrown through the windscreen, receiving severe injuries. Ribs were broken and one lung was punctured, which killed him. He died three days later.
Joseph was only two when his twin brother died, only 16 when he lost his father. He went on to have a long career, 32 years, with sweetmaker John Mackintosh and Sons, initially working in the various chewing gum departments and later in what was called the "experimental department", working on new sweet ideas, which were then tested out on the children at Siddal School

"The sweets were passed round in the playground and the children were asked what they thought. And children, being children, were very honest about what they said. If they didn't like them, they said so," said Joseph.

Joseph Smith married and he and his wife, Olive, had two boys, Tony and Roger. Sadly Olive died last year and Joseph lives at Canterbury Crescent, Halifax, at the ripe old age of 85.
by David Hanson in 2008
---
Oven-den Grunt
He always seemed to walk in the gutter, flat cap on one side. Every so often he would cup his hand to his mouth and bellow out. If he was passing anyone they would really jump.

---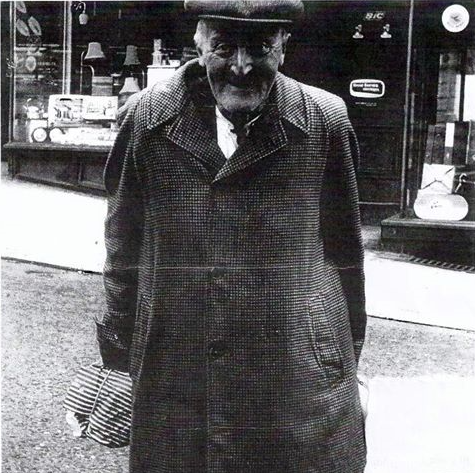 Published Date: 03 April 2008
By Bill Clay
Reading in Nostalgia about Halifax characters has prompted me to write about my childhood in the Woolshops area of Halifax.
Yes, I remember Tommy Cheese-bits very well. I can see him now, pushing his cart around. If he saw a group of youngsters he would often turn around and walk away, frightened of "getting a stone on th'heed", I heard him tell.

I was born on the Square in 1942 and characters were everywhere. Does anyone remember "Sausage Mary"? She wore clogs, was always immaculately clean and carrying trays of sausages, to what purpose I know not.

The old lady with the barrel organ we knew as "Grandma Pandozi". She lived in Blackhorse Yard, off Woolshops. I remember once, with a friend, painting her barrel organ dark green.
I would be interested to hear from anyone who remembers the Square. An old lady called Miss England, a retired school teacher who lived in a sort of shabby gentility, would have tea in her garden with friends, with crisp white tablecloth and silverware, the whole scene looking quite incongruous in the surroundings.
Do you remember Blackledge, Woolshops, Skye Alley, Hatters Fold, Winding Road, Gaol Lane, Ann Street, King Street, the Old Crispin Inn, the school on Dispensary Walk, Duffy's Park, the Moot Hall and the parish church precincts?
The whole area was relatively poor yet The Square – originally Caygill's Square – had some of the earliest brick-built houses in Halifax, probably of the late 18th century, housing doctors, solicitors and and wealthy professional people.
One of the houses was connected to the early printing of a Halifax newspaper; another housed a famous sculpture and another was said to have entertained Branwell Bronte.
Does anyone remember the Piece Hall as a fruit and veg market? There were two cafes, one of them known as "Mucky Bob's". Perhaps you remember Nelson Street, with the fish and chip shop on one end, run for many years by the Bentleys – Sarah, Florence and Albert.
At the other end of the street was a grocer. I remember the scrubbed flagged floors, bottles of dandelion and burdock, tins of loose biscuits and penny sweet trays.
I went to the parish church infant school on Dispensary Walk and migrated to the school on Church Street around 1946. I recollect taking a tin to school to get free cocoa powder and having a daily dose of cod liver oil and malt extract.
I remember making sledges and playing in the snow with chapped legs and freezing fingers, kicking gaslamps to make them light, Highland toffee and going to Harry Bradbury's shop to fetch accumulators for the wireless.
I remember my mother paying 6d (2.5p) a week on club cheques to buy shoes and clothes from a shop in Woolshops at Whitsuntide. Was the shop Standevens?
We never seemed to be bored; there was always something to do, playing football in Duffy's Park, building bikes from scrap or making and riding trolleys from four pram wheels and a board, going on picnics to Beacon Hill with dripping bread and a bottle of Spanish water and playing there all day.
Those days animals were driven up from the goods yard on Church Street to the slaughterhouse on the Square, quite sizeable herds of animals. When they reached the top of Square Road they could smell the abattoir and would often scatter. They would often be kept in the confines of the slaughterhouse and could be heard at night crying and bleating.
We would follow the brewery dray horses, magnificent animals, always well turned out. I was fascinated by these, to a small boy, enormous, strong, gentle creatures.
For many years this was my world out of which I rarely ventured – after all, I might be captured by the New Road Gang!
It was a world that was oddly secure and sociable, rarely frightening. There seemed always someone to turn to. Yes, we really did know all our neighbours; there were a lot of people living in the area at that time. Others must remember these things as I do.

Bill Clay lives at Abbey Walk South, Coronation Road, Halifax.
----------------------------------
Another character who has not been mentioned in Nostalgia was the Oven-den Grunt. He always seemed to walk in the gutter, flat cap on one side. Every so often he would cup his hand to his mouth and bellow out. If he was passing anyone they would really jump.

Next a rather grubby man who spent most days sitting on the little wall round Lloyds Bank, facing Commercial Street. He had yards of dirty bandage round one foot. It was rumoured he was a bobby's nark.

Another character was an organ player with one leg and crutches. He lived by the old fire station in Gibbet Street. His little organ hung round his neck and he would make his way towards the Shay to collect a few coppers.

That was no mean feat, all that way on two of the old-style wooden crutches and then back home again.
---
Alfred Crossley
When the name "Crossley" is mentioned in Halifax, we think of the family associated with the carpet industry but, there was another Crossley - Alfred, who was also a fascinating subject in the same era.
Ian Tattersall has investigated the life and times of this fascinating man and his amazing and unappreciated achievements.
Click the link https://digitallibrary.amnh.org/.../2246/7294/N3987.pdf...
---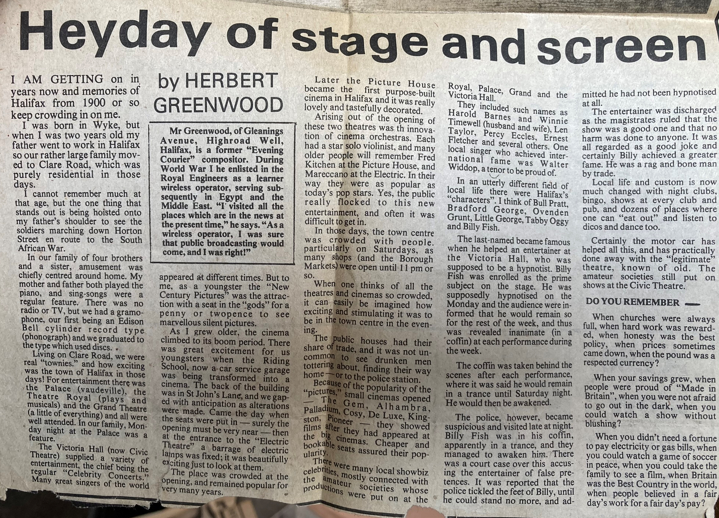 ---
---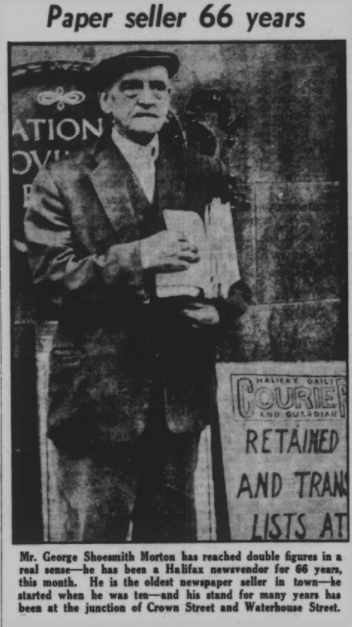 ---
Do you have something to add?
You can add anything at all to this page here!
What Other Visitors Have Said
Click below to see contributions from other visitors to this page...

Amos Hanson Not rated yet
Hanson, Amos 1813-1??? Son of John Hanson. Born in Northowram. He was an engineer 1861. On 21st August 1831, he married Selina Turner …
If you have enjoyed your visit to this website, please spread the word by clicking the 'like' and 'share' buttons below. Thank you