Phil Griffin
You might not have heard of him but Phil Griffin lived on Fairfax Drive, Southowram in the 1960's and now lives in Germany. He has had quite an eventful life from a teenage popstar to mixing with stars and superstars, Prince's and Kings.
I'll let Phil himself, tell his story which, I must say, is quite impressive.
The Life and Times of Phil Griffin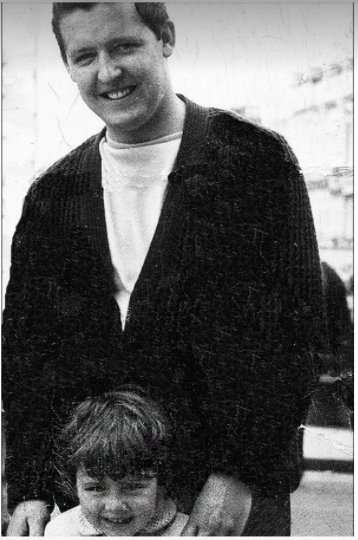 Born in New Street, Southowram in 1942, later moving to Fairfax Crescent, Southowram.
Education started at Withinfields School, Southowram, later going to Hipperholme Grammar School. Spent 7 years singing in the choir at St. Anne's Church and learned to play the guitar at 15. I  then played and sang skiffle every weekend at the Anchor Inn in Brighouse and later around Yorkshire with the Red Peasants Skiffle Group from Cleckheaton.
When rock n' roll took over from skiffle I used to hitch hike down to London every Friday night and performed every Saturday night at the 2 I's Coffee bar in Soho.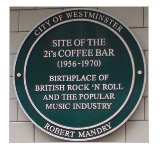 This was the meeting place for all up and coming Rock Artists…! We all got on very well together every week.
Here are the names of some of the guys who started there -:
Tommy Steele, The Vipers Skiffle Group, Cliff Richard, Hank Marvin, Bruce Welch, Brian Bennett, Tony Meehan, Jet Harris, Brian 'Liquorice' Locking, Vince Eager, Terry Dene, Wee Willie Harris, Adam Faith, Joe Brown, Eden Kane, Screaming Lord Sutch, Tony Sheridan, Lance Fortune, Johnny Kidd, and Paul Gadd (later to be known as Gary Glitter.
One time I was given a lift to London from a heavy goods driver from a Mirfield Company and he said that he drove to London every Friday night, and if I wanted to then I could join him every week. He then asked me if I would teach his young son to play guitar, which I agreed to. Several years later his son took over from Heinz as bass player in the Tornado's group and later went on to be the bass player in 'The Peddlers', a trio performing around the world.
A well known music agent visited the 2I's coffee bar one weekend and invited all the singers who wanted to go, to an old historic building in the west of England, where he said they would be taught how to perform on stage…!
Luckily for me, I was unable to go with the guys the following weekend. However, the week after the guy's told me that the place was full of rich old men who asked the young guys to sleep with them….!!!!
That was the end for me of my visiting London each week and I then concentrated on the Working Men's clubs around the North of England.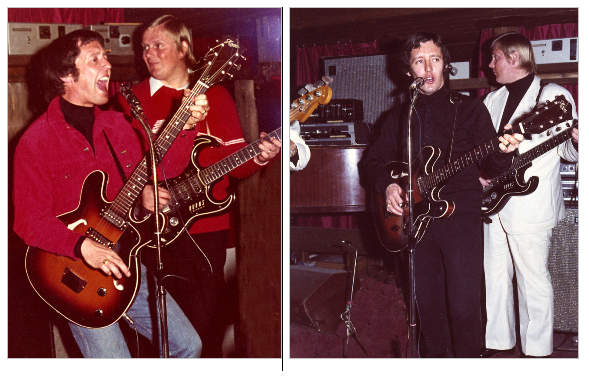 However, due to the connections with various guys at the 2I's, when Cliff Richard first visited Halifax with his group The Drifters, later to be known as the Shadows, Hank Marvin, Tony Meehan and Bruce Welch stayed the night at our house in Southowram and Jet Harris and his wife stayed at my friends house in Brighouse.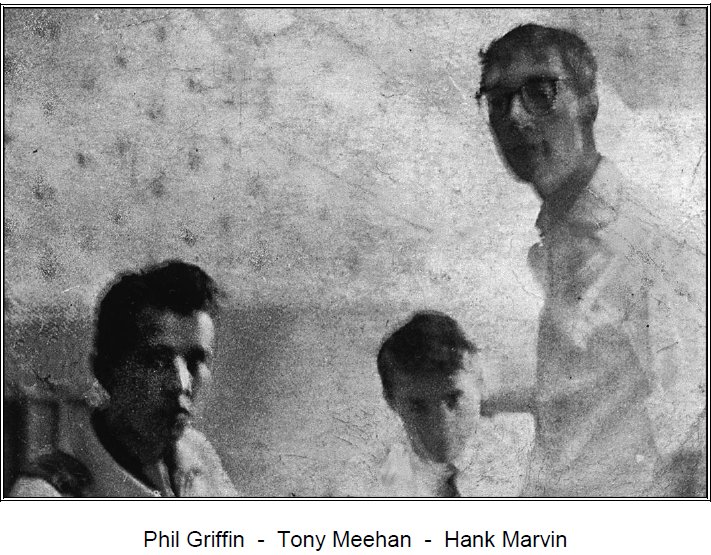 I had success in the clubs because I mixed the evening with older songs like 'Who's Sorry Now' and other older hits, which the Working Men's clubs liked rather than just playing rock all evening. I later played every Saturday night at the Victoria Hall in Halifax, playing an hour of Rock n Roll with Aub Hirst and his Orchestra.

It was at the Victoria Hall where I met my wife and later we got married. I also performed often for Shirley Crabtree at the Everly's Club in Halifax.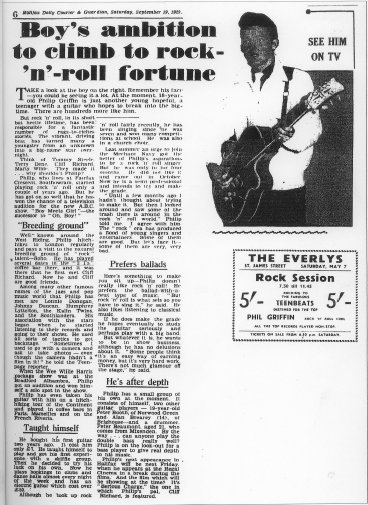 Shirley Crabtree (Big Daddy) and his brothers opened 'The Everlys' club in premises at St. James' Road, formerly occupied by Halifax Labour Party. The club took its name from the american singers Don and Phil Everly who they met along with promising young Southowram singer Phil Griffin. I was booked as the opening act at the clubs launch on Saturday May 7, 1960 along with local group the Teen Beats.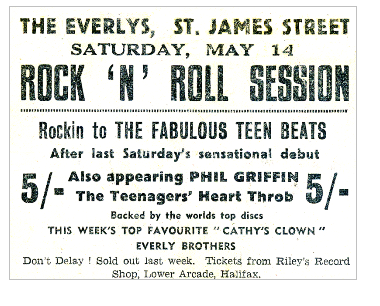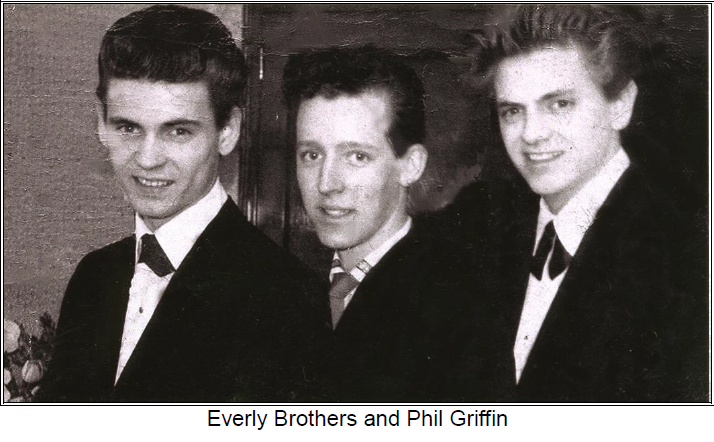 Several years later I was playing at a concert and the young girls of the time had a habit of throwing their slips on to the stage during R&R performances, which was great for the performer….! Unfortunately, my wife was at the concert and gave me an ultimatum….! Stop singing Rock & Roll or we will get divorced….! I made the wrong decision and gave up singing….! That was the end of my singing career………! I then went on to be a disc jockey at the Marlborough Hall and the Everly's Club.
---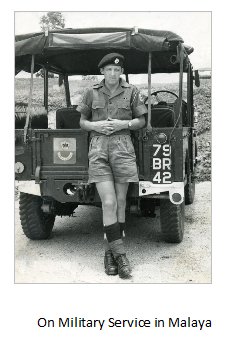 My married life saw me driving articulated lorries around Britain for Calderdale Transport which for me was one of the most interesting periods of my life…!
I later worked in the tourism industry as a tour guide around Europe and several years later I was asked to take over as the European Director for a US Company, designing the tours around Europe for their american tourists.
I later moved to Africa and started work as a safari guide in Johannesburg.
A few years later I became interested in golf and later worked for the Mark McCormack Company IMG in London, as Assistant Tournament Manager on the European Tour.
Several years later, I managed golf clubs in Germany which led to getting involved in golf course design. I was responsible for assisting Sandy Lyle in designing one of Germany's leading golf courses in Berlin –Schloss Wilkendorf.
---
During the time I spent in South Africa, I worked as a safari guide for tourists with a company – "Springbok Safaris."
When visiting the overnight camps, I always spoke with the rangers on the best areas to concentrate on. Usually this was the various water holes where all the animals visited, usually early in the morning.
The camps were closed from sun down until usually 6.00 am …! Usually the tourists had breakfast before getting ready for the safari tour. I made it different for my groups, by getting them ready at 6.00am to go out to the water hole areas and then returning at 9.30.am for Breakfast. This idea paid off well and we always had great sightings of the animals.
One time I had a group of diamond dealers from Antwerp who were in South Africa for the World Diamond Conference. On our way to a water hole I noticed a lion laying down in the long grass, a hundred yards from the track we were on. I noticed he was looking ahead very interestingly and I then saw a group of antelopes eating peacefully….!
Behind them in the long grass, I noticed a group of lions hiding in the long grass and watching the antelopes eat. I told my group to get their cameras and filming units ready….!
Several minutes later the one lion close to us stood up and roared and leapt towards the group of antelopes. They turned and ran away but directly into the waiting group of lions….! My Diamond Group were amazed and all had great photos and films of the incident….!
You can imaging the tips I got at the end of the tour when we returned to Johannesburg…!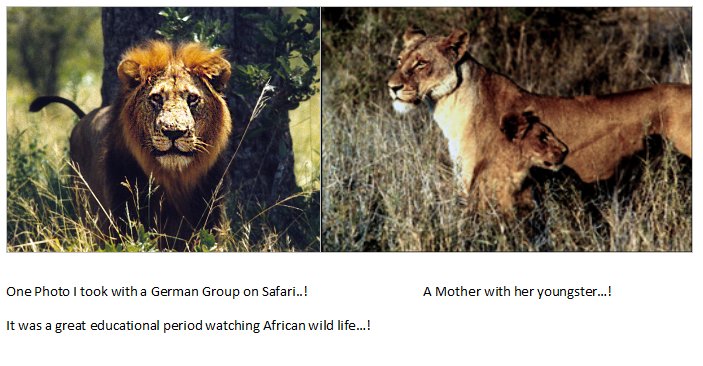 ---
Being close friends with the Kuwait Royal Family for many years, we often met up in London where they had second homes. I noticed that when the ladies were about to return to Kuwait, many of them bought unusually lots of Benetton children's clothes. I then suggested to the Sheikh that maybe we should open a branch so that we could profit from the situation and the family get their clothes for cost price and that the shop would make money anyway.
The Sheikh said…."Good Idea….Do It !" That meant that I should set everything up.
I contacted Benetton's London office and got on very well with their directors. I then looked for a location to open a shop. I was lucky that I saw an empty shop just a few yards from Piccadilly Circus….! I contacted the owner and eventually came to an agreement about leasing the shop.  I then asked Benetton to fit out the shop and for three months grace to get things moving.
All this worked perfectly and I then opened a second shop for them in Covent Garden.  Both shops were very successful. 
We then had the idea to also open up Benetton shops in the USA. So, I went to New York looking for possible locations and suitable shops…! I found one in New York and had discussions with the Leasing Company. However, on my second visit to the Shop, there were bullet holes in the main shop window…. So I decided that maybe that was not the best location for us.
I then decided maybe further north in Boston maybe a nice location for our idea. This turned out to be perfect and we ended up opening three Benetton shops in Boston.
Having a close contact with the Italian directors of Benetton in London, shortly afterwards Benetton moved into Formula One racing. Benetton then purchased the established Toleman F1 Team and in the first year they had the two Toleman Cars and their own two Benetton cars racing.
This made it difficult for sponsorships for four cars and I was asked if I could help in anyway. Luckily, I had close contact with the American freight airline – Flying Tigers….!  I spoke to them and suggested that if they could agree to carrying the Benetton freight from Italy to the US free of charge, the Benetton would place 'Flying Tigers' advertising on the Formula 1 cars.
Flying Tigers agreed and both were happy….!!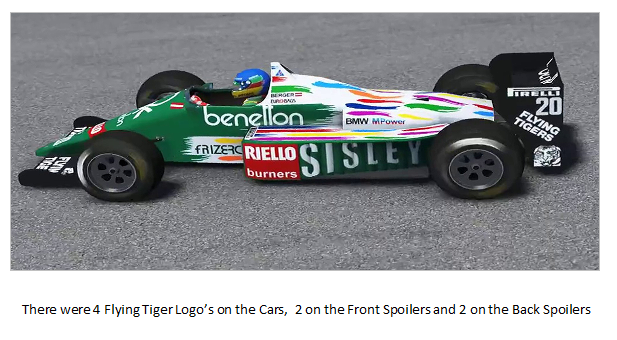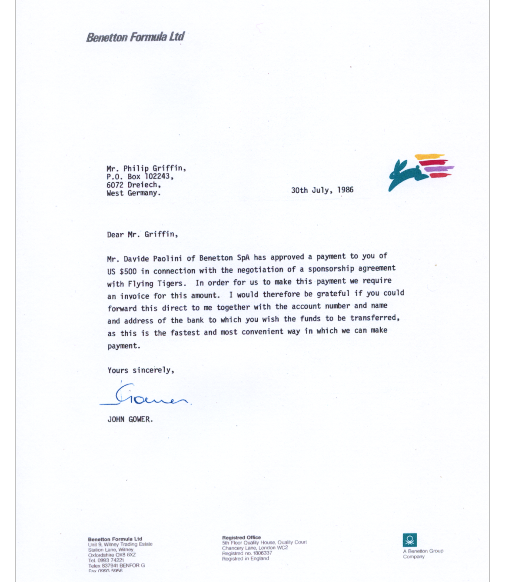 ---
During my life I have been a keen photographer and been closely connected with German ZDF TV and also the German Press Association – DPA. For several years, I concentrated on sport photography and each year I used to visit Wimbledon and Roland Garros for the British and French Open Championships.
The reason I went to both was that Wimbledon was on grass and the French Open on clay, which made a difference in the background of the photos.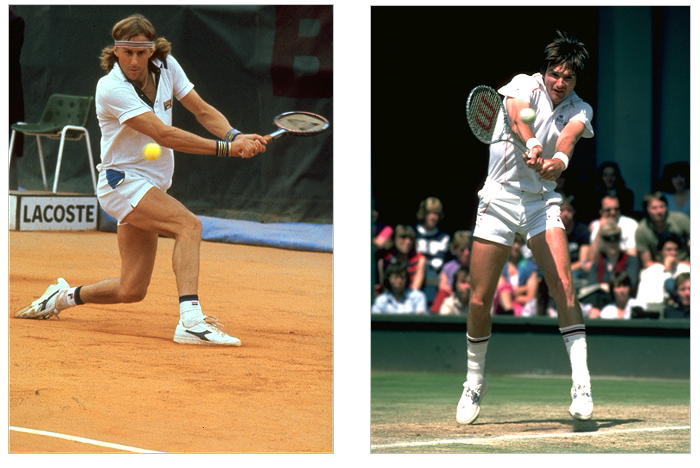 I also photographed various other sports over the years….!

---
My introduction to golf by accident…!!
Whilst I was in the travel business, I worked as European manager for a US travel company based in Pittsburgh. During the winter months there were no tour groups coming to Europe, so I was asked to take groups from Pittsburgh to Hawaii via San Francisco and Los Angeles..! This was very interesting for me visiting the Hawaii Islands every two weeks.
On one visit I was staying at the Sheraton Hotel on the island of Maui and I had a free day from my Group. I left the hotel and went for a walk and across the main road from the hotel was a golf club. I decided to take a look at the club and I was watching the practice area and the golf instructor saw me and asked if I would like to hit a couple of balls…!
I agreed and he set me up and explained what I should do..! Then he asked me if I would like a lesson….I said "Why not" and took my first lesson…! When the lesson finished he gave me an old "8 Iron" as a remembrance token. I was over the moon and treasured my own golf club….!
After the winter period I returned to Europe and I was living in Baden Baden in Germany at the time. One day I decided to take a look at the Baden Baden Golf Club..! I was surprised to see that the golf teacher at the club was English and we got talking and I told him of my Hawaii experience. He suggested that I should take a few lessons to see how it goes….!
This was the start of many years in the golf industry…! After several lessons I was able to play and in the years to come got down to 6 handicap, which is not too bad..! Golf then became a very important part of my life….!
I started working for IMG in London, working as Assistant Tournament Director on International PGA golf events and the European Tour. This led to many personal contacts with all the top golfers of the world and travelling around Europe on the golf tournaments.
After leaving IMG, I went to Majorca to set up, re-structure and manage a golf club for the new owner whom I knew. I later returned to Germany to manage and restructure golf clubs throughout the country including – Baden Golf and Country Club, Deutsche Wein Strasse and Golf Club Motzener See in Berlin for Phillip Holzmann.
I was later asked to take over and completely re-design a new golf project - Schloss Wilkendorf, in Berlin. This was the chance to put all my own ideas to the test. I decided on a new concept and design and then brought in top golf course designers in co-operation with Sandy Lyle and Europe's leading golf course construction company. I then signed a contract with the PGA and designed a modern golf academy which, was for Germany, well ahead of its time.
Schloss Wikendorf was then two 18 Hole championship courses and a golf academy. The President of the German Golf Association wrote that the Sandy Lyle course was, in his opinion, the best course in Germany and golfers also voted the course as the best in North Germany. All this showed that the right decisions had been made.
I was then approached by Hoch-Tief to take over as consultant of their very large project in North Germany called -Fleesensee. I brought in several changes to the original plans of operation and again this project was finished on time and was very successful. All this, lead to consulting on many other projects in Europe.
In 2006, together with my long time friend, who is a member of the Kuwait Ruling Family, I concentrated my activities in the Gulf area. First of all, supplying golf equipment to the various clubs around the Gulf area and later getting involved in consulting on new projects. After contact with investors in Bahrain, I was asked to take over as Golf Consultant for the new 20 Billion U.S. Dollar Project– Blue City in Oman.
This is by far the largest new city project in the Gulf area, which would take up to 15 years to complete and would house up to 500,000 people when completed. In June 2006, I took over the position of Project Manager for the golf section.
His Highness, the current Sultan of Oman also shared stakes in the Blue City project, a mega tourism-devoted new city south of Suhar, Oman. However, mismanagement and legal battles between the owners resulted in Oman's most resounding bankruptcy ever and the intervention of the state's sovereign wealth fund in 2011-12 to buy Blue City bonds.
Unfortunately, the project went into liquidation before the start of the golf section was started even though the plans had been finalized. This cost me personally over 120,000 dollars….! That's life..!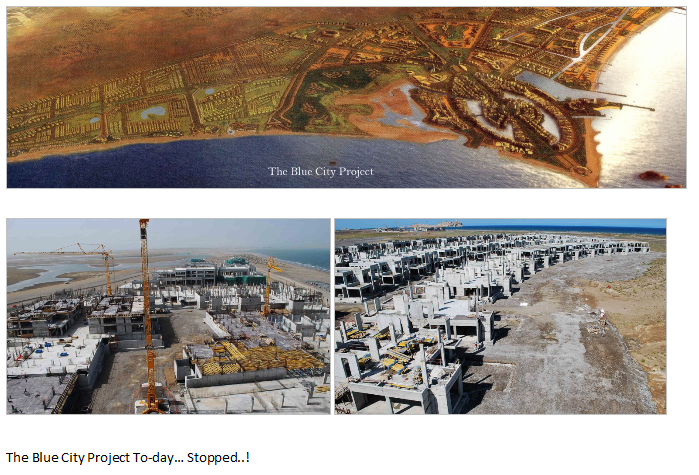 ---
Whilst working for the US Tour Company in Pittsburgh, I spent one winter based in Acapulco, Mexico. Our company had a group of 200 tourists every week flying from Pittsburgh and I organised their stay in Acapulco and their guided tours.
Working for the US Company and being based there, I had to have a US visa. This was a B2 visa which allowed me to live and work in the US, but a clause in the visa stated that my salary had to be paid into an account in Europe. This was crazy because the company had to send the salary to Europe and for my financial requirements, I had to have money sent from my account in Europe back to the US which meant me losing twice on dollars to euro's and then euro's back to dollars.
So, I opened an account in the US and had my salary paid into that, so as to save all the hassle. The US immigration picked up on this and on returning from a flight to Russia with US Journalists the immigration people were waiting at the airport and I was given 48 hours to leave the US or I would be deported…..!
So, back to Europe, I then lived close to Frankfurt and was not sure what work I would do in the future….! Then a friend of mine told me that a sports company near Frankfurt was looking for someone who spoke English….! I immediately called the company and set up an appointment with the owner.
When I went to the appointment, the owner asked me what he could do for me and I said, "I have been told you are looking for someone who speaks English" and surprisingly he said 'No, who told you that' , I said 'a friend had told me….!' He said 'never mind would you like a coffee….' I said, 'Yes' and we started to chat….!
I asked him what his company did….! He said that his father was at the university in Tokyo in the 1930's and saw that they had a sport called 'Ju Jitsu' which was later called "Judo".
His father enjoyed the sport and on his return to Germany he opened the first German judo club in Frankfurt. His name was Alfred Rhode. Because there was no judo in Germany at the time, there were no judo suits and also no judo mats. So, he decided to produce them together with his wife.
He then told me that, at the time the couple made everything by hand and later the company developed weaving machines for the suits and special machines for the judo mats. Later he took over the company from his father and they produced the products for Germany. I asked him where their markets were and he said , the German speaking countries – Germany, Austria and Switzerland and that the company was very successful.
He then showed me around the factory ….! I was very impressed…! I then asked him why they didn't export these top products and he said 'they were happy with the German Market'. I then got the feeling that the language was the problem that they kept everything in the German area…!!
I then got an idea….! I said to him, 'I have just returned to Europe from the USA and at the moment I have no job, but what do you think if we made a trial for three months on a small basic wage and I would try to set up an Export Department'. I said 'if it doesn't work after three months, we shake hands and say goodbye'. He agreed, so I started first of all with the English market.
I remembered when I was a kid, that I always wanted sports equipment which were used by the stars of the sport…! So, I visited an international judo championship in Helsinki, to get an idea of what brands the top stars were wearing. Fortunately, Adidas etc. had not been involved in the judo sport at the time.
At the championship, when the national teams paraded at the opening, the British judo team marched out together. They were all dressed differently in various colours of jackets and training pants and looked strange and sad for someone looking at the British team.
I then went to the British manager and asked if our company could sponsor the British team with top quality judo suits, training suits with 'British Judo Team' on the back and also hand luggage bags with 'British Judo Team' on the side. They agreed and I made it clear that every member of the team must wear 'Sport Rhode' judo suits and training suits at every national event.
This went down really well and at the next international event, the British team stood out from all the others. For each national team we provided 15 judo suits plus track suits, plus bags with national flag and name. 'Job well done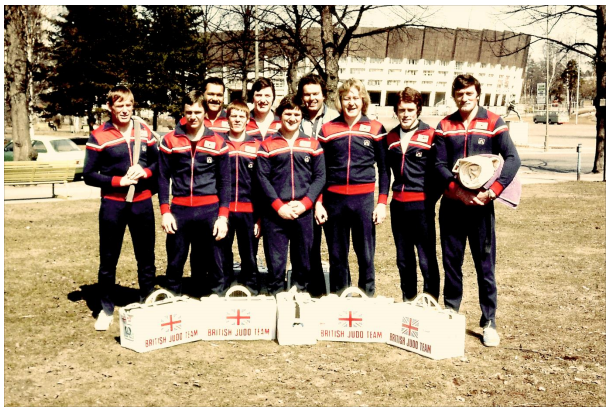 I never dreamed what a reaction this would have on other international teams…! I was inundated with requests from other top international teams over the coming months.. The Russians, the Polish team and one after another made contact including the Kuwait team, which led to my first meeting with members of the Royal family of which the Sheikh was the Sports Minister.
After around one year, we had around 80% of all international teams signing up with our company, purely because up to this point in time, there had been no sponsorship in judo…! Obviously, this had an amazing effect on our sales internationally…!
With regards to the home market, the German speaking area, I noticed that many judo clubs were now purchasing their judo suits from China and Hong Kong. They were ordering around 50 pieces at a time and selling them to their members at much cheaper prices for our products in Germany. I then spoke with the boss and said we must do something to stop this, otherwise it will drastically affect our sales.
I suggested, that we start a second line of our judo suits, so that we would have 'Sport Rhode' top quality judo suits and then a second line which I named 'DanRho'. I said that we should produce the 'Sport Rhode' suits and then buy the cheaper DARHO suits from the Far East. We should purchase several thousand at once which would give us the chance to purchase at rock bottom prices and then put them on the market at low prices to start with, which we then make it difficult for the clubs to compete.
I then had to find a manufacturer, who made good quality products at very low prices. I visited, Hong Kong, Singapore, Taiwan looking for the perfect partner and eventually found the ideal company in South Korea, a company called East West Trading in Seoul.
The idea worked perfectly and we put an end to judo clubs importing their own, because by ordering thousands, we could get them at very very low prices and that made our second line cheaper than the clubs could purchase the same suits for.
This made my position at 'Sport Rhode' very solid and things worked out brilliantly…! A few years later Mr. Rhode brought his daughter into the company after she left school. She was a very difficult person and was not liked by the office staff.
I suggested to M.Rhode that she went to another company for a couple of years before joining our staff. He said he couldn't do that because she was family…..!
I later gave him the ultimatum and I left the company after very successful years. I was then hounded by head hunters who had seen the upsurge of the company and I was offered many different positions in various industries.
My golf years were very enjoyable, meeting many of the world's top golfers. I took many photos, at lots of places, like Augusta, for the the 'Masters" and Nikon had an exhibition of my photos in the Exhibition Centre in Düsseldorf.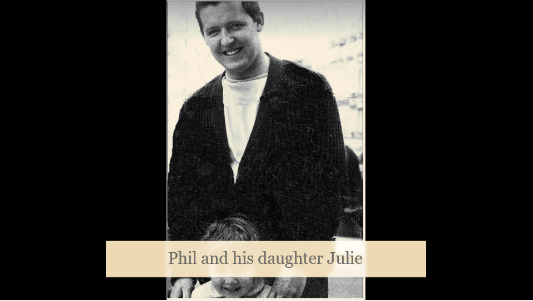 Click Phil Griffin to open a video
---
If you have enjoyed your visit to this website, please spread the word by clicking the 'like' and 'share' buttons below. Thank you