Phil Griffin-Meeting the Stars
Phil Griffin - Meeting the Stars is a list celebrities Phil has had the pleasure of meeting along his impressive journey.
Phil continues .............
A day with John Denver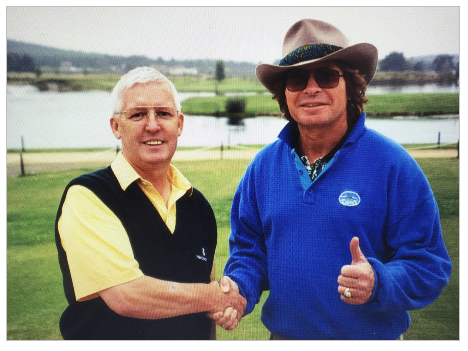 I was asked by the large German construction company –"Phillipp Holzmann ", if I could take over the management and re-structure their golf club in Berlin "Motzen", which was losing €.1,500.000 a year. I agreed and it took 18 months to get it back into a profitable status.
During this time, my secretary came into my office one morning and told me that there had been a phone call when I was out. She said, the gentleman had asked if it was possible for you to play golf with him today…!
I asked her who the gentleman was and she said, he told her his name was John Denver…..! and said he would call back later. I told her that it was probably friends of mine who were trying to wind her up….! 
Half an hour later she said…."The guy is on the phone again"…I said, "Put him through"….!
The guy said, "Hi, good morning, John Denver here. I was wondering if you would play a round of golf with me today"…..! I still thought it was a joke and I said, "If you are John Denver, get your arse down here and I will play a round of golf with you".
I thought that that would be the end of the matter, but an hour later, a large limousine pulled up outside the clubhouse and out stepped the legend – John Denver…..!!!  I apologised for my behaviour on the phone, but he just laughed. He told me that he was in Berlin for the day and had a concert that evening and he wanted to relax for the day. I was over the moon even meeting the world's top Country and Western star.
Having been in the pop business myself in the 60's and 70's I decided not to discuss anything about the music business, so that he could have a totally relaxing day. We had a great game of golf and he told me about his passion for flying….! He said that it was his other hobby along with golf.
During the game an amazing thig happened….! We heard an aircraft flying over us, we both looked up and John flipped out…..He said, "My God what's that"….!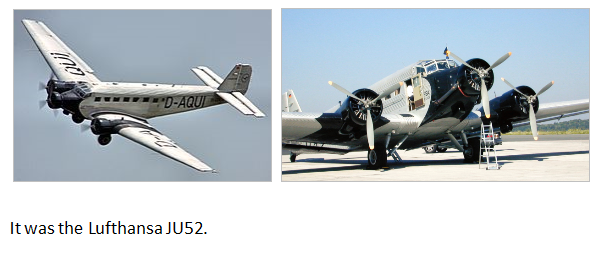 Lufthansa had an old "Junkers JU 52" aircraft which had been refurbished for special flights around Germany. The JU 52 is a German trimotor aircraft manufactured from 1931. Originally it flew with the Luftwaffe as a troop and cargo transporter and briefly as a medium bomber. John just couldn't believe what he had just seen and it took a few minutes for him to cool down. It must have been an unbelievable experience for someone who loved aircraft….!
After the game, we had a couple of drinks and he said that the day had been one of the most exciting in his life. He asked me to visit him at home in Aspen, Colorado and if I came in winter we could go skiing and if I came in summer we could play golf. I said, I would visit him in late October, and he said "Great"….!
He gave me his details and told me to keep in touch….!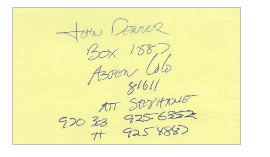 The next day, I called Lufthansa and asked them if they knew where I could purchase a model of the JU52…! They said, it would be difficult but they would call me back. Later, they said they had a model for me which I then purchased and sent it on to John in Colorado.
Several weeks later, I was shocked by the news that John had been killed in a crash whilst testing a new aircraft. He was testing an experimental Rutan Long-EZ aircraft and crashed into Monterrey Bay near Pacific Grove, California, while making a series of touch-and-go landings at the nearby Monterrey Peninsula Airport. So, I never found out if he had received the JU52 model or not….!
A few weeks later I watched a film about his life on TV. When we were playing golf he had told me that he had split up from his wife but in the film they had got back together ….! I decided to contact her and ask if he had received the model I  sent before the crash.
It was very difficult finding her telephone contact. I had to go through his lawyer and her lawyer but finally I spoke to her and asked her if he had got the model before he died. She told me that she didn't know because they were separated….! I told her that he had also told me that, but that the film ended with them getting back together again…..!
She just said one thing…..! "That's Hollywood"
---
Meeting with Mohammed Ali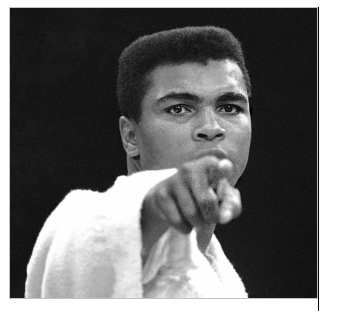 In 1976, I was very active as a sport photographer in Germany for German television and the German Press Association.
Richard Dunn, from my home town Halifax, was due to fight Mohammed Ali for the World Heavyweight Championship, in Münich.
A couple of days before the fight I drove to Münich and watched the training sessions of both contestants…! 
After the session the press were invited into Mohammed Ali's dressing room for interviews….! I took a couple of photos and then asked Mohammed Ali if I could ask him a delicate question….! He agreed, and I went ahead…..! I told him, that I had lived in South Africa for two years and found it to be one of the most beautiful places in the world…
The land was amazing, the people were really nice and at the time it was probably one of the most prosperous countries in the world. I said, 'In 1974, you had your big fight in Africa …'Rumble in the Jungle' in Kinshasa against George Foreman…! Obviously, you won by KO in the 8th round but I just wanted to know,  What you think would happen in South Africa if the black politicians ever get full control of the South African government"…..!
He then stood up, looked at me like a dagger with his eyes staring directly into mine and pointing his finger straight towards me and said, "When the other journalists leave the room"……! "You stay here"….! I thought, 'oh
 my God he is going to have a go at me when there are no witnesses…….!' I was petrified…!
Shortly after his manager, Angelo Dundee came in the room and said…."Time is Up Everybody - Out " Mohammed Ali pointed at me again and said…"He stays here"….!!!
When the others left there was just Ali and me…..! He sat down and said, "I just wanted to answer your question between us" and this is "Just between us" . "If the black government ever get the full control of South Africa, they will ruin the country" I was very surprised to hear this coming from such a world personality and I realised what a very intelligent man Mohammed Ali was…!
He asked me if I would like to attend a private party that evening in his hotel…..I felt very honoured and said 'Yes…!' This was for me an amazing meeting with such a much loved world personality…..!
Around this time an American friend of mine at the Stars and Stripes Press Club in Darmstadt , Tony Onacio..! was always telling people about his old friend 'Angelo Dundee', the manager of Mohammed Ali……! Everyone at the press club said 'Oh Yes….!',  but no one believed him….! So, I took the opportunity to ask Angelo Dundee if he knew Tony…..! He surprised me and said, "Yes, he is an old friend, please give him my regards….!!!!!!
2018 -The South African government has now begun the process of seizing land owned by white farmers.

South African president Cyril Ramaphosa unveiled plans to allow white people's land to be taken without compensation.
What Muhammed Ali told me, is coming true…..!
---
Fats Domino

When I was working in the Travel Business…! I worked for a US Company – "Royal Travel" from Pittsburgh. I was their European Manager and I designed and planned all their tours to Europe. In the winter months, I would go to the US to assist in the winter tours to Mexico and Hawaii.
During one visit, the Pittsburgh University football team were playing the final against Georgia, in the Super Dome, in New Orleans. Royal travel had been chosen to organise the travel arrangements for the 30,000 Pittsburgh fans to New Orleans. Our company chartered two Boeing 707's to fly between Pittsburgh and New Orleans. The flights were directed to the smaller Lake Front airport, which was just outside the city.
The control tower in the 70's was a small wooden building close to the runway and the aircraft could taxi very close to the building. I was assigned the job of meeting the flights on arrival in New Orleans. I was allocated a small room where I would wait for the various flights.
One afternoon as I was waiting for the flights from Pittsburgh, a small private jet landed and the air traffic controller said to me…."Do you know who owns that private jet" ….? I said, 'No idea, please tell me'….! He said, Fats Domino….! I said 'Oh, he was one of my idols when I was playing R&R…!'
The jet taxied up to the small air traffic control centre. It parked maybe 100 yards from the building….! I walked across to see if I could get a glimpse of the famous man….! I watched the gentlemen disembark but could not recognise Fats Domino. He had always been a very well built gentleman, so I thought it would have been easy to spot him…!
It looked like everyone had left the aircraft and several minutes later a gentleman came out and walked down the steps….! I went up to him and asked him, "Excuse me sir, is Mr. Domino still inside the aircraft….? He grinned at me and said, "No not anymore…..You are speaking to him"….!
This was a great shock for me….! I said "Oh I'm sorry, I expect
ed a much larger man"……! He said "Losing weight is great" ….!
After the shock, the pilot took a photo of the both of us….! It was a great day in New Orleans…!
---
Mel C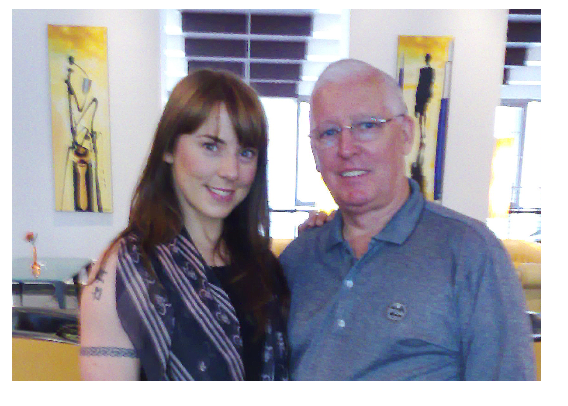 I was on Tour with Kuwait Royal Family and we were staying in the Sheraton Hotel in Hanover.I got up one morning and went down to breakfast. On entering the restaurant, all the tables were full and I had to wait until one was free.
A beautiful young lady was sitting alone on a table for four and she said I could join her if I would like to. Obviously I said "Yes" and it turned out to be Mel C, who was appearing at a concert at the local Exhibition Centre.
We got chatting and of course football came up as a theme and she surprised me by saying that she was a lifelong Liverpool fan. She had a great knowledge of football for a lady.
She asked me what I was doing in Hanover and I told her that I was with the Kuwait Royal Family and she said it would be nice to meet them which I arranged.
Dwight White
Pittsburgh Steelers (1971–1980)
I was flying back to our company office in Pittsburgh from Los Angeles in the 70's. I had just taken my seat in first class, when this giant of a man came up and sat in the seat next to me. The guy was so huge that he really neede
d a double seat to be comfortable. I felt a trifle crushed…!
After we got talking I realised why he was so huge. He was the main defensive player for "The Pittsburgh Steelers" and during his ten years with the Steelers, the team won the 'Super Bowl' 4 times so he was quite a hero in the USA.
Jimmy Conners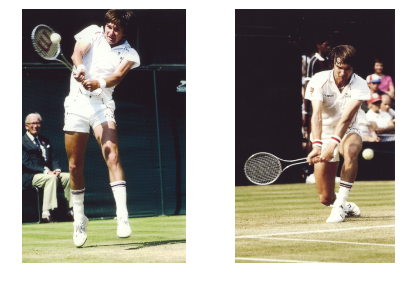 Jimmy Conners was playing Johan Kriek in the 3rd Round of the 1979 Wimbledon Championship and I was an accredited photographer at the Wimbledon Championship that year.
Whilst photographing this match, the game was stopped due to the elastic in Jimmy Conners shorts breaking…..! Everyone was wondering what to do when I had an idea….!
The Press cards we were wearing had a large safety pin at the back wear we attached it to our jacket. I went and spoke to Jimmy and asked if this pin would be of some Help…..! He thanked me and then pinned up his shorts….! The game carried on and Jimmy won and was through to the next round….!
An hour later I was walking through the crowds towards another court when I noticed Jimmy coming towards me in the middle of the spectators…! He came up to me and said….! 'Hi, I have been looking for you….! I want to thank you and return your safety pin…..!'
I was shocked and thanked him. It was so special that a World Champion should go to those lengths to say "Thank You"…
I still have the safety pin to this day….!
The Everly Brothers
Back in October 1965, a friend of mine was playing at the Odeon Theatre in Leeds. He was part of a support act at the famous, Everly Brothers Show. After speaking with him along came Phil and Don and entered the large dressing room. With the Odeon being a cinema, there was limited dressing rooms available. After speaking with the brothers we had a photo taken together which was unbelievable for me.
Another big surprise happened soon after….!
In those days, the Musicians Union would only allow overseas artists to appear in the UK if a British artist could appear overseas in the same year, in this case, in the USA. Therefore, it was difficult for other artists to appear without this special exchange.
I then happened to notice a couple of famous artists I knew by sight but they were not on the Bill…! They happened to be the "Crickets" formally as the Buddy Holly group…! They explained that to be able to play backing group to the Everly Brothers, they were hired as "local musicians"….!
Buddy Holly had unfortunately lost his life in a plane crash back in 1959 six years earlier. However,  the "Crickets" carried on as a successful group after his death. Norman Petty and Jerry Allison were two of the backing group that night and for me to meet them in person, was unbelievable…!
I suddenly realised that I had my own guitar in the car parked outside the cinema. So, I went out and brought it into the dressing room and the Crickets kindly signed my guitar for me….! This was really magic for me. Unfortunately, many years later, I sold this guitar without realizing what this guitar was probably worth with the famous "Crickets" signatures.
Chris de Burgh

I met Chris de Burgh in a hotel in Stuttgart. I was staying overnight in a top hotel in Stuttgart after playing in a top golf tournament.
It was late in the evening and on returning to the hotel after a celebration dinner at the golf club, my wife and I decided to have a drink in the bar. We were the only ones in the bar at the time but two gentlemen came in and also sat at the bar. The gentlemen turned out to be famous football personalities.. Klaus Augenthaler and Jupp Heynckes.
We chatted with them for a while and then we were joined by Chris de Burgh who came in alone and he had been starring in a show at a local theatre.
It was an uncomplicated friendly meeting with all chatting about life…..!
The Police and Sting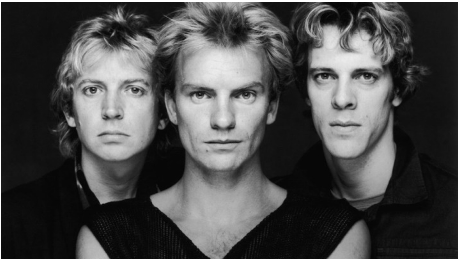 I had the pleasure of meeting Police with Sting in the airport lounge in Mexico City. I was on my way back to the US from Acapulco where I had been working.
Unfortunately, the flight had been delayed. There were only a few people in the lounge and obviously we started talking. They told me that they had also visited Acapulco earlier and I believe the song "Roxanne" was written about an encounter there….!!
Franz Beckenbauer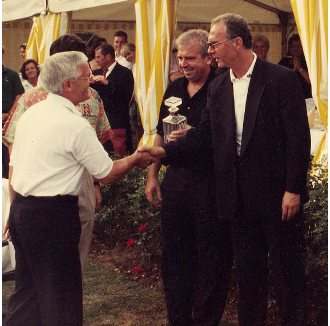 I have met Franz Beckenbauer on a couple of occasions. The first time was back in the 70's at Frankfurt Airport. I was flying out from Frankfurt at the time and in those days I was a member of the Pan Am VIP Club. I had checked in for my flight and went to the VIP lounge…!
Also there was the German Soccer Team together with their manager Helmut Schön. I had a few words with Helmut and Franz about soccer as I was a very avid Manchester United fan.
The next time I met Franz was at a golf tournament sponsored by Prinz zu Höhenlohe at Wasserburg Anholt golf course. He was also playing in the tournament and I happened to win the tournament with a score of 79. Franz came second with a score of 81. He later presented me with the trophy.
Later, we had a chat and he said to me as a bit of fun,  "Be honest….you are a professional aren't you"..!
Smokey
In the early 70's I was living in Dreieich near Frankfurt in Germany. I heard that an English group were about to perform in Neu-Isenburg which was just a couple of mile from where I lived. I found out that it was a group coming from a part of Yorkshire very close to where I came from which sounded interesting as I had performed 'Rock & Roll' around Yorkshire previously.The name of the group was 'Smokey' with their lead singer being a 'Chris Norman'.
I decided to visit them and we had an interesting chat about music around Halifax and how they started up.
I took a photo of them and was really surprised to see how they shot to fame in the following years.
James Brown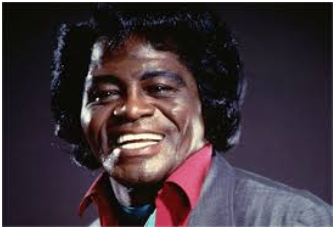 I was once travelling from Frankfurt to London with Lufthansa and on boarding the aircraft I was amazed to see the famous Blues singer James Brown, who was on board together with his band.
I was seated next to his guitarist and with mysel
f also playing guitar for many years we had a great interesting conversation…! James came over for a while because I had told his guitarist that I had recently purchased the new Gibson guitar and they both asked me what I thought about it. I told them that I was not very happy with it because of the weight in comparison to the one I had before and that the new technology was way ahead of its time.
I was asked if I wanted to sell the guitar to which I said yes and the guitarist said he would like to purchase it from me which he did.
Meeting with Arnold Schwarzenegger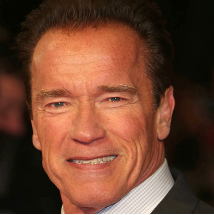 One day I was flying from Frankfurt to Mallorca with Lufthansa.. The Flight was almost empty and I had an aisle seat in first class…! Sitting across from me in the other aisle seat was, Arnold Schwarzenegger…..!
I had a slight cold at the time and I started sneezing during the flight….! Then Schwarzenegger also started to sneeze…! This went on for a few minutes and we both started laughing….! We then got talking which was very interesting…!
Arnold told me that he was going to Mallorca to spend a short break at Michael Douglas's Villa in Valldemossa on the north - west side of the island.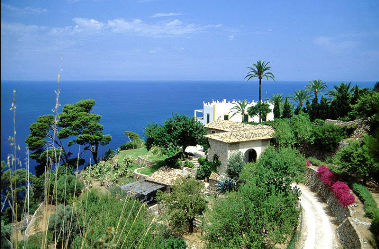 Eddie Cochran and Gene Vincent

Back in the days when I was in the Rock & Roll business, I visited two old friends of mine who were over from the USA and playing at the Odeon cinema in Doncaster which had been used as a theatre for this Rock n Roll spectacular.
Gene Vincent had just had a World Number 1 with "Bee Bop A Lula" and Eddie Cochran with "C`mon Everybody" Because this was a cinema and not a theatre, there was a provisional dressing room provided….! For the male acts, there was just a small room with a washbasin in one corner of and a toilet….!
Before the show, we all had a drink and then Gene Vincent went to the small wash basin to freshen up….! As he had is head in the towel, drying his face….Eddie threw some ice water on his bare back…! Obviously Gene jumped with shock….! He then took a glass of water from the wash basin and threw the water towards Eddie….!
Due to Gene's hand being wet….! As he threw the water, the glass slipped out of his hand and hit Eddie in the face….! The glass cut the bridge of his nose and it started to bleed quite heavily….! We got some Ice and placed it on the wound but we could not stop the bleeding…!
Eddie was due to go on Stage in 15 minutes to close the first half of the show but we could not stop the bleeding..! It was then decided that Gene must now go on instead and we would try to stop the bleeding so the Eddie could go on as the last act in the second half. Luckily this all worked out well and Eddie went on as the last act and the drama was over….!
This was just before the holiday period and this was the last show of the UK tour which was to re-continue after the holidays. We had agreed to meet up again after the holidays. Eddie and Gene were to play at Bristol and Weston Super Mare over the holidays.
After the holidays, Eddie was returning to London and the taxi in which he was travelling was involved in a car crash in which Eddie was unfortunately killed….!
Meeting Paul Jones
Paul was the lead singer and harmonica player of the successful 1960s group Manfred Mann before going solo and having several Top Ten Hits from 1962 to 1966 including 'High Time', 'I've Been a Bad, Bad Boy' and 'Poor Jenny'.
I was taking a tour group around Scandinavia at the time and I met him in Sweden when I was staying at the same hotel in Stockholm. I was in reception and saw that he was standing near me and seemed very nervous. I asked him if there was anything I could help him with….!
He said, 'My manager has taken my Rolls Royce and should have been back an hour ago and I am appearing on the live "Stockholm Music Festival" in an hours' time….! I said, 'Don't Worry I will take you there right now '
So we went outside and I had our Tour bus parked in front of the hotel…."I said get in" he laughed and got in…!
I got him to his venue on time, for which he thanked me and said ' It was a great way to arrive in style'…!
Other people I have met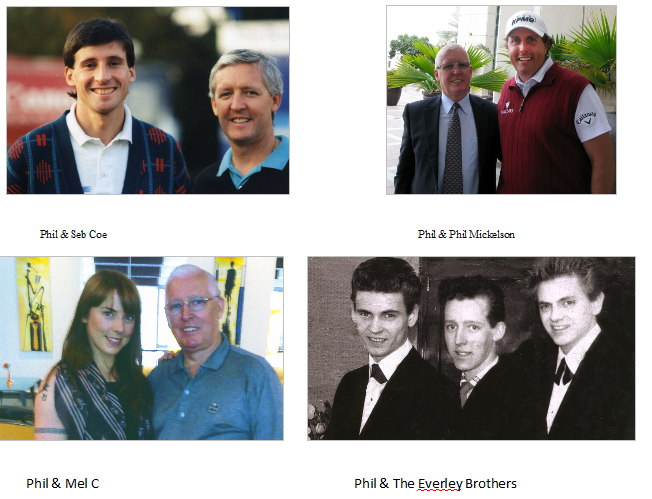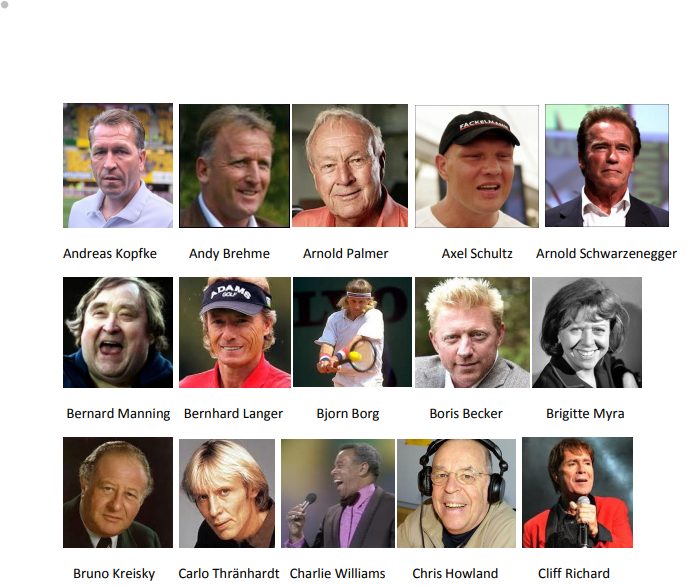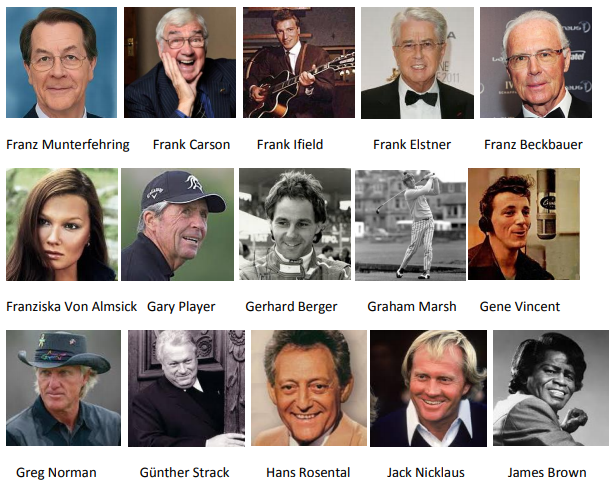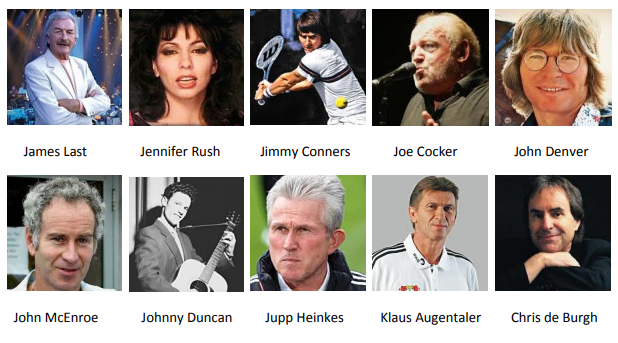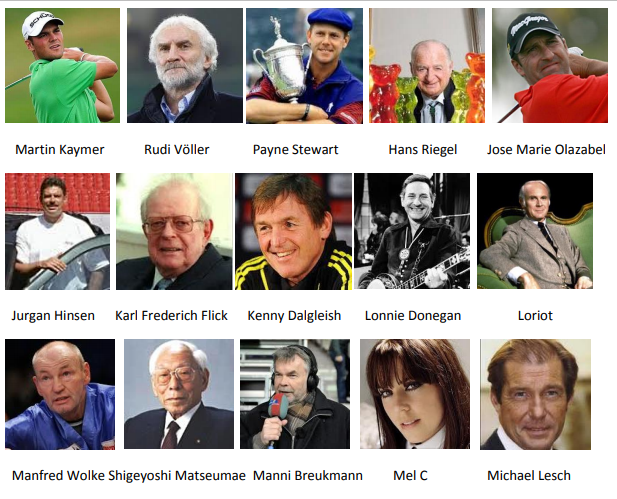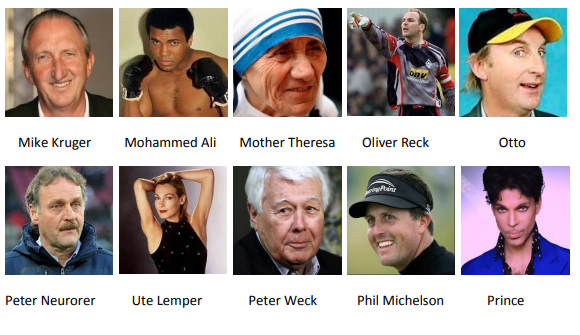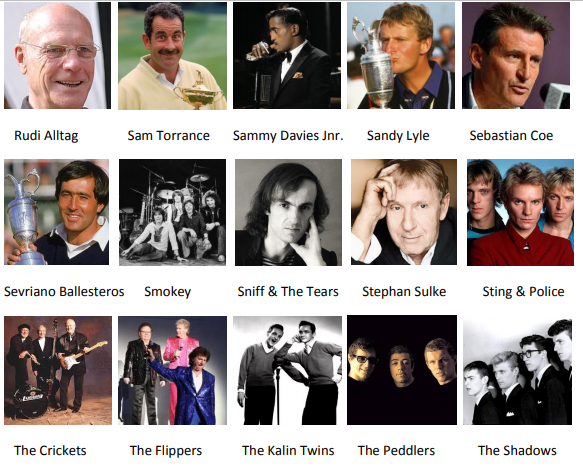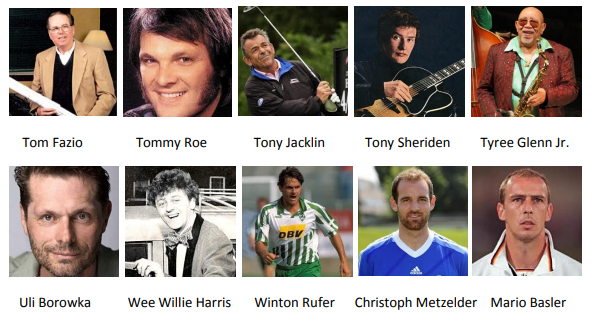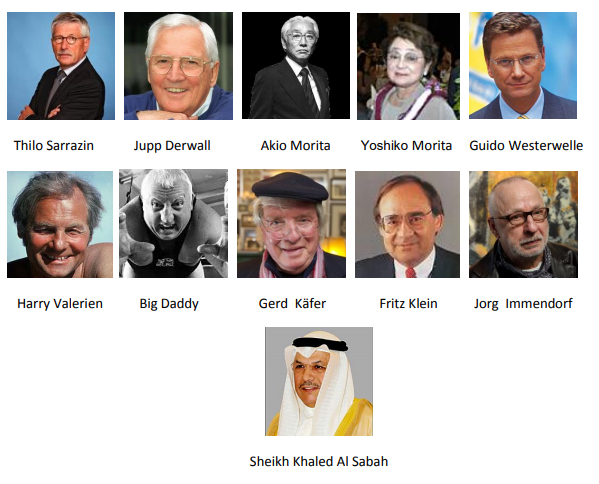 Those experiences are impressive in anyone's eyes. 
Phil has also recorded several songs just as recognition of the old days…! Two of these he wrote himself…!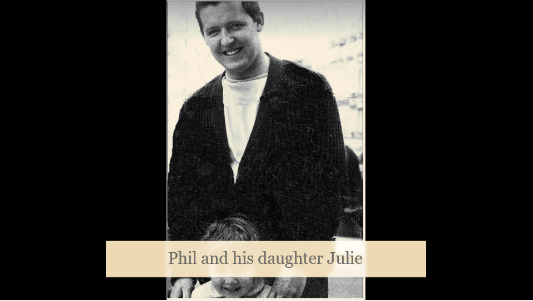 Listen to Phil sing (click the picture above)
He has written the two books 'below' and to cap it all, Phil also has 3 children, 9 grandchildren and 17 great grandchildren to keep him occupied. 

Daughter - Julie –  3 Children – 10 Grand Children
Son - Lee –   3 Children - 6 Grand Children
Son - Michael -  3 Children - 1 Grand Children
Having met Phil and listened to him, I think that when he decides to do something he has the drive and ambition to do it to the MAX. He is not a shy person, which, no doubt, has benefited him enormously. He is very, very proud of what he has achieved, where he has been and who he has met. Who wouldn't be? 
Gary Beaumont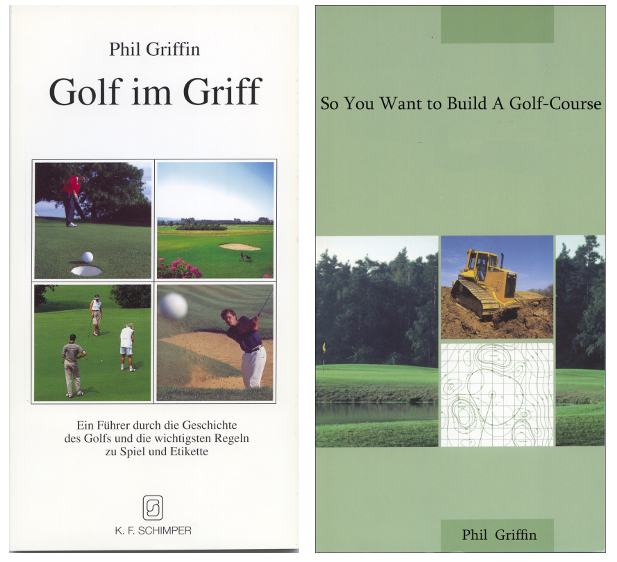 Phil Griffin - Story by Phil Griffin. Edited and Presented by Gary Beaumont
---