E-zine concentrating on your free-time. We take a look at Homes and gardens, health and beauty, dining in and out, trades and activities.

Some of the finest gardens around can be found at Warley House Gardens. These are open to the public on occasions during the year and are well worth visiting but you can also visit their website for more information.
History of Warley House and Gardens
In the early and middle parts of the twentieth century, Halifax was blessed with a generous benefactor, Mr. Arthur Selby McCrea. The family had come from Ireland originally, and had made much money in the damask industry.  Mr. McCrea lived in Warley House, a large house in the village, (or "town" as the locals call it), of Warley.  When Shibden Hall and grounds came on the market, on the East side of Halifax, he purchased it, and gave it to the Halifax Corporation, so it could be used as a public park for the people of Halifax.  He built a community centre in Warley – which had a bath facility for the locals!  He was also on the board of the Royal Halifax Infirmary and gave freely to their needs.​In 1945 when he died, he left Warley House and it's grounds of some twelve acres, along with what was then an enormous endowment of £50,000, to the Royal Halifax Infirmary.  His wish was that it be converted for such as a convalescent home.  Post-war Britain was not the easiest place to start building works, and the Infirmary did not deal with the bequest for one reason or another.  Then, in 1948, the National Health Service was formed.  This led to hospital endowments becoming the property of the Ministry of Health – in London!  The Infirmary thus had no money to spend on Warley House, and was faced with having to ask permission from the ministry for every proposed scheme.  No ideas ever came to fruition and the house was never used for the convalescent home Mr. McCrea had wished for.  Instead, it fell into disrepair and eventual ruin.  In 1964 the house and outbuildings were finally demolished.  The large estate was divided up, the larger outer part being sold to local farmers as grazing land for sheep and cattle.  The central zone of some two and a half acres was a conundrum.  This area included the site of the old house and outbuildings, the kitchen gardens, and many rhododendron beds.  It was sold off, and seems to have changed hands a few times.  Nothing however was done to it.  Sheep and cattle encroached from adjacent land, the occasional visitor climbed over the wall, but generally the garden went to sleep and became totally derelict.​It was in February 1994 that we bought the land with a view to turning it back into a garden.  Whereas Mr. McCrea could count on the services of several full time gardeners, we felt that a new garden on this site would need to be less labour intensive!
There was no useable entrance at this time, the main gates having been bricked up and the cobble sets removed.   However, there was another driveway on to the site, from the old tradesman's entrance.   The entrance as such was boarded up, but we found that the original cobble setts were still present, albeit now under 8 – 12 inches of leaf mould.  Early weeks were spent clearing this soil and exposing the driveway.  We had to cut back masses of wild ponticum rhododendrons which had grown over the drive and indeed rooted into it in places.  This entrance now became the main site access and new gates were fitted.  At the end of the drive the quality of the setts began to deteriorate and our excavations ceased.  Five years later we were to continue this work, revealing a further large cobbled area.​Another early job was to tackle what had once been a beech hedge, extending some eighty yards along the south side of the kitchen garden.  With no pruning for over forty years, the beech trees had reverted to their natural growth pattern.  On top of short unusually shaped trunks there was a mass of dead and tangled branches, from which live branches grew skywards in tree-like proportions.  It took us three months to clear the base of this hedge, converting it into a row of oddly shaped, but very pleasant, beech trees.  At the same time we cleared out another mass of invading rhododendrons, weeds and self-sown shrubs, making a path on each side of the line of trees.​A dangerous remnant of wall from one of the outbuildings stood at the top of the drive.  It was covered in ivy which had spread into the cavity of the adjoining main wall.  At various sites along the wall length, the ivy protruded and was clearly becoming a potential threat to the wall's integrity.  The dangerous remnant was removed and the ivy cut back.​As the first Spring arrived, so did the nettles and thistles; so thick in places it was impossible to put a foot down between them.  The application of selective brushwood killer, and frequent mowing steadily reduced their number. The repeated cutting gradually began to make the grass areas look more like lawns again.​It was apparent at an early stage that a number of trees within the garden were dead.  A large weeping elm was the saddest of these, no doubt a victim of Dutch Elm Disease.  We did however find a Wych Elm on the site that is still thriving.  There were several dead holly trees, all of which had loss of bark for some three feet or so at the base of the trunk and canker had apparently set in.  Our impression was that the bark had been eaten by the encroaching sheep.  Following a visit from the Calderdale aboricultural officer, we made arrangements for the dead trees to be removed.​Whilst clearing the ground beneath the beech hedge we found the occasional stump of an iron post.  When we investigated these we found numerous rusting iron fence panels buried deep in the soil.  The iron stumps were the remains of the fence posts, and most went down some two feet or more.  We dug them all out, and had them collected by a scrap metal dealer.​At last the first Autumn arrived; the time we had been waiting for when the first serious planting could begin.  We started the planting of the English bluebell and the native wild daffodil. As the work progressed year by year we planted several more batches of these.

In 1996 we asked a garden designer, Paul Green from Askham Bryan College, near York, to draw up plans for the re shaping of the whole plot.  We realised that many parts of the garden had simply gone too far and would need to be completely cleared.  One area of woodland, adjacent to the main road was typical, being choked with brambles, alongside dead and fallen trees.  Under Paul Green's guidance 90% of this area was cleared and converted into a Japanese Garden, complete with a replica tea-house.​A garden store, with kitchen and toilet facilities, was completed with stones dug almost entirely from the garden itself.  This gave us our first secure on-site building.​The more work we did on the garden the more we decided we would like to re-build a house on the site. It was very difficult living off site and having to make special trips to do any work here.  Vandalism became a problem and it was necessary to remove the tea-house from the Japanese garden as it had become a magnet for some of our local youth.  On one occasion they even tried to burn it down!​The garden is in both the green belt, and a conservation area.  Planning officers for Calderdale were totally opposed to a new house being built.  However, we had considerable support from people in the village, and our local councillor.  In addition, we had a letter of support from the Campaign to Protect Rural England!   We eventually obtained planning consent for a new Warley House at the end of 2004  -  getting through the planning committee by a single vote.  Building started the following Spring, and we moved in at the end of March 2006.​Both our backs have suffered over the years and so we no longer do all the garden work ourselves, but employ a couple of part time gardeners.  Other excellent local contractors, Paul Daber, (now retired), and Darren Hodges, do a lot of the additional heavy work.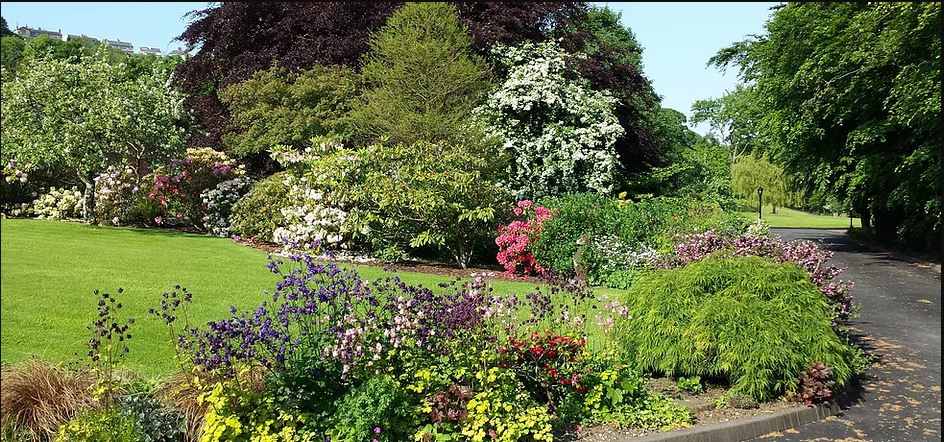 During the development of the garden we had accrued a lot of rubbish.  Much was taken away, but one particular pile was very large.  On the advice of a garden designer it was simply covered in a layer of topsoil and turned into a planted area.  Some cattle wandered in one day from the adjacent field and stood like statues on this area, which we now call "Cow Hill".  Perhaps not surprisingly the plants did not do well, and in January 2012 we tackled the area properly.  Some nine large skips full of soil and rubbish were taken away, and the same quantity of fresh topsoil brought in. The work was done by Darren, and the result is now one of our finest plant zones.​The garden is open on an ad hoc basis several times each year, but we aim to get it looking it's best for NGS days.  In addition the gardens may be used from time to time by local community groups.  This includes such as the scouts and guides, schools, and U3A.  The gardens are also a good backdrop for wedding photographs.  This does occasionally take a toll on the grass, but it usually recovers easily enough!​Human vandalism since we moved into our new house has been practically nil.  However, the wild life is not always so kind.  There is a badger sett in an adjacent field and the animals regularly wander over into our garden.  They produce minor scrapings on the lawns that are visible most days, but at times will "plough over" an area of several square yards at a time, to a depth of some 6 inches.  Rabbits were a major problem for several years but their numbers have fallen dramatically of late.  This may be a combination both of disease and shooting by local farmers.  Deer are also present in the area.  There is a herd of up to 7 animals that visit whenever they feel like it, but particularly in the Autumn and Winter months.  They have an appetite for the more expensive plants and are very annoying – being less frightened of our shouts these days as well.  They have an especial taste for ivy and at times our ivy bank has been completely laid waste by their grazing.   Foxes have been a common sight, although not seen so much in recent years.​Some areas of lawn which have been repeatedly ploughed up by the badgers have been re-seeded, and then covered over with a plastic mesh.  This is soon incorporated into the turf, although may be visible in a few areas still.  It does not stop the badgers scratching, but does prevent any extensive digging.

As you wander round the garden you may notice the piles of compost in varying states of readiness.  You may also perhaps observe that there is one large pile consisting entirely of moss which we scarify from the lawns.  Whatever we do it keeps coming back, and then takes a very long time to rot down!
Despite the need for ongoing work, there are occasions on which we are able to just relax in the garden and simply enjoy it, as we hope you will do if you are able to visit.
Catherine and Paul Hinton
Tropical Fish
One of my hobbies is keeping tropical fish. Last year I invested in a large 600 litre tank. My intention was to build a heavily planted aquarium and add several fish of various colours and types so that it was a constant picture of action, an attractive feature in our houseI have never looked back. The fish are so therapeutic to watch and when a fish is pregnant I take an even closer interest to watch for any new arrivals.
They do need lots of time though. Water changes, tank cleaning, watching for poorly fish etc. Saying that, it's definitely worthwhile.

I have added bogwood, plants (plastic and real), ornaments and air stones.
My fish are Bristlenose Plecs, Clown Loach, Swordtails, Honey Gourami's, Lemon Tetra's, Neon Tetra's, Scissortails and Endlers.