Halifax Memories 24
 Halifax Memories 24 - Churches of Halifax 1
There was a time when these chapels and churches drew vast congregations, but by the 1960s, changes in the centres of population in Halifax and in social and religious habits meant that they had been closed for worship when fire or the demolition ball brought them crashing down.
These three churches were in their death throes. 
Rhodes Street Methodist and Square Congregational were among Halifax's biggest and most popular places of worship in their heyday.
Square Congregational Church
Square Congregational Church, a fine building in the Gothic style, was opened in 1857 and seated 1,250 people. In it's earlier years it was often filled. At this time there was a substantial population living in this part of Halifax and noted preachers had the power to draw big crowds.
The new church superseded the 18th century, brick built Square Chapel, alongside, and it became the Sunday School.
In 1969, Square was amalgamated with another of Halifax's Congregational churches and it closed for worship. It became the target of vandals and in 1971 a fierce blaze severely damaged the building, leading to calls for its demolition.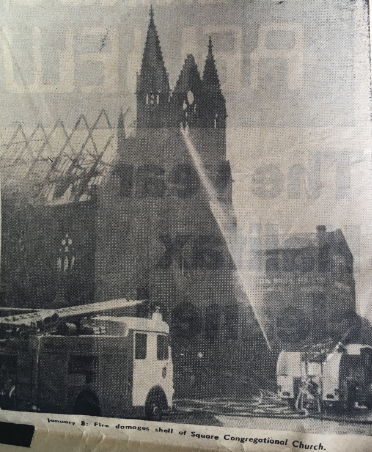 Eventually, after government involvement, the body of the church was knocked down but the 200ft spire, one of Halifax's major landmarks, was saved. The adjacent Square Chapel would then be the subject of long drawn out controversy and was constantly under threat of demolition until it was finally rescued and turned into the thriving arts centre that it is today.
The above pictures show a 1969 view of Square Church and Chapel from Halifax Railway Station and a view of the fire which wrecked the church two years later.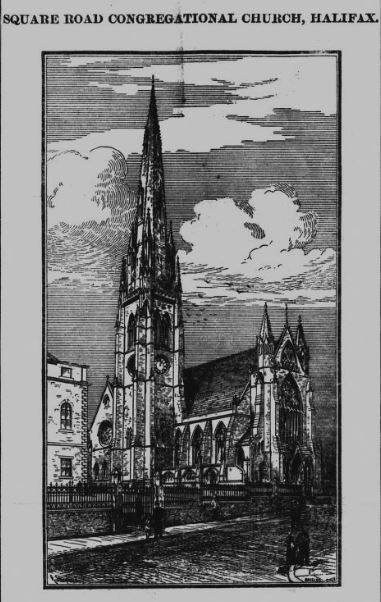 Rhodes Street St Mary's Church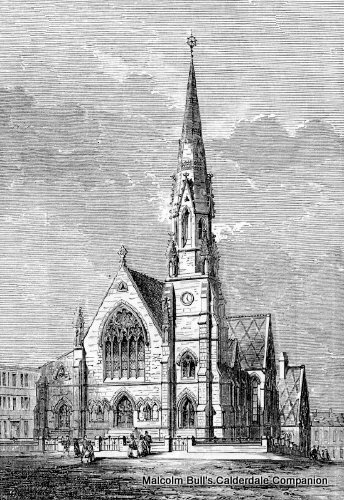 Rhodes Street Wesleyan
The derelict Anglican church of St James's and St Mary's on Rhodes Street had long been the subject of controversy was slated for demolition. Once there was also a Methodist church on Rhodes Street, a fine building with a spire and a noted organ. It was opened in 1867 and in the early years its capacity of 800 was frequently filled, but a combination of dwindling congregations, heavy maintenance costs and council development policy led to the closure of Rhodes Street Methodist Church in 1965. It was demolished two years later.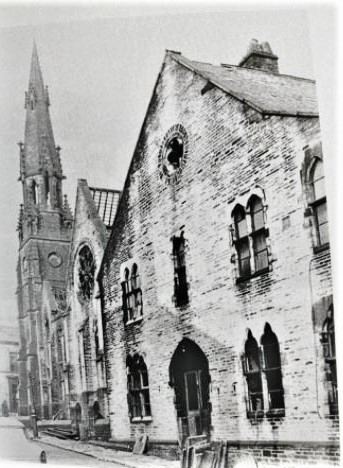 Rhodes Street Methodist in a state of dereliction after its closure.
Range Bank Congregational Church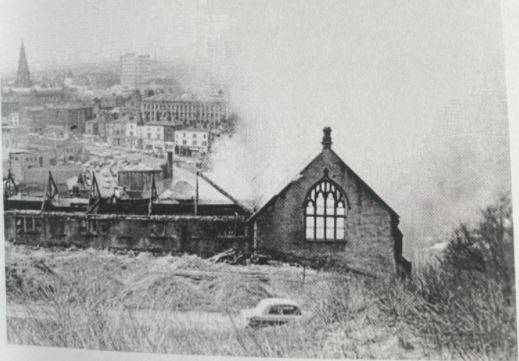 A much smaller building was the Range Bank Congregational Church, in the Haley Hill area of Halifax. It had originated in the 1850s as an outpost of Square Church and the Crossley family were heavily involved. The last service was held in May, 1954 and the Sunday School closed in August of that year. The picture above shows fire consuming Range Bank Chapel in 1969.
---
If you have enjoyed your visit to this website, please spread the word by clicking the 'like' and 'share' buttons below. Thank you