Halifax Diary Of Events
Halifax Diary Of Events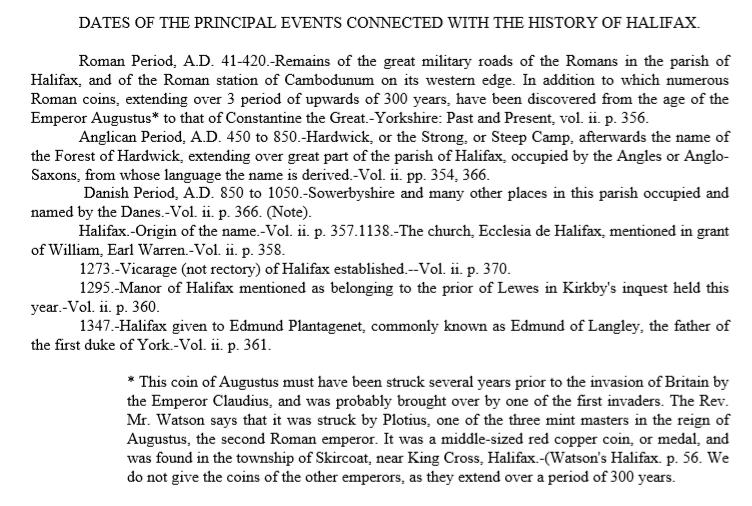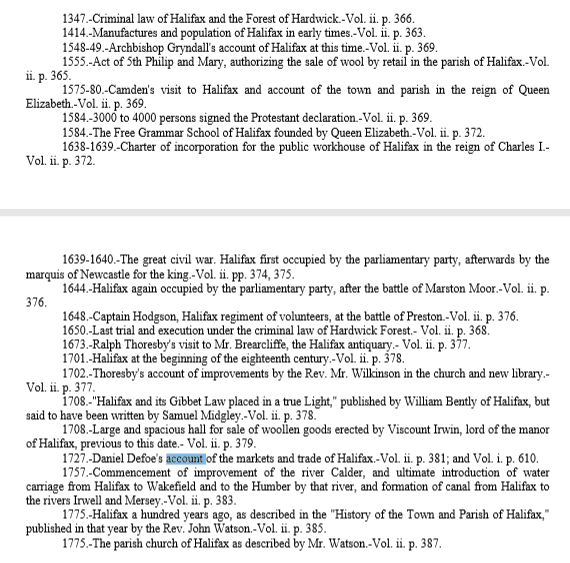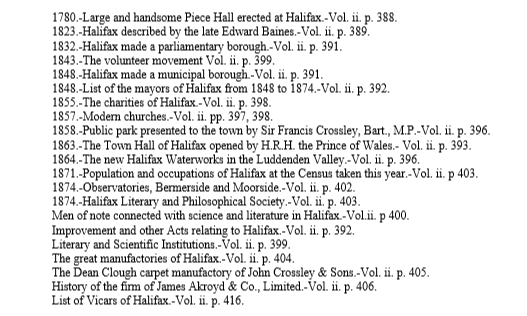 January
1st   1853   Halifax Exchange opened
1st  1948  Sir Harold Mackintosh created a peer, he took the title of Lord Mackintosh of Halifax
2nd  1906  First Issue of the Halifax Daily Guardian
2nd  1907  Motor buses inaugurated at Todmorden
3rd  1900  Miss Porter gave Halifax an organ which was placed in the Victoria Hall
3rd  1925  Buses ran to Pecket Well and Oxenhope
6th  1939  Halifax Palace figured in 'Famous Music Halls' broadcast
6th   1960   Corporation to buy Victoria Hall
8th   1853   Halifax Courier was first published

11th  1923   Amalgamation of Sowerby Bridge, Sowerby and Norland
11th   1971   Heptonstall designated as conservation area of special interest
12th  1869  Lightcliffe National School opened
14th  1914  Trams first ran to Elland from Huddersfield
16th  1917  Fire burnt out St. John's church leaving only the shell of the building
18th  1862  Halifax Chamber of Commerce - first meeting
18th  1870  Halifax Drill Hall opening ceremony
20th 1863  A youth was 24 hours in the stocks in Northowram for Sunday gambling
21st   1941  Heavy fire damage at Elland Dyeing Company works
22nd  1882 Salvation Army began work in Hx
23rd  1964  Modernised New Victoria (formerly Victoria Hall) opened by Viscount Mackintosh
25th  1938  Inquiry into Halifax application to borrow £62,500 for swimming baths at Clare Hall
26th  1910  Ald. W.Smith donor of art gallery, received freedom of Brighouse
28th  1950  Opening of the Denham out-patient ward at Halifax Infirmary
29th  1924  Ministry of Health inquiry into Sunday music in People's Park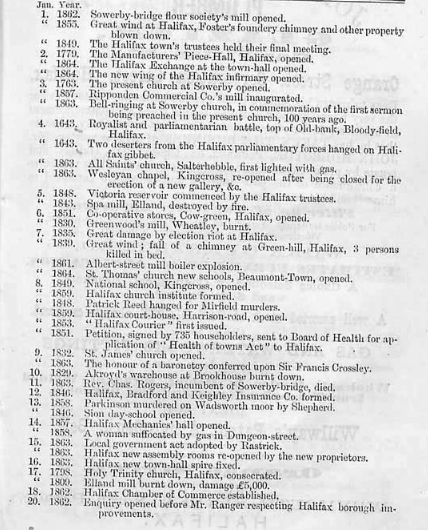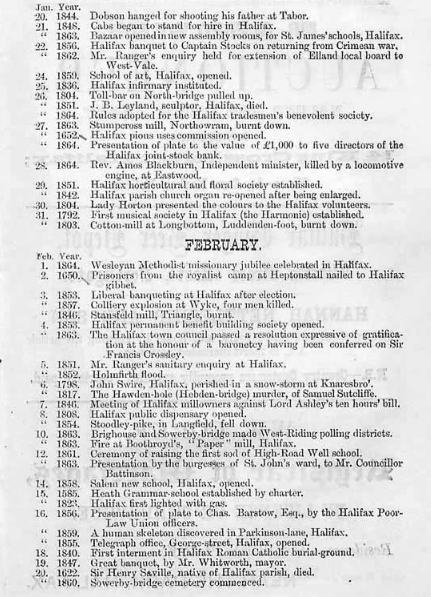 February
2nd  1935  Death of JH Whitley, former speaker of the House of Commons and 28 years M.P. for Hx
3rd  1896   Opening of Elland Council offices
4th   1853   Permanent Benefit Building Society first opened for subscriptions
5th  1927  Damage amounting to £20,000 by fire to Halifax Theatre Royal
6th  1946  Premiere show in Halifax of film "We of the West Riding"
6th   1947  Poll on opening Sunday cinemas (9935 for and 8349 against)
8th  1901   Halifax Victoria Hall opened
10th  1971  Heavy fire damage at Mytholmroyd hatchery
14th  1939  Last tram ceremonially driven from Ovenden by Mr Whiteley Lumb
16th  1967  Announced Mytholm Hall Estate to be bought by County Council
22nd  1919  YMCA opened at Clare Hall
26th  1880  Electric light first used in a Halifax mill
28th  1933  Princess Royal opened Kirby Lees as centre for the Nursing Association and  and new wards at Halifax Infirmary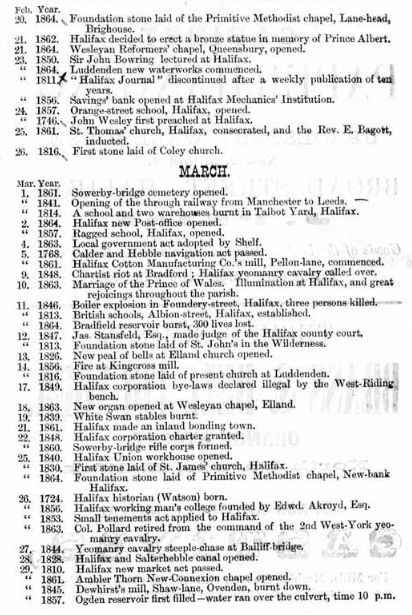 March

1st   1877   John Abbott's Ladies Homes first occupied
3rd  1913  Stafford Square Methodist church opened
3rd  1951  Work started on Halifax Technical College extension (eventual cost £500,000)
5th   1947   Paton and Baldwin presented Spring Hall to the town
5th   1900   Fire at Danny Lane Mill, Ludd Foot £7000 worth damage
6th  1937  Bishop G. H. Frodsham, Vicar of Halifax and late Bishop of North Queensland died
7th   1865   Lord Savile sold rights to Halifax at a nominal figure of Savile Park
11th   1931   Opening of Alexandra Hall
12th  1903  Sir Henry Irving played in the Grand Theatre
12th  1923  Trams first ran to Brighouse from Huddersfield
12th   1925   Maternity Ward at Royal Halifax Infirmary opened by Princess Mary
13th   1965   Opening of Calder High School extensions
14th  1903  Centenary of Square School
21st  1926  Dean Head Church School destroyed by fire
21st/22nd  1948   Halifax civic centenary celebrations
23rd  1907  Boothtown Methodist Church opened
27th  1933  Archbishop of York (Dr Wm. Temple) opened new wing of Rishworth school
28th  1943  Last service at Hanover Methodist Church
31st   1932   First publication of 'Inheritance' by Dr Phyllis Bentley
31st  1937  Amalgamation of several local district councils came into force
31st   1958   Prime Minister (Mr Harold Macmillan) at Victoria Hall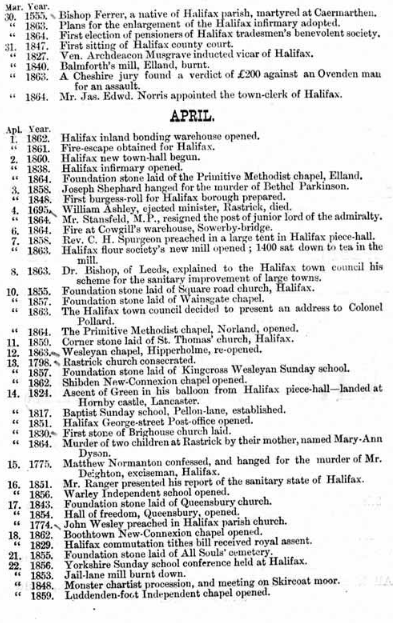 April
1st     1965     saw a strike by 500 Halifax engineering workers that lasted 16 days. 
1st     1970     The Square Church, Halifax was listed for preservation
1st    1980     More than 270 workers at John Stirk engineers at Boothtown were made redundant
2nd  1931  Midgley Pace Egg play was broadcast from Leeds

2nd  1941   Death of Mr Shaw Hardcastle, a well known Halifax draper

2nd  1946  Soldiers' home run by Halifax Free Church Council in Trinity Road Baptist School closed after six and half years

2nd  1960  Mytholmroyd-born poet Ted Hughes won the 1960 Somerset Maughan award worth £500

2nd  1962  Severe fire damage at Hebden Cord Company, Old Gate, Hebden Bridge

2nd  1967  Last service at Sowerby Bridge Baptist Church before demolition and rebuilding

2nd  1969  Merger proposals of Mackintoshes and Rowntrees

2nd  1974  Rowntree Mackintoshes receive orders worth over £200,000 from Germany

2nd  1985  Rowntree Mackintosh to invest £5.75 million in Halifax factory but 140 jobs to go
3rd  1875   Todmorden Town Hall, the gift of the Fielden family, opened
3rd  1877   Stannary Congregational Church opened
 3rd  1909 - The new pavilion opened at Halifax Bowling Club

 3rd  1962 - A fire destroyed Heptonstall Cricket pavilion

 3rd  1963 - Halifax Town Council was to buy Wellesley Barracks for £33,000

 3rd  1983 - Alan Carter, aged 18, won the French 250cc motor cycle Grand Prix at Le Mans
4th  1903  Celebration of the centenary of Dean Clough Mills
4th  1914  The new clubhouse at West End Golf Club opened
4th  1953  Victoria Hall ceased to be a cinema
4th  1980  Halifax Rugby League beat Keighley to win promotion to Division 2
5th  1911  Bermerside given to Halifax by Mr A.Donald Oates and Miss Oates in memory of their late brother,  Edwin James Oates. The estate was bought for £5,000 and Mr and Mrs Oates paid for alterations to the house into an open air school at a cost of £1,000. In addition, £4,000 was set aside to start a covalescent home and form part of the Oates Trust Fund.
5th  1913  Sod cutting ceremony for the new St. John's Church, Rastrick
5th  1933  Test case in the High Court brought by the Performing Rights Society against the George Hotel, Brighouse. The hotel was banned from allowing the public performance (by radio) of any musical work.
5th  1935  First Halifax prosecution under 30mph speed limit.
5th  1939  New Burnley Road Inn to be called The Allan Fold, the licence being transferred from the Brown Cow Inn.
5th  1958  New child welfare centre opened in North Parade
5th  1979  Josephine Whittaker, 19,  was found murdered on Savile Park
6th  1907  Sod cutting ceremony of the proposed new Baptist Church at Ovenden
6th  1912  Boothtown United Methodist Church jubilee
6th  1940  Centenary of Cross Lanes Methodist Church, Hebden Bridge
6th  1973  Burdock Way, Halifax's £4.5 million relief road opens
6th  1976  Richard Dunn wins European heavyweight championship
6th  1967 Halifax Town Council accepted in principal scheme for three-phase development of property on lower side of Market Street and Northgate
7th  1947  Halifax Corporation Bus overturned at Salterhebble injuring 37 people
8th  1914  New Halifax sanatorium  at Shelf for the treatment of consumptive patients opened
8th  1918  Meat rationing started in Hx
8th  1926  Mayoress of Halifax and friends in car smash near Tadcaster. One of them killed
8th  1931  Gift of drinking fountain to Luddenden Foot by Mr Bernard Clay
8th  1934  Foundation stone laid for new Roman Catholic church at Underbank, Sowerby Bridge
8th  1944  Siddal Bottom mil destroyed by fire
8th  1948  Halifax Picture House operator Richard Farrar, aged 25, killed in a fire in the projection room (or 13th April?)
8th  1967  New £250,000 Westgate redevelopment scheme opened in Elland
8th  1972  Death of Mr Albert Edward Broadbent, Delight Farm, Barkisland, founder of local haulage firm
9th  1901  Opening of St. Luke's hospital (now General hospital) built bythe Halifax Board of Guardians at a cost of more than £100,000 by Mr. J.W Tillotson
9th  1910  Jubilee of Sowerby Bridge Co-op celebrated
9th  1924  Park Road Baths re-opened after reconstruction
9th  1930  Textile strike started
9th  1979  Wettest weekend ever recorded in Calderdale at the time - 2.37 inches of rain
9th  1980   Lord Kagan of Elland imprisoned in France
9th  1987  Shay Stadium saved. Calderdale Council agrees to step in and save Halifax Town with a plan which gives the club £210,000 to clear it's debts
10th  1926  New Middle School opened in Hebden Bridge
10th  1977  ITV's 'It's A Knockout' to be screened from Wellesley Park, Halifax
10th  1983  Tram Shed nightclub closed after 10 years
10th  1974  Major award for Kosset Carpet's Ltd, Brookfoot in national competition
10th  1979  Announced that Morrison's supermarket plans for extension approved
11th  1961   First meeting of Calderdale Water Board
12th  1952  Decision to buy The Coppice, St. Anne's by Halifax Old People's Holiday Home Trust
16th   1900   Opening of Conservative Club, Ripponden. Cost £3500
16th  1949  Halifax Co-op Society bought Arcade Royale
17th  1879  Second Heath Grammar school opened
19th   1952   Closing of St James's Church and amalgamation with St Mary's
21st   1936   Several people killed after runaway lorry crash at Greetland hill bottom
22nd  1859  Ludd Foot Congregational Church ( a gift of the Whitworth family) opened
22nd  1874  Opening of Holywell Green Congregational Church
22nd  1911  Salvation Army citadel opened in North Parade
23rd   1877   Consecration of St. George's Church, Lee Mount
23rd   1961   Opening of Elland Power Station
24th  1915  Consecration of St. Mark's church, Siddal
25th  1964    First multi-storey flats opened in Great Albion Street
26th  1930    Last meeting of Halifax Board of Guardians
27th  1875  Consecration of St. Augustine's Church, Hx

May
1st       1959   Last passing out parade at Wellesley Barracks
2nd    1958   Opening of Quarry House Special School, Northowram
3rd    1873    St Marys Church, Ludd Foot consecrated
3rd    1856   Cattle market opened off Gibbet Street, just above Hall Street
3rd     1952    Mr Arthur E.  Ellis of Halifax refereed F.A. Cup Final at Wembley
3rd     1957   Gift to National Trust of woodlands at Hardcastle Craggs in will of Mr Abraham Gibson
3rd     1957   Baitings Reservoir opened
4th  1934  Serious fire at Halifax Palace Theatre
5th   1876   Hanson Lane Cricket Ground first used
5th     1959   Opening of Technical High School and Ash Tree Infants School
6th  1899  Foundation stones laid for Victoria Hall
7th     1958    Halifax Council approved Wheatley Valley Development plan
8th     1945   VE Day dancing in Halifax streets
11th  1907  Ward's Cottage Homes, Pye Nest opened
13th   1942   Death of Sir Enoch Hill J.P. former head of Halifax Building Society
13th  1946  Dinner to celebrate liquidation of £371,000 debt on Halifax tramways undertaken
21st  1925  Closing services at Leadenhall Street Methodist Church, King Cross
21st    1955   Last passenger train on Halifax-Queensbury line
22nd  1909  Opening of Hebden Bridge Secondary School
23rd   1960   Opening of High Royd Sewerage Disposal Works, Sowerby Bridge
24th  1858   Hansom Cabs introduced into Halifax
24th  1890  Last Sunday School Jubilee held in the Piece Hall
24th  1952  Parade through Halifax on 250th anniversary of Duke of William Regiment
25th  1956   Closing of Grand Theatre
27th  1970  New Halifax Fire Station operational
29th  1907  Princess Louise opened Brighouse Art Gallery
29th  1935  Two cottages destroyed and one resident killed by petrol explosion in Mixenden
June
2nd     1928    JH Whitley MP for Halifax and Speaker at the House of Commons announced his retirement
2nd     1931    Opening of Prince's Arcade
5th  1915  Opening of St. Paul's Methodist church, Elland
5th      1958    Demolition of Manor Heath Mansion
6th  1939  Heath Grammar school extensions opened
10th   1867    Halifax Parish Church Schools opened at Dispensary Walk
15th  1898   Public library and park opened in Brighouse
16th    1962   Halifax one of a few towns with subscriber trunk dialling  system
18th  1945  Waterloo Day, Halifax "Freedom" ceremony to Dukeof Wellington's Regiment: Duke of Wellington was present
21st  1912  Railway smash at Charlestown Curve, Hebden Bridge, 4 killed
22nd   1965   End of Hebden Bridge Show

23rd   1855   Halifax Station opened - previously it was at Shay Syke
23rd  1881  Shroggs Park opened
23rd   1900   Opening of Brighouse Sewerage works
23rd 1916  Ald. Robert Thornton received freedom of Brighouse
26th   1900   Opening of new bridge at Godley by Mayor Coun W.Brear
26th   1937    New Children's Holiday home opened in Norland
26th   1981   Asda Superstore had a huge blaze at the 5 storey Battinson Road Mills, Pellon. As 140 firemen fought to contain the blaze, the roof collapsed sending a huge fireball into the night sky.
27th   1938   Opening of Halifax Odeon, Crossfield ( It had 2050 seats and charged between 6d (2.5p) and 1s 6d (7.5p). Three month later, the Regal opened in Wards End)
28th  1892  First issue of the Halifax Evening Courier
28th  1932  Opening of Bull Green House
29th  1893   Lion escaped in Halifax fairground
29th  1898  Trams first ran in Hx
29th  1947  providence Methodist Church, Queen's Road closed
29th   1954   Freedom of the town for Viscount Mackintosh
29th   1864   Crossley and Porter Orphanage opened for reception of children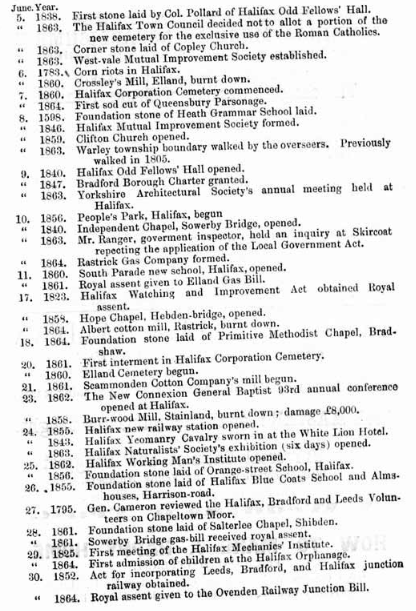 July
3rd  1948  Opening of ante-natal ward at Halifax Infirmary, gift of Mrs Ada Ward in memory of her husband, Arthur Ward
6th   1893   Opening of Woodside Baths
6th  1950   Halifax Sunday Lecture Society disbanded after 55 years
7th  1922   Mr J.W Standeven gave Ebeneezer Methodist Church as a memorial to his mother
7th  1944  Arrivals in Halifax of evacuees from London
11th  1912  King George and Queen Mary visited Halifax
12th  1945  Announced that Mr. A.S. McRea .JP.  of Warley House had left his home to Halifax Infirmary as convalescent home and an endowment of £50,000
13th  1900   Conservative garden party at Ovenden Hall. Lady Crossley receives 4,000 guests
13th   1900   17 Union Mills destroyed by fire. Cost £20,000
13th   1931    Prince George visited Halifax 
14th   1945   First Halifax Wakes in July
15th   1857   Square Congressional Church opened
17th  1935  Halifax Extension Bill thrown out by House of Commons Committee. The Bill cost £8,619
17th  1940  Exley Park Hotel opened
22nd  1904  Wilson Barrett, the actor died
25th  1896  Duke and Duchess of York opened Halifax markets and the Infirmary
28th  1934  St. Mary's R.C. church consecrated by the Bishop of Leeds (Dr. J. Cowgill) Though built in 1836 no consecration service had followed until now
28th  1940  Stannary Congregational Church's last service
29th  1925  New X-ray ward opened at Halifax Infirmary
30th  1889  Prince Victor visited Hx
30th  1940  Mayor of Halifax(Ald. G.Barker) died at Crossley and Porter School's Speech Day
31st  1920  Ald. William Smith's orphan home opened at Brighouse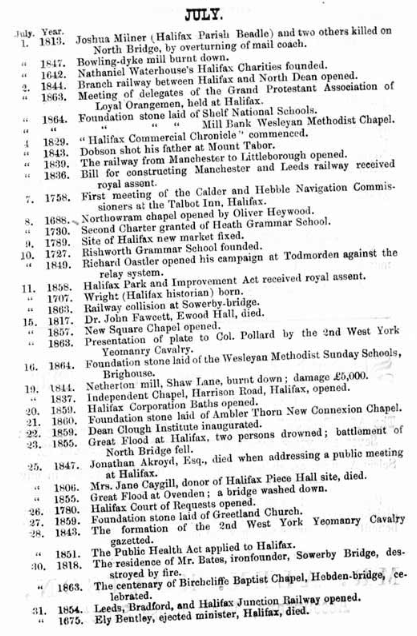 August
1st   1865   Elland Station opened
1st  1883  Parcel Post first used in Hx
1st    1953  Plans announced for new Elland Power Station   

4th  1863  Halifax Town Hall opened by Prince of Wales 
4th  1870  Consecration of St Marys Church, Rhodes Street
5th  1948  Lord Savile gave 250 acres of woodland to National Trust in Hardcastle : fund opened to buy another part of the valley
6th  1955  Ogden moors fire after driest year on record
7th  1907  Sir Savile.B.Crossley, J.Whiteley Ward, James Booth and John Whitley made freemen of Halifax
7th  1970  Redevelopment proposal for Brighouse Town Centre

8th  1878  First summer meeting on Halifax racecourse
8th  1902  King Cross Band played at Buckingham Palace
9th  1970 Earth tremor felt in Upper Calder Valley
10th  1963  Halifax Show held on Savile Park for first time
11th  1921  Cragg Hall destroyed by fire
12th  1898  Commission of the peace granted to Brighouse
15th   1944  First Halifax and District Agricultural Show at Shibden Park
14th   1857   Great rejoicing at opening of People's Park
15th  1944  First show of Halifax and District Agricultural Society at Shibden Park as pert of holidays at home arrangements
15th   1958   Bluecoat School, Harrison Road to close
19th  1893   Charter of incorporation arrived in Brighouse
20th  1950  Closing service at Pellon Lane Baptist church
21st     1921     Cragg Hall destroyed by fire
21st  1949 Wesley Chapel's closing services
22nd   1950   Miss Eileen Fenton, teacher at Princess Mary's High School, swam the channel
24th   1954   Opening  Crossfields Bus Station
27th   1964   Ouse River Board announced flood prevention scheme for Mytholmroyd
28th  1900   Opening of tram routes to Cote Hill and Ogden
28th  1938  Death of Lady Fisher-Smith of The Gleddings, Hx
28th  1940  Bull's Head Hotel, Bull Green(as rebuilt) opened
30th  1882  Halifax Higher Board school opened
31st   1877   Inauguration of Halifax Barracks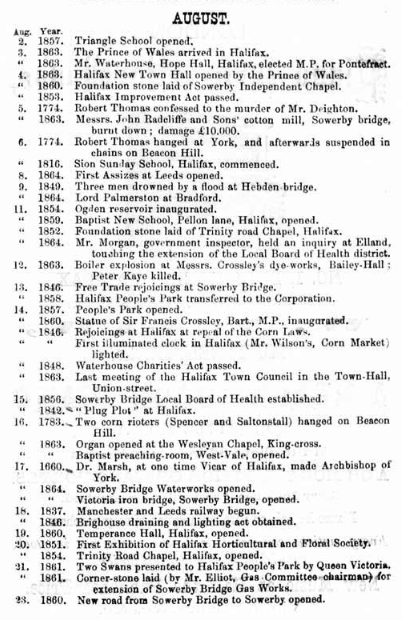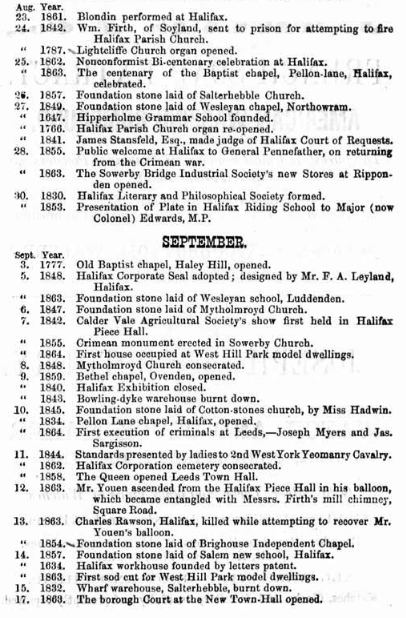 September
1st  1915  Highroad Well Congregational Church opened
2nd  1908  Halifax Old Age Pensions Committee formed
3rd   1894  Twenty five people drowned when boat overturned in Morecambe Bay. Hx people attempted rescue
4th  1890  High Level Railway opened
5th  1937  Closing services at Brunswick Methodist church
9th   1875   Completion of Wainhouse Tower
12th   1943    Death of Mr A.W Longbottom, Halifax's first Labour mayor and M.P for Halifax
14th   1900   Fire at Charnock's wood yard, Pellon Lane. Cost £10,000
14th  1905  Opening of Sowerby Bridge Public Library
16th  1949  Two men killed when aeroplane crashed at Blakedean
16th   1949   Two killed when plane crashed at Blakedean
16th  1952   Bishop of Leeds opened St Malachy's Roman Catholic Church
17th  1895  Rt. Hon. Sir James Stansfeld made Freeman of Hx
17th  1952  Exley County Modern Secondary School opened for pupils
18th  1886  Thrum Hall Football ground opened
19th  1888  Elland Town Hall opened
19th  1938  Opening of Regal Cinema
20th  1946   Heavy rain caused worst flooding's in memory along Calder Valley and relief funds opened
21st   1875   Consecration of St. Matthew's Church, Lightcliffe
21st   1927   Formation of Halifax Building Society through merger of Permanent and Equitable
21st   1931   Princess Mary opened Halifax Girl's School which was named after her. Received gifts amounting to £32,000 for extension
22nd   1951   Duke of Wellington's Regiment Memorial Chapel dedicated at Halifax Parish Church
23rd    1929   'Talkies' first shown in Halifax
23rd   1873   Opening of Halifax County Court, Prescott Street
23rd  1945  Announced that Patons and Baldwins Ltd would close several Yorkshire mills including some in Halifax when a new factory was built near Darlington
24th   1872   Halifax Liberal Association inaugurated
24th  1934  Patients first admitted to Northowram Isolation Hospital
25th   1957    New building of Percival Whitley College opened by Sir John Wolfenden
26th   1954    Serbian Orthodox Church at Claremount Road was opened by ex-King Peter of Yugoslavia
27th   1958    Opening of  Scaitcliffe School, Todmorden by Dr. Phyllis Bentley
27th   1900   David Billington broke Nuttal's 500 yards amateur record at Woodside Baths
28th  1878   Consecration of St. John's Church, Cote Hill
28th   1945    Patons and Baldwins announce plans for Darlington factory - closing Halifax mill
30th  1857   Sowerby Bridge Town Hall opened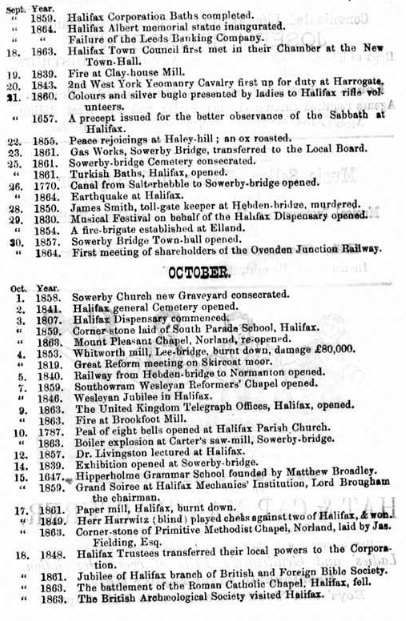 October
1st      1963   Central development plan announced for Elland
2nd   1872   Northgate End Chapel opened 
3rd  1938  Lodge of Probity No. 61 Halifax celebrated 200 years continued existence
5th  1912  Arcade Royale opened
6th    1868   Halifax Piece Hall became a Corporation possession 
10th  1932  Halifax competitive music festival abandoned
12th   1933   Death of Mr John Lister M.A. of Shibden Hall, the distinguished historian
13th   1942   28 Acres of Savile Park ploughed up for food production
14th   1868   Brighouse Town Hall opened
15th  1907   Tram smash on Pye Nest route, 4 killed
15th   1926    Shibden Park opened by Prince of Wales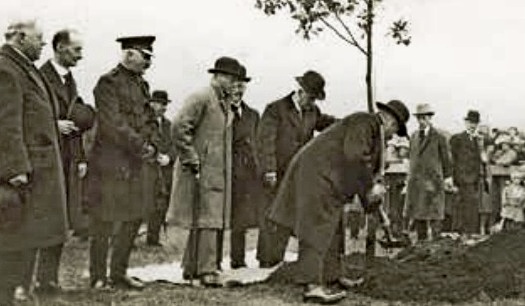 20th   1937    King George VI and Queen Elizabeth visited Halifax

25th   1937    Opening of Ovenden Senior School in Nursery Lane
25th  1871    North Bridge ceremoniously opened
26th  1854   The new church of St Thomas consecrated at Heptonstall
26th  1912  New St. Paul's Church, King Cross consecrated
27th  1854   Christ Church, Pellon consecrated
28th   1925   General Bramwell Booth (of the Salvation Army), Mr R.D Ward and Mr Joseph Whitaker made freemen of Halifax
29th   1900   Opening of new police station and courthouse, Harrison Road
30th  1900  First sitting of Halifax Magistrates in new court
31st    1854   Mayoral chain presented to the Mayor of Halifax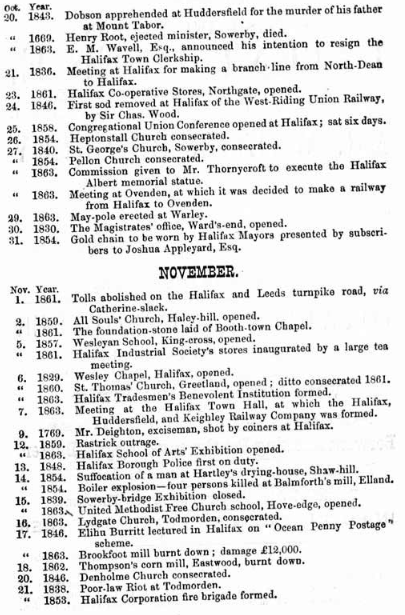 November
1st    1872   First Halifax election by ballot
1st    1916   Whittakers Brewery took over 22 Brear and Brown's properties
2nd  1859  Consecration of All Souls Church (the gift of Col.E.Akroyd)
2nd  1878  Football by floodlight on Hanson Lane ground
2nd  1906  New police station opened in Brighouse
2nd  1912   Stone laying ceremony at St Marks church, Siddal
2nd 1955  Halifax beat Hull 7-0 in Yorkshire Cup Final replay at Odsal
3rd  1918  Diamond Jubilee of All Saints Church
4th  1918   Gun week started in Halifax and raised more than £1,600,000. Guns brought to Halifax for the occasion were positioned at Barum Top
5th  1933   Luddenden Co-op to be taken over by Halifax Ind Society
5th  1953  Opening of Molletts store in Silver Street by Eric Portman
5th 1954   Death of Mr Eli Fielding of Fieldings Brewery, Bradshaw
6th  1944  Last bus service extended to 10pm from 9pm
6th  1956  Opening of Park Wood Crematorium, Elland
6th  1960  Gaumont to close
6th  1972  Effots to be made to save Wainhouse Terrace from planned road scheme
7th  1860  Greetland Church Consecrated
7th  1934   Stoney Royd fever hospital closed
7th 1962  Relief road planned between King Cross and New Bank
7th  1975  Opening of Halifax Piece Hall market
8th  1979 Halifax Evening Courier publishes it's 32,000th edition
9th  1934  Mrs M. Lightowler OBE J.P. elected first woman mayor of Hx
9th  1918  Ald. G.H. Smith (later Sir George Fisher Smith), the Rt. Hon J.H.Whitley M.P and Mr James Parker M.P. made Freeman of Halifax
13th  1897  Widened Elland Bridge reopened
18th  1874  Opening of Mechanics Institute, West Vale
18th  1931  Opening of Queensbury Catholic church
19th  1927  St. Paul's Sunday School, King Cross opened
22nd  1940 Bomb fell on Hanson Lane. 11 lives lost
24th + 25th  1922  Halifax competitive musical festival inaugurated
25th  1873  Opening of St. Joseph's Roman Catholic School
28th  1938  'Slasher' scare in Halifax. Scotland Yard men called in.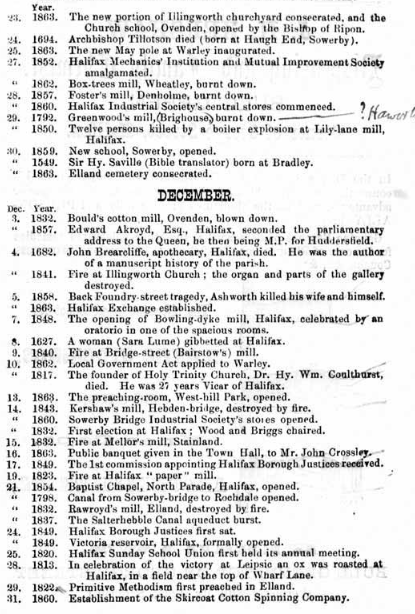 December

12th  1936  Bomber plane crashed on Wadsworth Moor near Hebden Bridge. 3 airmen killed
14th  1948  Town's meeting in Halifax decided by 166 to 42 votes in favour of a Corporation Bill to construct a reservoir above Hardcastle Crags
15th  1941  First British restaurant opened in Halifax Lower Market
15th   1961   Princess Royal opened Meredith and Drew, Ovenden
18th   1931   Opening of Queensbury Catholic Church JP became first woman mayor of Halifax
18th  1948  Explosion with loss of life, wrecked the spindle works of Jas. Ogden and Sons off Northgate, Hx
19th   1927   St Pauls Sunday School, King Cross opened
22nd  1940   Bomb fell on Hanson Lane - 11 killed
22nd  1917  Explosions at Hipperholme and Copley works
23rd  1944  V-bomb fell at Hubberton, Sowerby
27th   1957   Opening of Brighouse Corporation's Badger Hill Reservoir
28th   1938   Scotland Yard called in during Halifax 'Slasher' scare
28th   1900   Electric lighting scheme adopted by Brighouse Town Council
31st  1913  Halifax Eye, ear and throat hospial, Ward's End,  closed(it opened in 1886)