Halifax Memories 5a
Halifax Memories 5a - 'Halifax old and new' continued 
Barum Top - in 1606 was called Bourame and in 1797 was called Berum.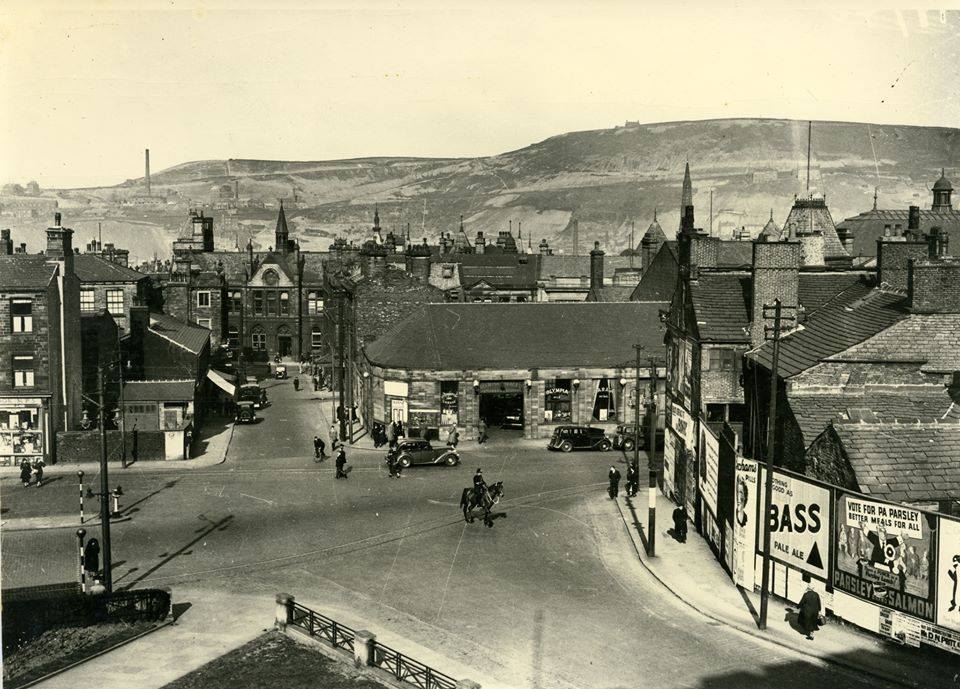 Barum Top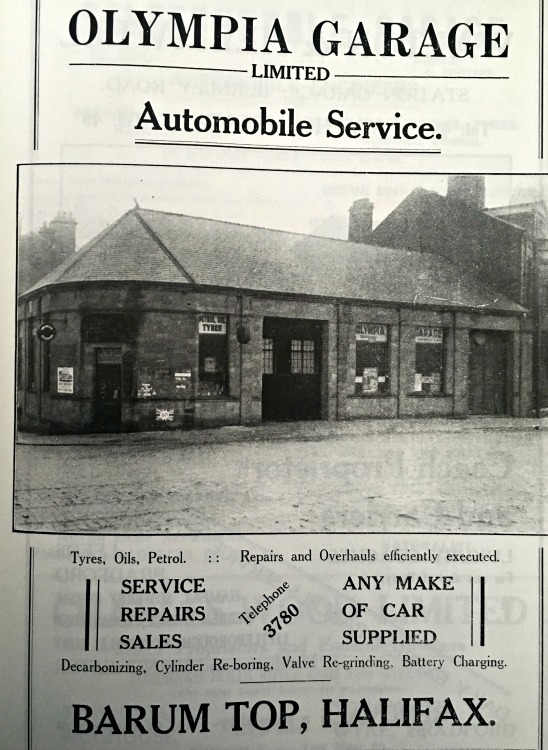 ---
Beacon Hill - 850 ft above sea level. it is mentioned  in Halifax history from 1615. The coiners were hung in chains there (1774-1783). Like many other hills bearing the name in England, it was used in ancient days for warnings, and in later years for jubilations. Payments have been made for providing and watching the beacon lights. It was in 1872 that the pan fell, but it was re-erected for the late Queen's Diamond Jubilee in 1897.
---
Birks Hall was built, or rather re-built in 1699, and was the residence of Dr Samuel Threapland (schoolmaster and M.D.) In 1776, Mr Ramsbottom conveyed to the Halifax Trustees for £300 a spring of water arising in Birks Wood. In 1853, Mrs Lancashire and Mrs Brook gave £400 and land for building Pellon Church and Parsonage.
---
Blackwood Grove
Thomas Blackwood paid a fine to refuse a knighthood from Charles I in 1627. He built Blackwood House in 1617 somewhere in the vicinity of where Blackwood Grove is situated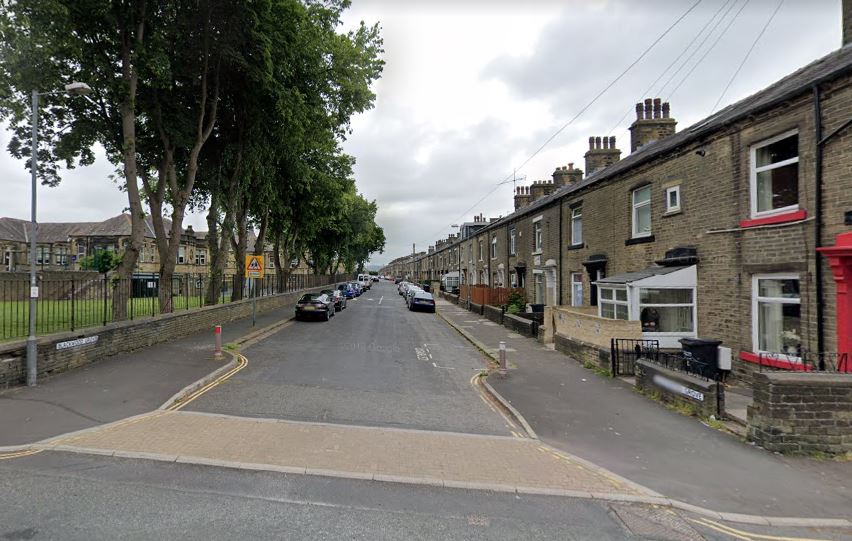 Blackwood Grove, just below Mount Pellon Primary School
---
Boothtown was originally called The Boothes and then Boothstown. In 1687, Dr Jeremiah Hall provided by will for the alms-houses and hence Hall Street. The old mansion dates from 1769 with initials of the Edleston family 'J.N.E'. According to Mr Lister, the origin of the name is from the Boothes. The wor 'Boothes' signifies cots or huts.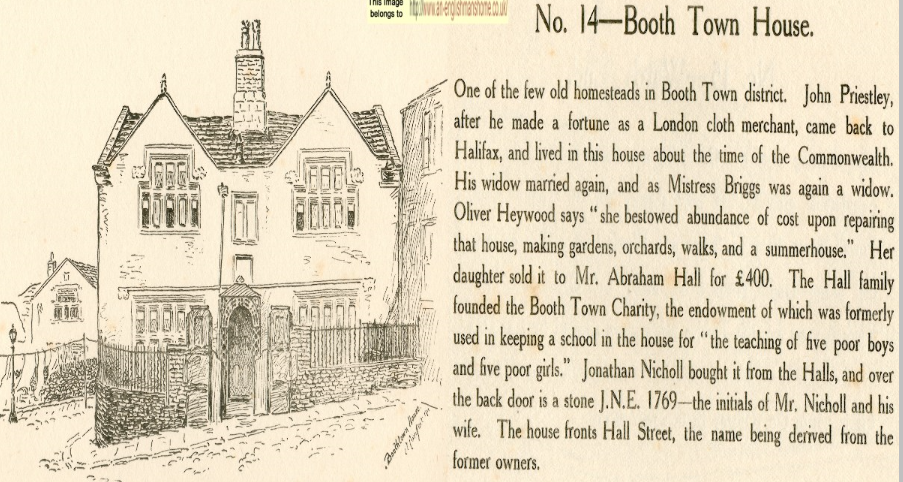 ---
Bowman Terrace, off Hanson Lane
Bowman Terrace took its name from Dr.Frederick Bowman, consulting engineer and author, one of the first members of Halifax School Board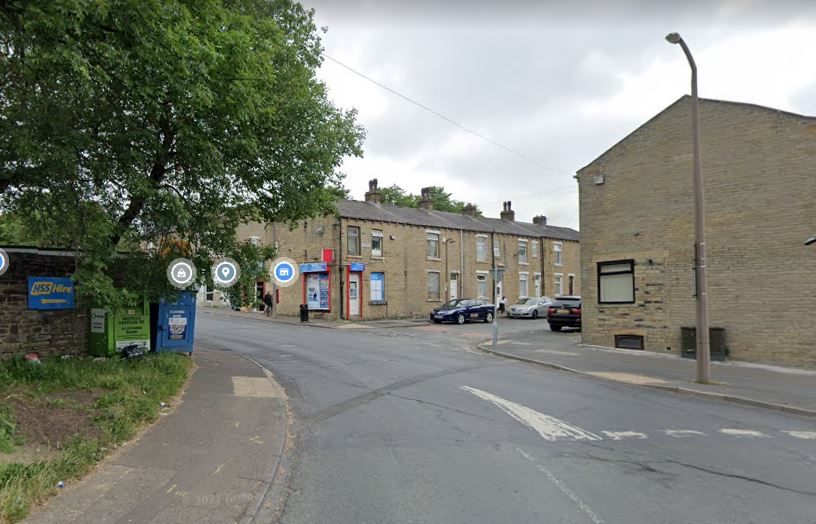 Bowman Terrace near Asda, off Hanson Lane
---
Brinton Terrace, off Hanson Lane
Brinton Terrace, which ran through to Taylor Street was part of the West Hill Estate, developed under the Crossleys. Brinton was the maiden name of Francis Crossleys wife. He married Martha Eliza, daughter of Henry Brinton of Kidderminster. Their son, Savile Brinton Crossley became Lord Somerleyton. This detached single property strikes me as being unusually 'posh' for that area. Brinton Terrace was named after Sir Savile Brinton Crossley, son of Sir Francis Crossley.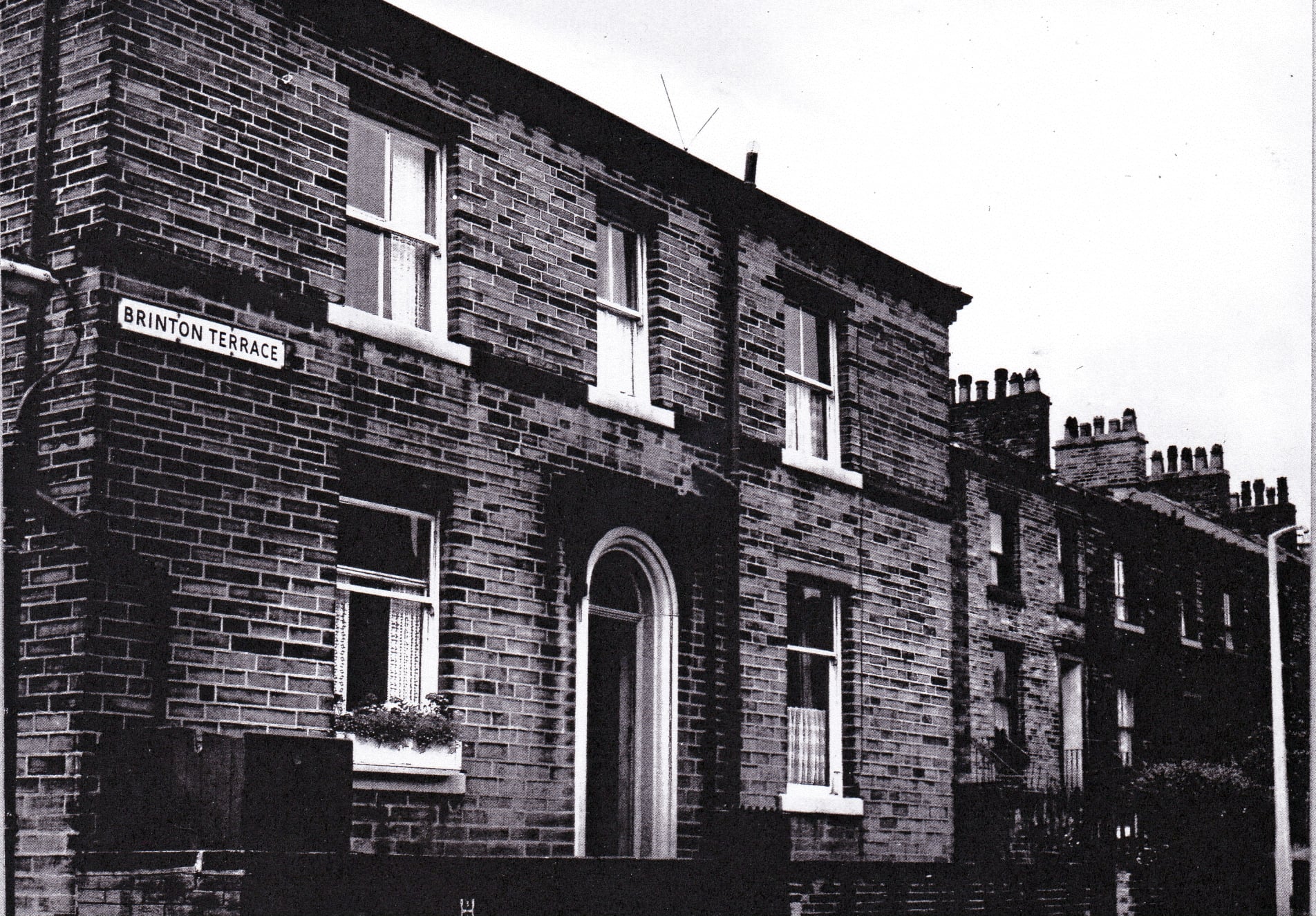 ---
Broad Street and Waterhouse Street were formed in about 1824 as a result of the 1823 Improvement Act and considered very handsome thoroughfares. Wesley Chapel was built in 1829 and closed down in 1949 and the building was used afterwards as Civil Defence Headquarters.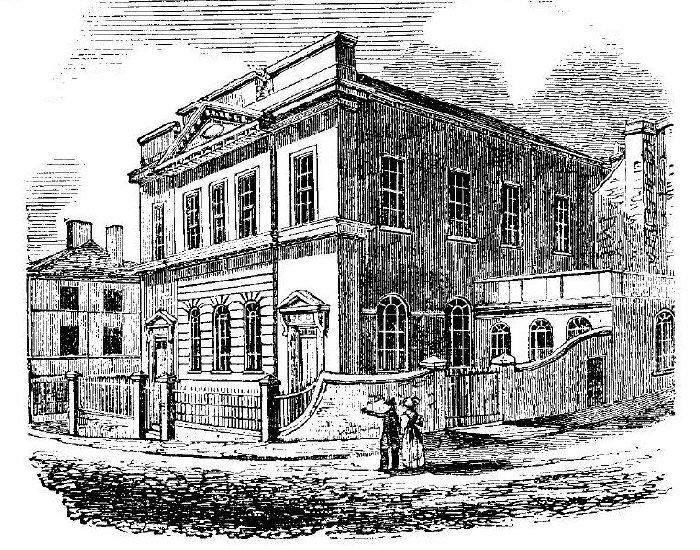 ---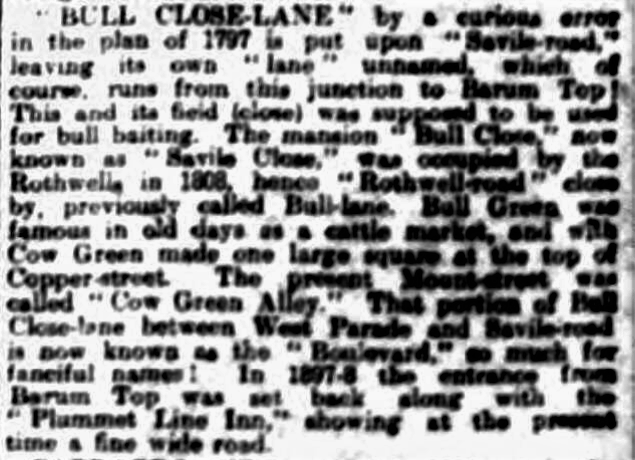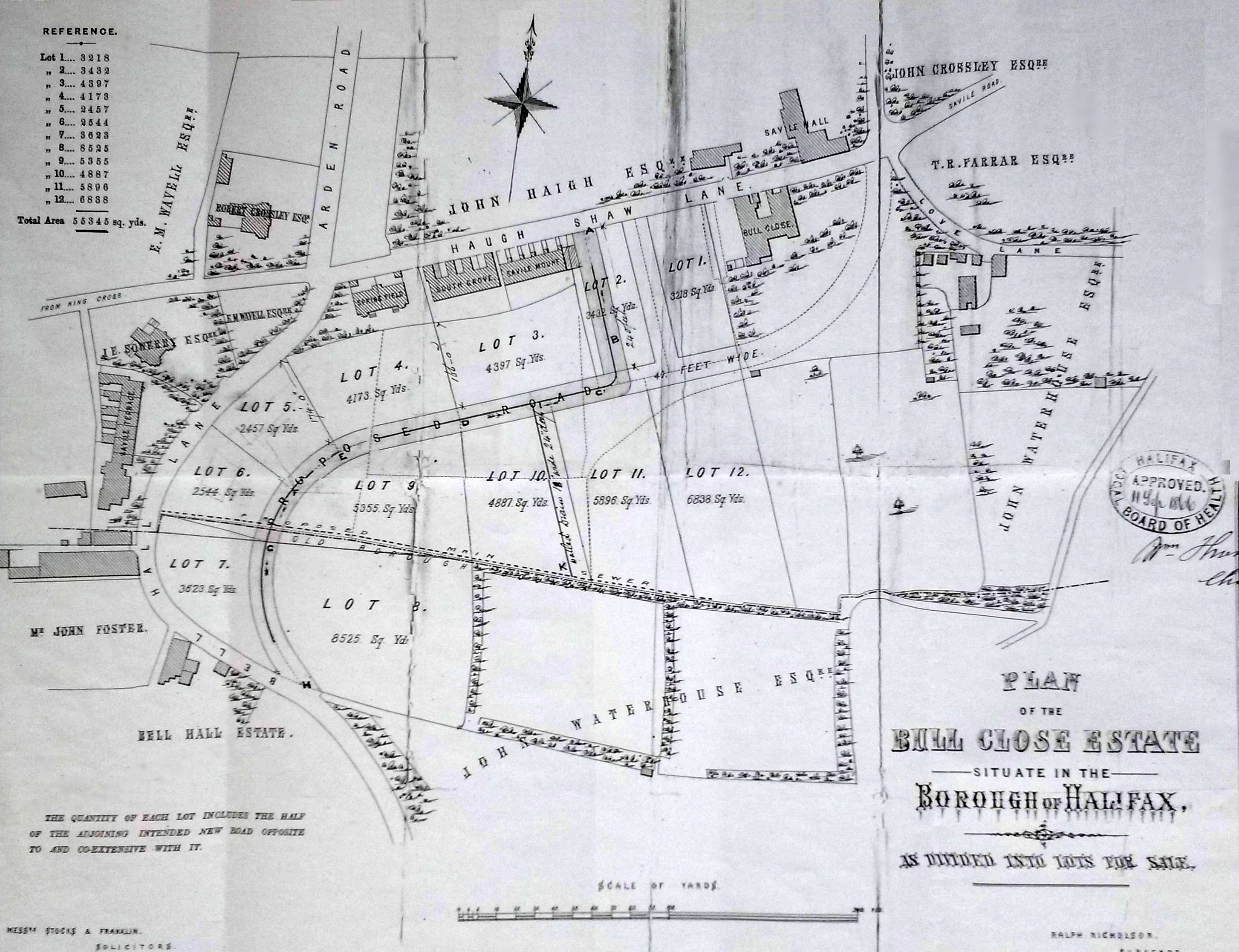 ---
Caygill Terrace, Skircoat Road, opposite the Shay Stadium, is a reminder of John Caygill, who lived at The Shay and gave the the Piece Hall to the town. Caygills Walk rustick path disappeared when Skircoat Road was made in 1890-91 after tipping across the valley.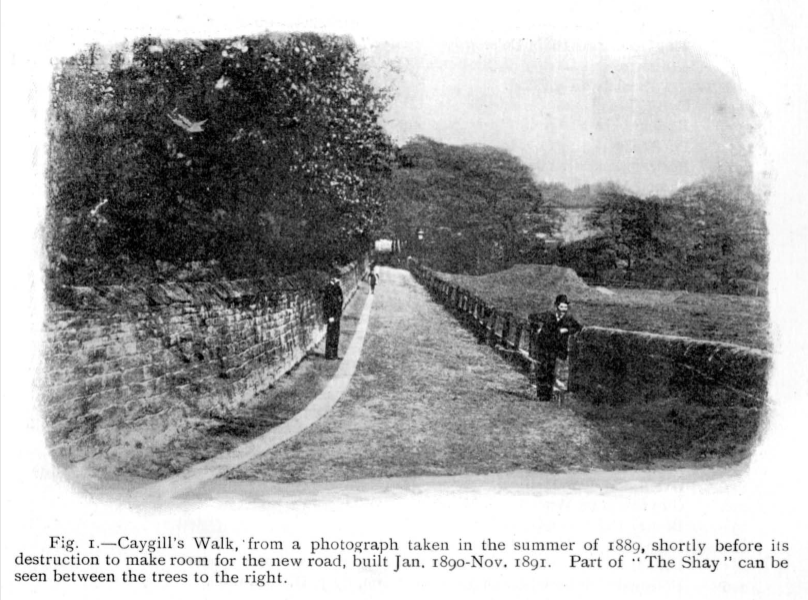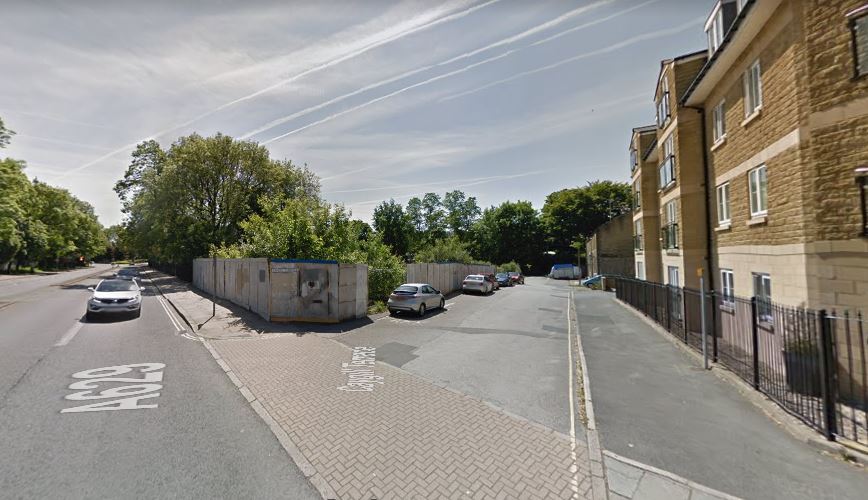 Caygill Terrace
---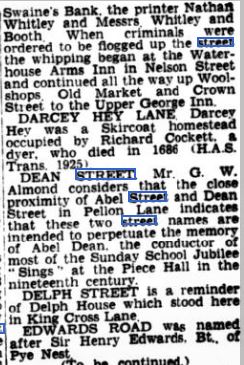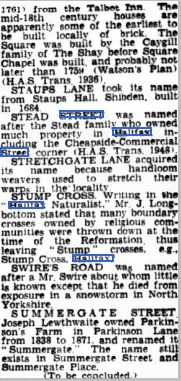 ---
If you have enjoyed your visit to this website, please spread the word by clicking the 'like' and 'share' buttons below. Thank you