Halifax Blog
The Halifax Blog lets you know whenever any new or updated Web pages appear on Halifax People. Don't miss our new photos and stories, updates and bargains, news items and quizes.
To subscribe to Halifax Blog (no e-mail address necessary), RIGHT-click on the 'Follow' button Or click on the Google, My Yahoo!, or My MSN button if you use one of those. Follow their instructions.
If you are not sure how RSS and subscribing works, please read What's an RSS Feed? You will be amazed how RSS brings your world to you. Become Part Of The Blog!
Tell your favourite story by clicking here! Your story becomes part of this blog for others to read! Enjoy... this is fun!
Mar 11, 2019
Christchurch Whitsunday Parade 1933 Halifax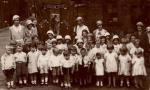 This picture was on a postcard in my relatives collection of old family photos and says it is from Whitsuntide 1933.Iam not sure where exactly in Halifax
Continue reading "Christchurch Whitsunday Parade 1933 Halifax"