Halifax Pubs Past and Present Sa
Halifax Pubs Past and Present Sa
---
Pubs            1 A B C D E F G H I J K L M N O P Q Ra Ro Sa Sn T U V W X Y Z

---
Sacha Court - Park Road, Elland

---
Saddle - 12 Market Street/Russell Street, Halifax (opened in 1819 and demolished/rebuilt as part of the market in 1896 - closed in 1966)
Fact - now a 'Heron Foods' shop

---
Saint Crispin - 6 Causeway/Winding Road/King Street, Halifax (demolished in 1844 and replaced with Old Crispin Inn)

---
Salvation - 12 Bull Green, Barum Top, Halifax HX1 5AB

Fact - was once 'Comet' electrical store

---
| | |
| --- | --- |
| Savile Arms - Westgate, Elland HX5 0BW (built in 1748) | |
---
Scarborough Castle - Crown Street, Halifax

---
Scene 1+2

---
Scene 3+4 - Halifax (aka Kibbutz)

---
Scout Head - Scout Head, Midgley (opened in 1767 and closed in 1932)

---
Second Best - (see Allan Fold)
Fact - a previous name for the 'Allan Fold'

---
Sett Hill - 6 Southowram Bank

---
Seven Stars - Back Lane, Halifax

---
Shade - Smithy Lane, Heptonstall

---
Shakespeare - 2 Wards End, Horton Street ,Halifax (demolished and rebuilt in 1903)
Fact - The original pub was connected to the 'Theatre Royale' on Southgate by the 'Ammonia Avenue' passage. Now 'Romeo and Juliets' Italian Restaurant.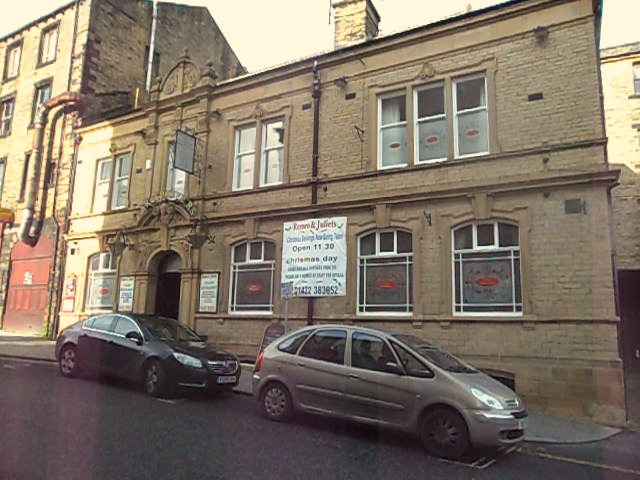 ---
Shamrock - 37 Gaol Lane/Winding Road (opened in 1869 and closed in 1954)

---
Shamrock Bar/Co-co's - Bull Green/Cow Green
Fact - Originally known as Crown and Anchor (pictured far left in the picture) . Also known as Adiga, Bodega, Brody's, Heath's, X'ess and Tequila Mexican restaurant.

---
Shannon and Chesapeake - Millwood Lane, Todmorden (built in 1817)

---
Shant - Shay Lane, Holmfield, Halifax HX2 9AG

Fact - originally called 'The Station Hotel'

---
Shay Hotel - Hunger Hill, Halifax (opened in 1928 and demolished in 2010)

---
Shears - Bow Bridge, Greetland (demolished in 1865)
Fact - originally a shop (not the old West Vale pub)

---
| | |
| --- | --- |
| Shears -  1 Paris Gates, Halifax HX3 9EZ   Phone: 01422362936 | |
---
Shears - 36 Lee Bridge, Dean Clough, Halifax (rebuilt in 1904)

Fact - became 'Dean Clough Inn' and now known as '1904'

---
Shears - Stainland Road, West Vale

Fact - demolished and replaced by a 'co-op' store

---
Shepherds Inn - 371 Halifax Road, Lob Mill, Todmorden

---
Shepherds Rest - Queens Road/King Cross Road, Halifax

---
Shepherds Rest  - Lumbutts, Heyhead, Langfield

---
| | |
| --- | --- |
| Shepherds Rest - East Parade, 125 Bolton Brow, Sowerby Bridge HX6 2BD | |
---
Shepherds Rest - Hubberton, Steep Lane, New Barton

Fact - aka the 'Riggin'. Now housing

---
Shibden Mill Inn - Shibden Mill Fold, Shibden HX3 7UL

Fact - aka 'Board Inn'. One room dates 1643

---
| | |
| --- | --- |
| Ship - Ship Street/Victoria Street, Brighouse | |
---
Ship Inn - Bull Green, Halifax

---
Ship Inn - 1 Waterside, Halifax (closed in 1911)

---
| | |
| --- | --- |
| Shoulder of Mutton - Burnley Road, Blackshaw Head (closed in 1998)  | |
---
Shoulder of Mutton - Wellgate/, Lindwell, Greetland (closed in 1974)

---
Shoulder of Mutton - 4/5 Cow Green, Halifax (opened in 1778 and closed in 1920)

---
Shoulder of Mutton - 11 Russell Street/14 Petticoat Lane, Halifax (opened in 1819 and closed in 1892)

---
| | |
| --- | --- |
| Shoulder of Mutton - Bridge Gate, Hebden Bridge (Closed in 2011) | |
---
Shoulder of Mutton - Towngate, Midgley (opened in 1789 and closed in 1956 for housing)

Fact - pub sign still visible

---
Shoulder of Mutton - Moor End Road/Clough Lane, Mount Tabor (rebuilt in 1901 and closed in 1939)

---
| | |
| --- | --- |
| Shoulder of Mutton - Cragg Road/56 New Road, Mytholmroyd | |
---
| | |
| --- | --- |
| Shoulder of Mutton - 1 Mutton Fold, Towngate, Northowram HX3 7EA   Phone: 01422206229 (date on lintel is 1622) | |
---
Shoulder of Mutton - 4 Moor End, Ovenden

---
| | |
| --- | --- |
| Shoulder of Mutton - Carr House Lane, Shelf HX3 7RB | |
---
Shoulder of Mutton - Caine Lane, Southowram

Fact - previously known as 'Mutton Inn'

---
Shoulder of Mutton - 122 Burnley Road/Toad Carr, Todmorden

Fact - rebuilt and called 'The house that Jack built' in 1974, now called 'Jack's House'

---
Siddal Place - 49 Oxford Lane, Siddal HX3 9BJ  got pics

---
Siddal Tavern - Aspinal Street/11 Hardaker Street, Siddal (opened in 1869)

---
Sign of the Church - Church Street, Halifax (see 'Ring O'Bells')

---
Silk Mill - Oldham Road, Ripponden
Fact - previously the 'Commercial' and also the 'Besom Brush'

---
Silvers Bar - Central Street/Silver Street, Halifax (see Bar Rouge)

---
Single Sister - Southowram

---
Slip - North Bridge, Halifax

---
Smiths Arms - 33 Corporation Street/Crib Lane, Halifax (closed in 1967 for Burdock Way)

---